One of my favorite things about swimming is how the quiet of the water allows me to think.  I tend to zone out to music while running and concentrate hard on my surroundings when cycling, so I really enjoy the peace of the pool. I usually think about work things, but whenever a race is right around the corner, I use the time to mentally prepare myself for the event. The power of positive visualizations cannot be underestimated – I imagine myself going through the entire event and finishing strong.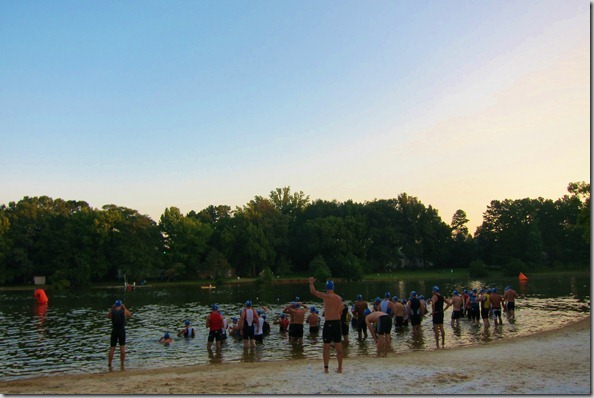 I've been doing a ton of research on triathlon transitions.  You see, this summer, I would really like to get *better* at triathlons.  I've got about a dozen under my race belt, and I've always just been about finishing (especially when I did that sprint tri 11 weeks post-partum!).  My three weak spots are: 1) the bike; 2) the transitions; and 3) I could use higher volumes overall (meaning that ideally, I should be swimming, biking, and running more for faster times).  At this time, I'm mostly focusing on cycling and transitions because I don't know how I can find the motivation or energy to work out more often (but I'm trying). 
Anyway – that leads me to transitions.  When I first started to do triathlons, I saw the transition (known as T1 – in between the swim and bike – and T2 – in between the bike and run) as a chance to take a serious break.  I never rushed through T1 and T2.  I'd stand around, talking to friends, relaxing, laughing, maybe I'd snap a pic or two.  And I lost a lot of time as a result.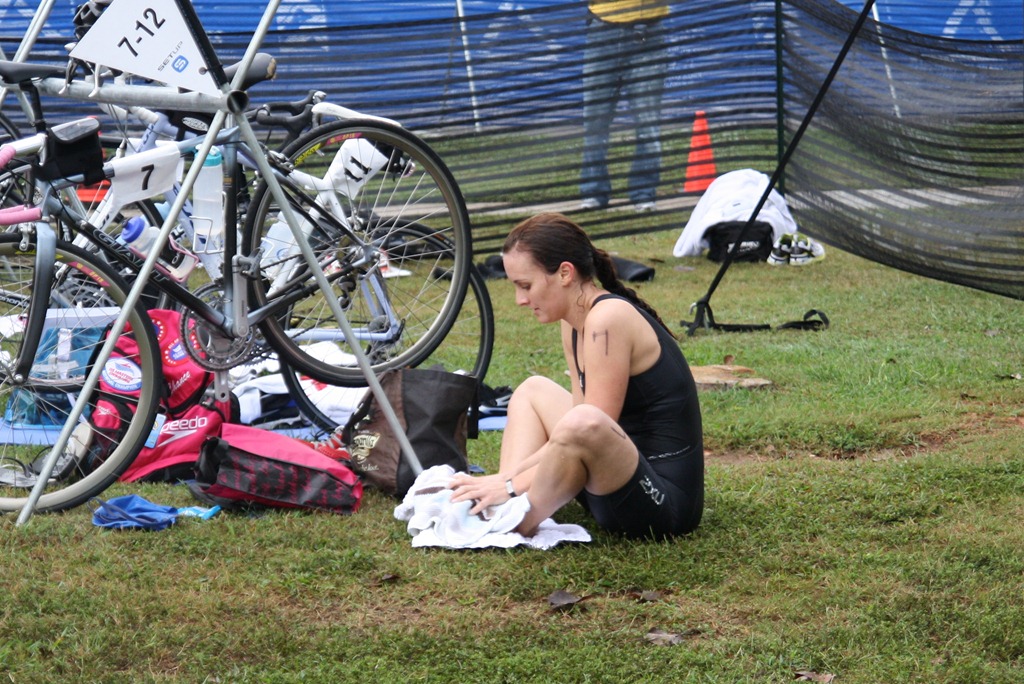 For example, at my last triathlon, the Top 5 female finishers had the following transition times:
T1 – 1:57, 2:00, 1:38, 1:44, 2:08.

T2 – :50, 1:13, :59, :59, 1:05
Mine transitions, on the other hand, were as follows.  In my defense, I had popped a baby out three months prior, but seriously – this is no good if I'm gunning for a decent time.  I must improve!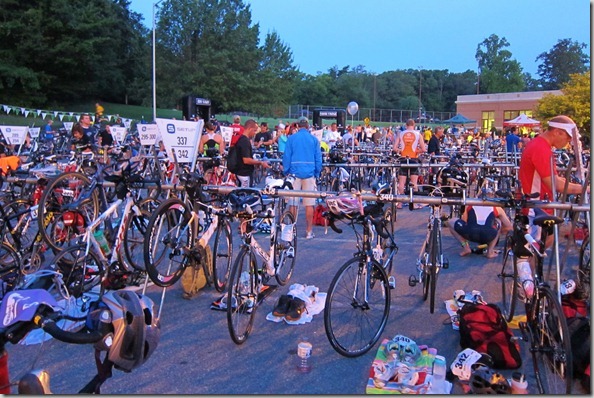 So I've been talking to friends and browsing the Internet for transition tips.  Here is the best of the best advice that I've seen so far.
PRACTICE MAKES PERFECT.  My friend Monica told me this:  "Practicing transitions is just as important as all the other training you do. Make sure you include practicing transitions in your training schedule so you aren't trying to figure it out the week before the race. You should be able to set up your station and get your shoes on in your sleep so when your heart is racing it's not an added stress on race day."
KNOW WHERE YOU ARE GOING. Orient yourself so you know where your bike is from all directions. Counting rows from the entry and exit points usually helps, but I also try to look for landmarks ("One row down from the American flag!").  Getting lost in transition is a huge time suck.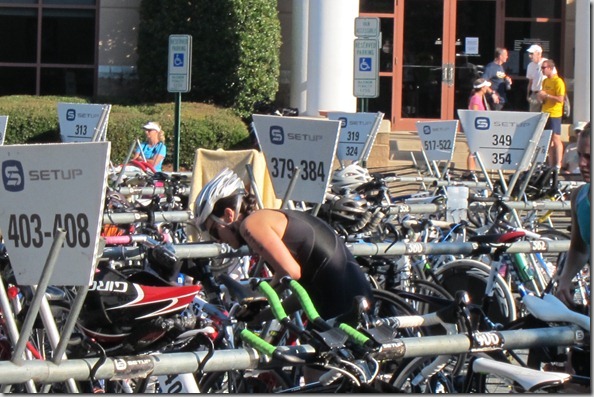 YOUR CHIP TIMER.  If you take off your chip timer (when removing a wetsuit, for example), be sure you put it back on immediately.  If you don't, you may lose it among all your stuff or completely forget about it. I have made this mistake before – and it sucks to come back to transition during T2 and see your bloody timer on the ground.  Dammit!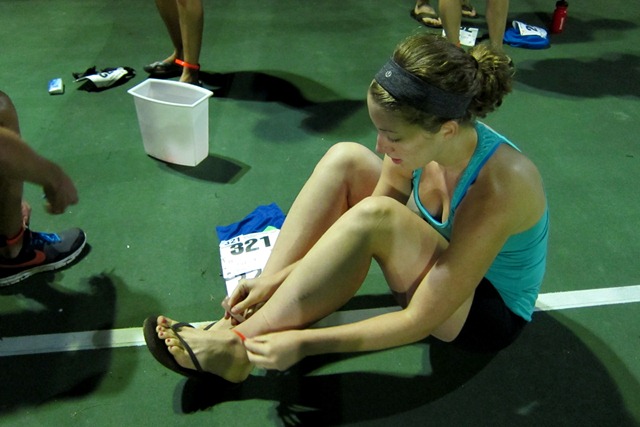 CONSIDER SHOE SHORTCUTS.  Elastic laces can save lots of time.  Not only do you not have to tie them, but they also won't come loose and require that you re-knot them.
NOT ALL GADGETS ARE HELPFUL. Theodora said, "Consider this: for sprint triathlons, clip-in cycling shoes may be totally overrated. One more pair of shoes to change? I'm not good at triathlons, nor transitions, but I find that I need to be a lot more go with the flow in tris than I do with running."  I personally love my clip-in shoes, but I can see Theodora's point – minimize the amount of stuff you bring into transition.  The more you have to screw around with, the more time you will waste.
UP IN KNOTS.  Meghann said, "Surprisingly hair is very important in transition. You don't want to waste time readjusting your hair in transition, so make sure it's in a style that can handle the swim cap, helmet, and running hat. I always wear mine in a low ponytail or French braids to keep it easy."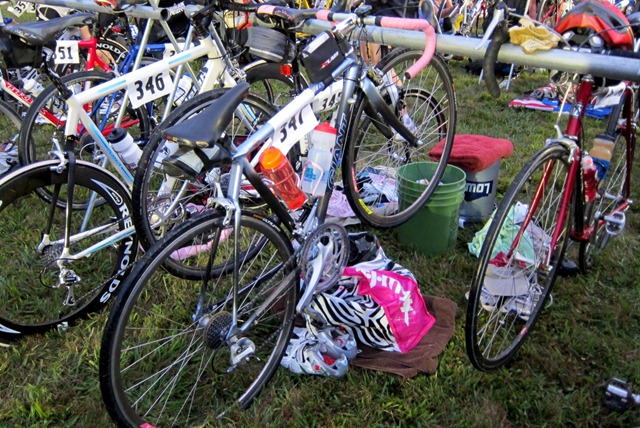 GET IN THE RIGHT GEAR.  Make sure your bike is in the correct gear when you leave it in transition.  I have made this mistake before.  Trying to start the bike when your gears are super heavy – huge fail.
REMOVE THE SAND.  Between the swim and the bike, your feet will get really dirty.  Some people like to keep a bucket of water in transition and dip their feet in: I prefer to use a huge water bottle and dump the water over my feet.  I'm too afraid someone will knock over my bucket!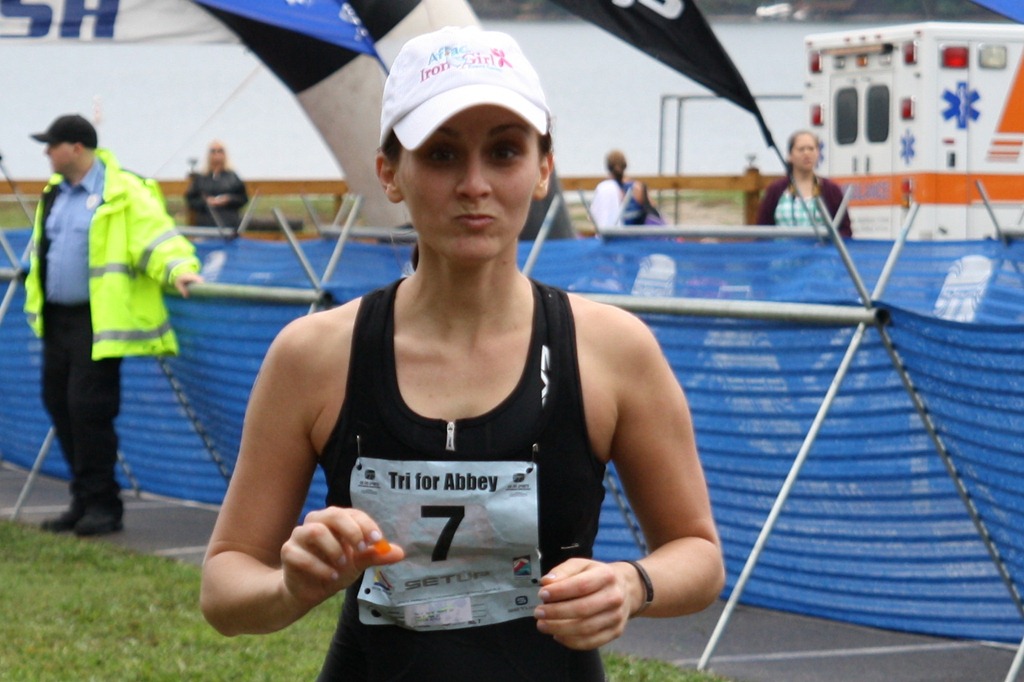 WHAT TO WEAR.  A trisuit (see:  Trisuits: One Piece or Two?) will reduce time in transition, as you wear the trisuit for the entire race and don't need to worry about putting on different clothes.  I love my trisuit, however, I don't feel like the built-in bra is supportive enough so I pull on a sports bra over my trisuit before exiting T2 (see: Sports Bras Reviews by CaitlinHTP).
START EARLY.  If possible, begin to 'prepare' yourself for transition before you actually enter transition.  Take off your goggles and swim cap as you run into T1 and remove your bike gloves and sunglasses as you slow down on the bike (as long as you can do so safely, of course).  Warning – do not remove your bike helmet until you have dismounted or you will be in violation of USAT rules!
Here are a few things that I like to do during the transitions:
I separate my Swim to Bike and Bike to Run goodies into two reusable shopping bags. I know some people lay everything out, but I am paranoid someone will trip over my stuff and scatter it everywhere. I like knowing its all contained in two bags.  Also, before I leave transition, I check the bag – if it's empty, I know I have everything I need.

Eat on the go.  I take in gel packets on the bike and munch on snacks during the run. And I drink as much as possibly on the bike.

Sunscreen.  I put sunscreen on between the swim and the bike. It probably eats up my time, but I don't want to risk getting burnt.  I'm pretty dedicated to sunscreen.
For more triathlon stuff:
So You Wanna Do a Triathlon: Swimming
So You Wanna Do a Triathlon: Cycling
So You Wanna Do a Triathlon: Running
So You Wanna Do a Triathlon: Transitions
So You Wanna Do a Triathlon: Training
So You Wanna Do a Triathlon: Pool or Lake Swim?
Should You Buy a USAT Membership?
Need-To-Know USAT Triathlon Rules
Best How To Swim YouTube Videos
How to Take Care of Your Swim Gear
The Athena and Clydesdale Category
If you are a master transitioner, I would love to hear your tips!  Or – are you working on transitions, too?