Maybe it's just me, but whoa – Monday seems to be whizzing by!  Which is a good thing (who likes Mondays?) and a bad thing (I've got to get stuff DONE!). 
Lunch was fabulous.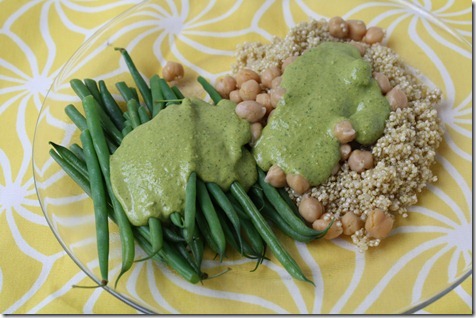 Return of the Green Mmmm Sauce (I just add a few handfuls of spinach).  Love me some Mmmm Sauce.  I'm eventually going to to turn into a big vat of the stuff.
Smothered on steamed green beans: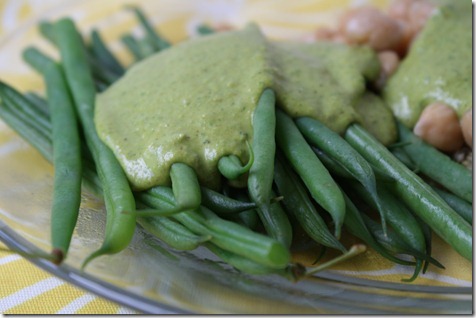 And drizzled on quinoa and chickpeas: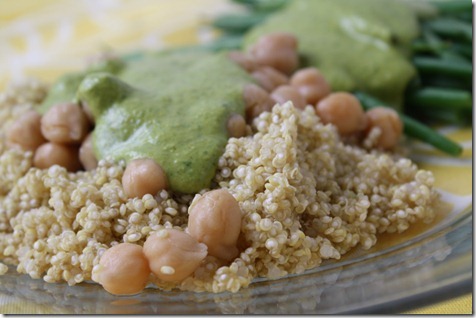 Time for a fun little FAQ about my new favorite subject… triathlons!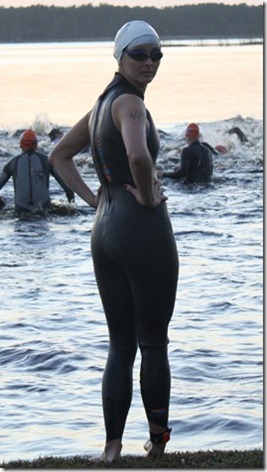 Annie wrote, "I'd love to hear more about how to start doing triathlons!"
Triathlons, like running races, come in a variety of terrains and distances.  The easiest triathlon is a sprint (or a super-sprint, which is even shorter).  A sprint is usually a 500 – 750 meter swim, 14- 17 mile bike ride, and a 5K run.  You can expect for the race to take 2 – 3 hours.  The swim can either be in a pool or in a lake.  Some triathlons have mountain bike rides, but most are on the road.  And the runs can be on the road or on trails.  It really just depends! 
So, if you want to do a triathlon, you need to do two things: 1) train for three sports and 2) have the appropriate gear for three sports.  Training is discussed below.  In terms of gear, you'll need (at a minimum) a swim suit, goggles, and a swim cap; a bike (you can use a hybrid or mountain bike for a sprint if you don't have a road bike), a helmet, biking shorts, gloves, and bike sunglasses; and all the normal running gear.  Once you get into triathlons, I highly recommend investing in a trisuit and clip-in bike shoes.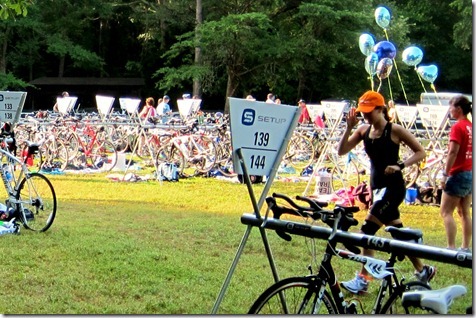 Jen wanted to know if I used a training plan.
Because I've done so many races and 'know' what I need to do in terms of training, I make up my own training plans.  You can see how I trained for my last two triathlons on this page.  I swam three times a week (about 3000 meters total) and ran three times a week (about 10 miles total).  I totally phoned in the bike – ideally, I should've also been biking twice a week, at least.  I also should've done more back-to-back workouts, like biking and then running (which are called bricks because they make your legs feel like bricks!).
Here are two great training plans for novices:  Option 1 and Option 2.  These plans assume you can run a 5K.  If you're working up to a 5K, try the Couch to 5K plan.  If you're uncomfortable with the swim, I highly suggest taking adult classes at your gym or read this post for swimming tips.
Grace asked, "I was wondering what your strategy is, stroke-wise. I feel like most people do front crawl/freestyle, but I'm much more comfortable with breast stroke. Is there are variety of strokes people use? Do they change it up mid-swim?"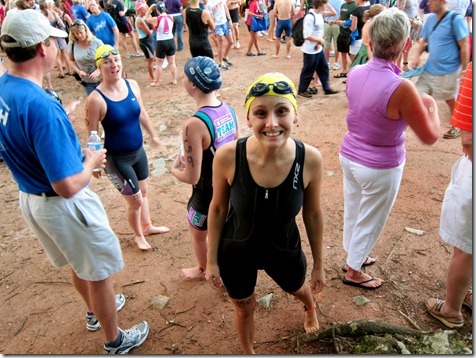 Official USAT rules allow triathletes to use any stroke they'd like!  So if the breast stroke works for you, fine!  If the front crawl is faster, that's great.  Many people do switch up their strokes when they get tired.  The backstroke is especially popular.  I do the front crawl and breathe on alternating sides, every three strokes. 
Jennifer (and Hannah Hawley) wanted to know about transitions.  Jennifer wrote, "I am training for my first sprint tri after having run many road races. Learning and training for 3 sports at once has been challenging, but I love it. I think now that I am finally getting comfortable on the bike and in the water, my biggest fear has turned to the transition. I don't know what to do, how to set it up, or what to expect. I was wondering, what are your top tips for the transition area?"
Transition is exciting, but it can also be nerve wracking!  The night before the race, I suggest reading over my Sprint Triathlon Packing list to make sure you have everything you need.  Then, sort the two transitions (swim to bike and bike to run) into two separate reusable grocery bags and tie them tightly before placing in your car.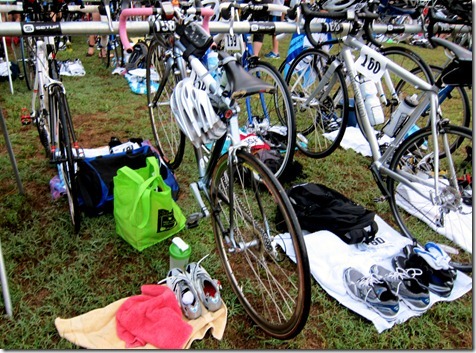 Transition is usually organizer by bib number, so you'll want to find your spot on the racks and put your bike on the rack.  Some people like to spread out their transition gear on a little towel, but that makes me nervous. I'm afraid someone will kick it or something will roll away!  So I've begun to just toss the two bags under my bike.  When I come in for T1, I open it up and see all my bike gear: helmet, gloves, bike shoes and socks, sunglasses, fuel.  When I come back for T2, I have my running shoes and hat in the next bag.  Everything stays nice and organized, and I don't have to stress out about forgetting anything – once the bag is empty, I know I have everything I need for the next leg and can leave transition.
Michelle asked, "For the swim, are you only allowed to wear the eye goggles? Can you wear a snorkel mask (i.e. one that covers your nose) or is that a total no-no?"
Official USAT rules allow you to wear any type of goggles/face mask that you want (or no goggles at all!)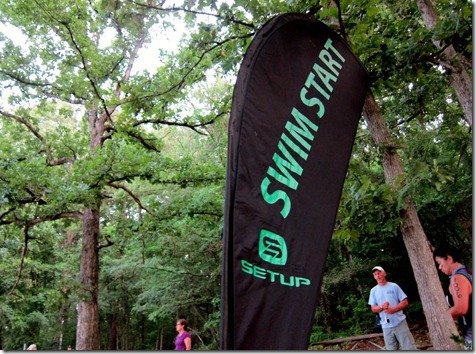 Khushboo asked, "In between legs, do you refuel?"
This really depends on the individual, but the short answer is yes.  You should take in calories during your race to ensure you have enough energy to finish strong.  I took in about 200 calories during my last triathlon.  People have different energy needs; some may need more or less. 
Tricia wrote, "I am doing my first sprint in August and am really worried about the swim. Can you hold on to the markers along the side at all to catch your breath? I think it is a triangle and they will have ropes and that is what I want to grab onto. Is that possible?"
Perhaps my most epic race recap was the Wildman Olympic Triathlon.  I had an epic meltdown in the middle of the lake (literally, a panic attack) and ended up flagging down a lifeguard.  In the video below, around the :30 mark, you can see that I'm holding onto a noodle in the middle of the lake.  I asked the lifeguard if taking the noodle would disqualify me, and he said no, so I did.
PS–I can't even watch this video without crying! I was so scared coming out of the lake.
Later, I found out that taking the noodle WOULD have technically disqualified me (the race organizers felt so sorry for me that they didn't DNF me – they were awesomely nice… plus, it's not like I was going to win the race at that point!).  The official USAT rules state, "A participant may stand on the bottom or rest by holding an inanimate object such as a buoy, boat, rope or floating object. Excluding the bottom, a participant shall not use any inanimate object to gain forward progress."  So that means you can CAN hold onto the buoy or rope if you need a break.  But you can't swim forward holding onto anything.  Make sense?
There are actual several offenses that you can get docked for during a triathlon, so it's important to read the Most Common Violations sheet and make sure you don't do anything naughty!  The biggest no-no is drafting during the bike.  "Drafting is the act of riding behind another cyclist in an area of reduced air pressure created in the wake of that leading cyclist."  Check out this awesome site for more information on drafting.  If you violate a rule and an official catches you, they will dock your time.  This is actually pretty common – even at small races, a few people always get docked for violations.
Personally, one of the reasons that I like triathlons so much is that they are complicated!  I think it's a fun physical AND mental challenge.