Also check out  So You Wanna Do a Triathlon: Swimming and So You Wanna Do a Triathlon: Cycling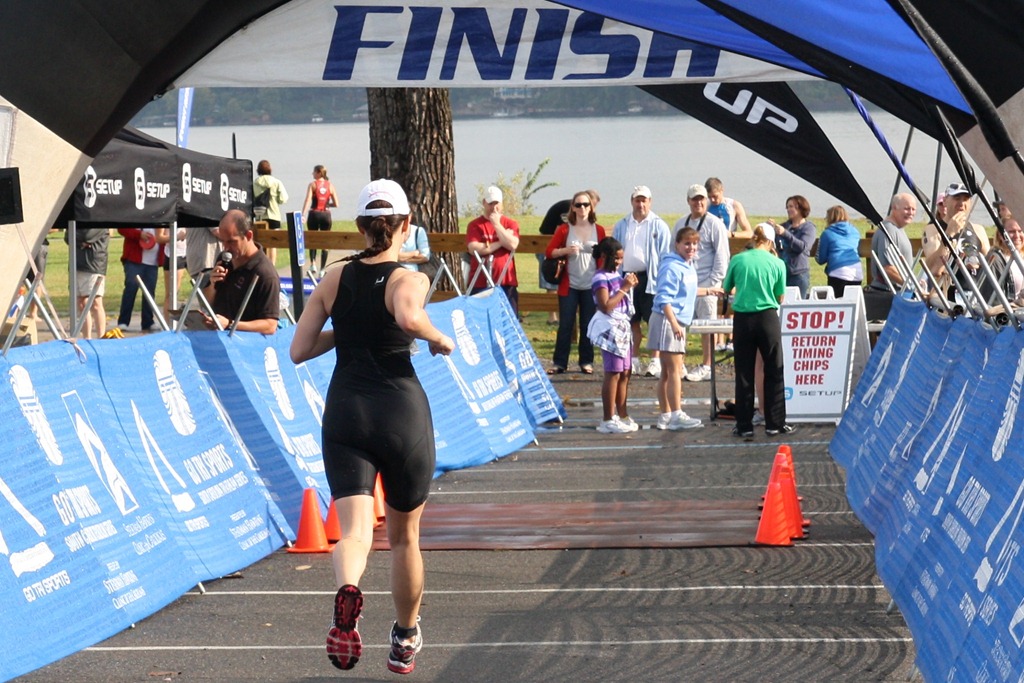 Many first-time triathletes began their racing career as runners (like me!).  For that reason, I think the running leg is the least feared of the three triathlon sports – but the truth is that a triathlon run is completely different than a normal run.
The problem, of course, with the running leg is that it is last.  First, you swim.  Then, you cycle.  And then you run, which presents all sorts of challenges.
Even though the run is challenging, I always look forward to it for one reason and one reason alone:  unlike swimming and cycling, I can truly stop and take a break!  Hah!  If I stop swimming, I drown.  And if I stop pedaling, I crash!  But if I get truly tuckered out when running, I can walk – or stretch.  Also, I enjoy the run because I always feel like I have so much of the race behind me.
So – the question becomes:  If a triathlon run is so different than a normal run, how do you prepare?
Do the Brick: A brick workout refers to tackling two sports during the same workout, with minimal interruption in between.  When triathletes talk about doing a brick, they usually refer to a bike/run, but a brick can also refer to a swim/bike or a swim/run.  Personally, I find bricks that simulate race conditions as much as possible are the most effective, both mentally and physically, so sandwiching sports in the order you'll perform them is best.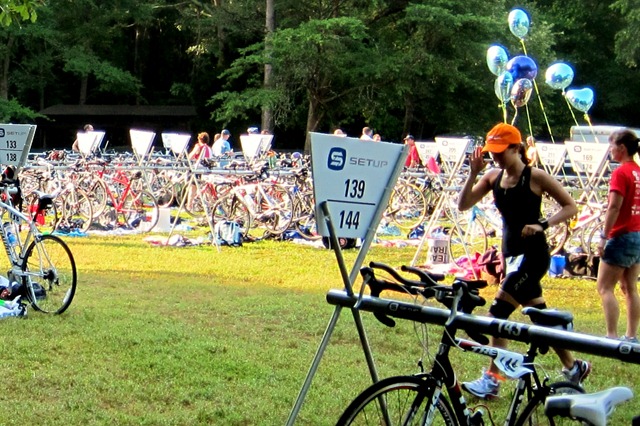 When I first got into triathlons, I was truly surprised at how my body reacted during the transition from swimming to biking and biking to running.  While the swim to bike transition (know as T1) can be rough (especially if you use your legs too much during the swim – ouch!), the bike to run transition (T2) is much, much harder.  Personally, I find T2 to be the hardest part of a triathlon.
It is certainly not necessary to do bricks for every workout (of course, I can only speak to training for a sprint and Olympic triathlon, so I hope readers will weigh in on bricks for half and full Ironmans).  However, I try to do at least one bike/run brick a week, especially in the month before the event.  Ideally, for sprints, my bricks will consist of biking 5 – 10 miles and running 1 – 2 miles, and for Olympics, I'll bike 8 – 15 miles and run 3 – 5 miles.  Some triathletes (who are probably faster than I am!) choose to do longer and more intense bricks.  This website has some examples of brick workouts.  But – and this is very important – everyone should always slowly integrate bricks into your workouts.  Maybe your first brick will be a 5 mile bike and a 1 mile run.  Just like all workouts, it's important to eaaaase in so you don't injure yourself.
Legend has it that bricks are called bricks because your legs feel like… well, bricks… when you do them.  This sensation can be uncomfortable and weird, and I find that starting my run very slowly – or even walking the first 100 yards or so – helps my body adjust. 
Fuel properly:  I'll be doing a So You Wanna Do a Triathlon:  Transitions post soon, which will talk a bit about how I fuel, but I thought it was worth mentioning that fueling and hydrating during the cycle leg is very important for the run (I usually fuel some during the run, too).  By the time you get to the sprint or Olympic run, you have already been racing for about an hour to two hours.  Breakfast might've been eaten two hours before the start! 
Every time I've crashed and burned during the run leg of a triathlon, it was because I forgot to eat and hydrate on the bike.  A successful run truly begins on the bike.  Your motto should be eat and drink, eat and drink! 
Know Thy Course:  Last, and not least, be sure to check out the race's website to learn about the run course.  Since many triathlons are held in parks near lakes, many runs are actually trail runs.  You don't want to be surprised on race day!  In my opinion, a trail run is a bit more challenging than a road race because it's usually more hilly, and you have to put more mental effort into your foot steps.  Here are some of my tips for trail running.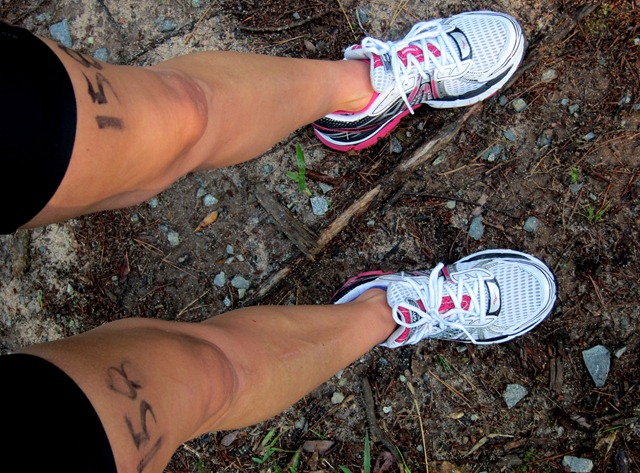 I also think it's important to consider the terrain of the course, regardless of whether it's a trail or road run.  For example, when I did the Lake Logan Olympic Triathlon, the 10K was an out and back course.  The first 5K was totally uphill, and the last 5K was downhill.  This was VERY important to know beforehand because it strongly impacted how I paced myself. 
Some other running posts that may be helpful: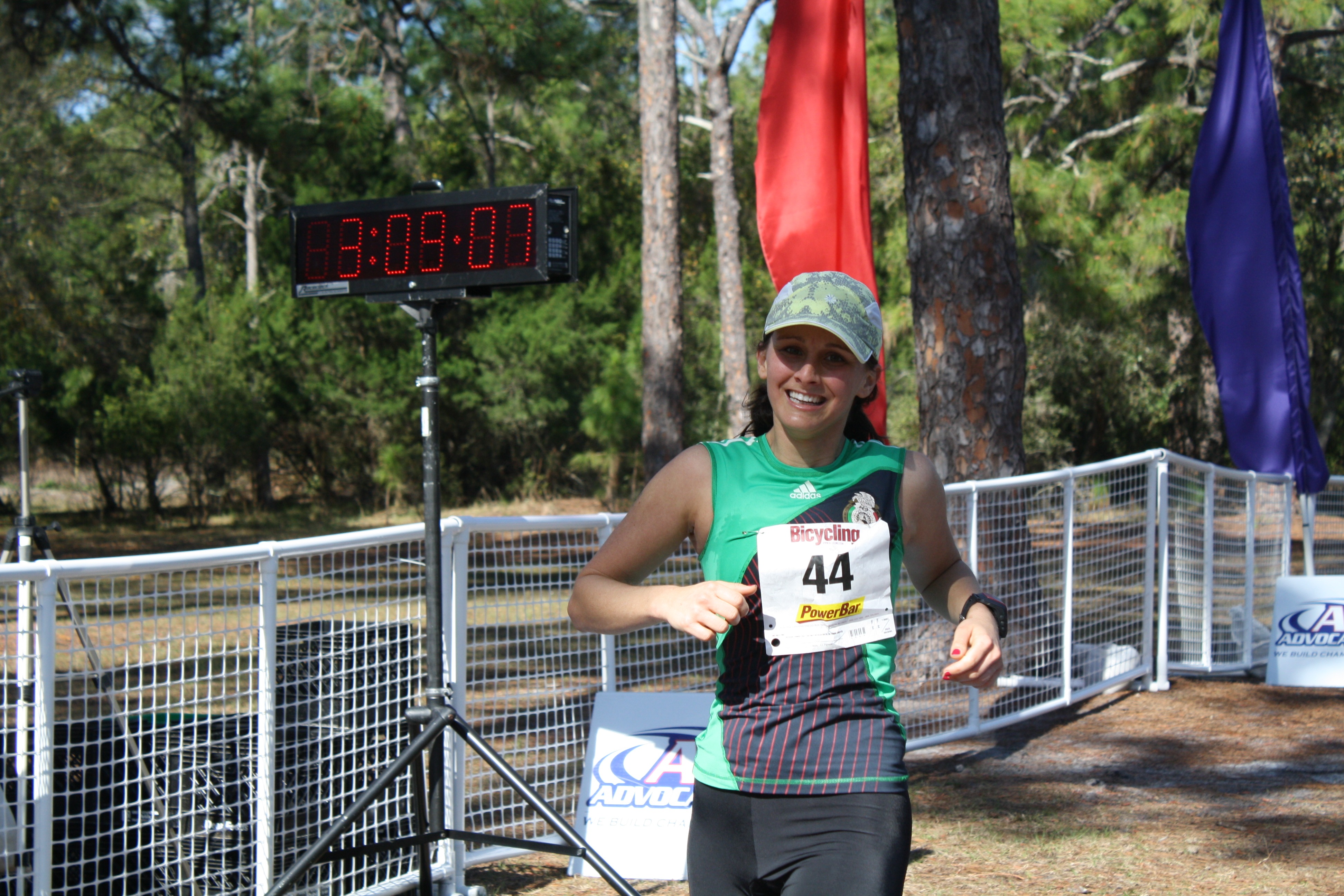 Did you go into triathlons with a strong running background?  Or did you find running to be the scariest part?  Do you get that 'bricky' feeling in your legs?  Please share your advice – I know it helps others so much!