Last night, I found myself in my gym's pool, trying to teach my brother-in-law Nick how to swim freestyle.  I think I've only briefly mentioned this, but Nick actually lives with us.  He moved in last August.  If you've been reading for a while, you may remember Nick from the Orlando days.  He wanted to be closer to family, so he got a job in Charlotte, and we rented him a room.  I'm sure most people would run screaming for the hills at the mere idea of living with extended family, but Nick is great, plays with Henry all the time, and makes us evening tea, so it's all good.

Anyway, Nick is really into fitness, too, and he's decided to do a triathlon with me this summer.  In exchange for me 'coaching' him (which is really just going to entail teaching him tri basics – like my So You Wanna Do a Triathlon series – and making sure he sticks to his training plan), he's going to make me lift weights once a week.  Fair deal, right?
I asked Nick what he thinks his weakest leg of the tri will be, and he immediately said, "Biking!"  I squinted my eyes, cocked my head, and said, "Reeeeeeeeally? Don't you think swimming will be the worst?"  Hah.  Once I explained to him what a lake swim is like, he said, "Yeah, yeah – you're right.  I really need to learn how to swim better."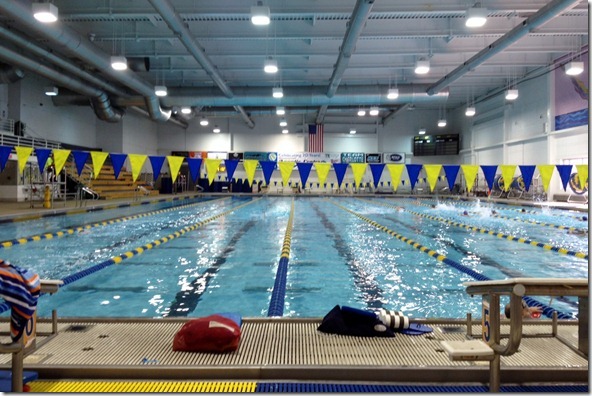 Hence, our pool instruction. 
I quickly realized that it's really, really hard to teach someone how to swim for sport.  So hard!  The biggest problem is that there are so many elements to a great freestyle stroke – breathing, arms, legs, torso, pacing.  It's really overwhelming to try to put it all together.  I explained that he should not expect to really be 'working out' for the first few swim attempts – when I learned how to swim, I went very slow and focused on a different element of the stroke every few laps.  I tried to put it all together over and over again without much success.  Then, suddenly, on my fourth day of swimming, it suddenly all fell into place, and I could glide through the water without looking like a drowning dachshund. 
Then I had to work on endurance.

  Still working on that.
I think I did an okay job at instructing Nick – he was definitely better by the end of the lesson.  But when we got home, I immediately fired up the computer to search for real instructor's videos.  Here are three YouTube videos that I thought did a stand-out job at explaining how to swim:
What do you think is the hardest leg of triathlon?  How did you learn how to swim?  I learned the way Nick is learning – a friend gave me a little coaching, but I watched a lot of YouTube.  Oh, and would you ever live with extended family willingly?