Let me preface this new post series by stating that I do not think I am a triathlon expert.  However, I did go from utter couch potato to completing 12 triathlons, swim, or bike events (including – in order – a failed sprint tri, a 100K bike race, an Olympic tri relay, an Olympic tri, a 100K bike race, a 100-mile bike race, an 800-meter open water challenge, a sprint tri, a sprint tri, an Olympic tri relay, an Olympic tri, sprint tri, and a pool sprint tri).  Whew.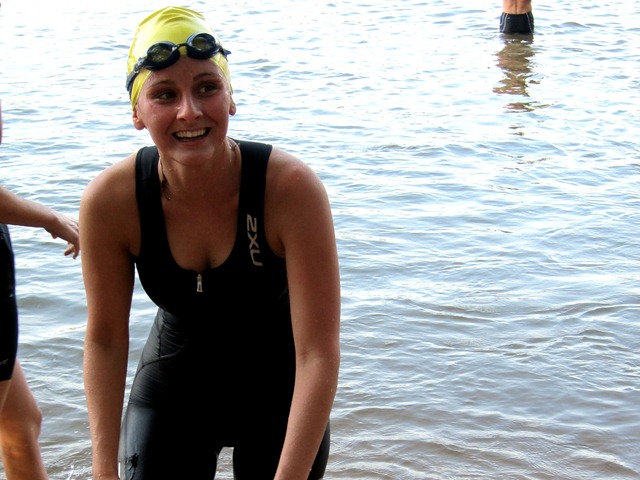 Before I got into triathlons, I was terrified of cycling in groups and had no idea how to swim for fitness (I was good at lounging on the beach while drinking a cocktail, though).  I also had an intense fear of open water, especially murky Florida lakes that were home to all sorts of creepy crawlies and alligators.   During my first sprint triathlon, I had a serious panic attack in the middle of the lake and dropped out of the swim portion (I also had a panic attack during my first Olympic triathlon but trudged on).
Even though triathlons weren't a natural fit for me, I really wanted to figure them out and get into the sport.  And I know a lot of you do, too.  So I'm writing this post series because I really believe that if I can do it, so can you.  Since I'm not a triathlon expert, I'm hoping that others who love to swim, bike, or run will comment on each of the relevant posts and share their own advice, too! 
This post series will eventually include:
Swimming

Biking

Running

Transitions

Selecting a Race/Training
First up:  it's time to talk about SWIMMING!
My favorite thing about swimming is how little gear you need to get into the sport (unlike cycling).  All you need to begin swimming is a swim cap, goggles, and a bathing suit.  You can get swim cap and goggles at Target, and if you don't have a 'real' one piece, you can always swim in bikini bottoms and a sports bra.  I wear a trisuit for my races, but other triathletes opt to wear sports bras and bike shorts (or tri shorts, which have less padding).  Some newbies even swim in a bathing suit and pull on bike shorts and a sports bra after they exit the water.
Step 1:  You must learn how to swim (and find a place to practice).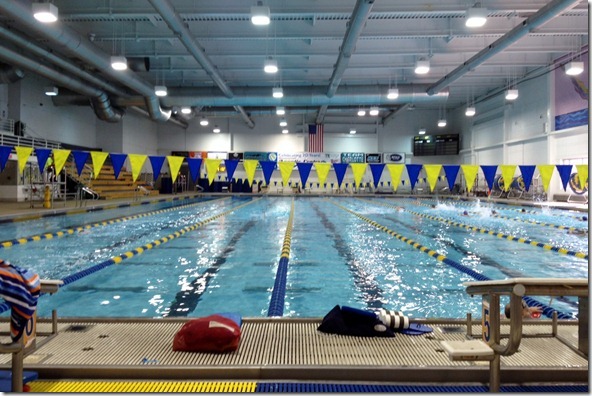 If you can swim for fun but don't know how to swim-swim, it's very important to learn proper form.  Swimming with improper form is kind of like running with a brick-filled backpack on; it's totally inefficient and makes the experience so much less enjoyable and harder.   I learned proper form three ways:
YouTube It:  I watched YouTube videos on 'freestyle swimming.'  There are many great instructional videos on YouTube that break down the most basic triathlon stroke step-by-step.  Practice the moves in your living room first.  I learned so much from YouTube videos – especially how to BREATHE!  I never knew you were supposed to breathe out underwater.  Also, try not to incorporate too many things at once.  Spend one day working on your arms; the next on your legs; the next on your breathing.  Don't try to swim too quickly – swim very slowly to start and focus on form, not speed. 

Get a coach:

  I asked my friend Ryan, a former swim coach, to join me in the pool and critique my form. 

Ryan also wrote a guest post on the blog to summarize all the tips she shared with me.

  If you don't have a friend who can help train you in the pool, definitely look into lessons.  You probably only need one – three sessions to really get the basics down.  Many cities have Triathlon Clubs that cater from beginner to advanced athletes; clubs are a great way to get into the sport!

Practice:  Practice, practice, practice.  I felt like a fish out of water – hah – for about a month of dedicated swimming, and then one day, it all just clicked for me. 
You can usually find pools at larger gyms, community recreation centers, or aquatic centers.   To find a pool in your area, search the U.S. Masters Swimming website. 
Step 2: You must prepare for race conditions.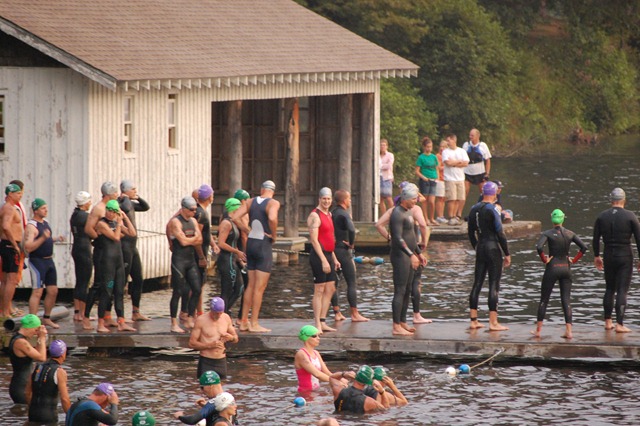 The reason why I crashed and burned at my first sprint triathlon was I was not physically or mentally prepared to get into a lake.   Swimming in a lake is nothing like swimming in a pool, especially when there are hundreds (or thousands) of other people swimming right next to you… or on top of you.
Some things to consider about lake swimming during a triathlon:
You will not be able to see the bottom.  Actually, you probably won't be able to see a foot in front of your face underwater.

There are no lines to follow to make sure you are swimming straight.  This means you will need to 'sight' every now and then by breathing up instead of to the side so you can check the guiding buoys' positions.

There are no ledges in a lake.  If you need to take a break, you will either need to switch to a different stroke, float on your back, or tread water.

When you lift your head up to breathe, you may get water splashed into your mouth.

Other swimmers may bump into you, kick you, or swim over you.

The water may be cold, so you may be wearing a wetsuit, which can feel restrictive and uncomfortable. (Side note:  I have only worn a wetsuit once and hated it.  At 70 degrees – when most other swimmers will wear wetsuits – I would rather skip it than deal with the suit.)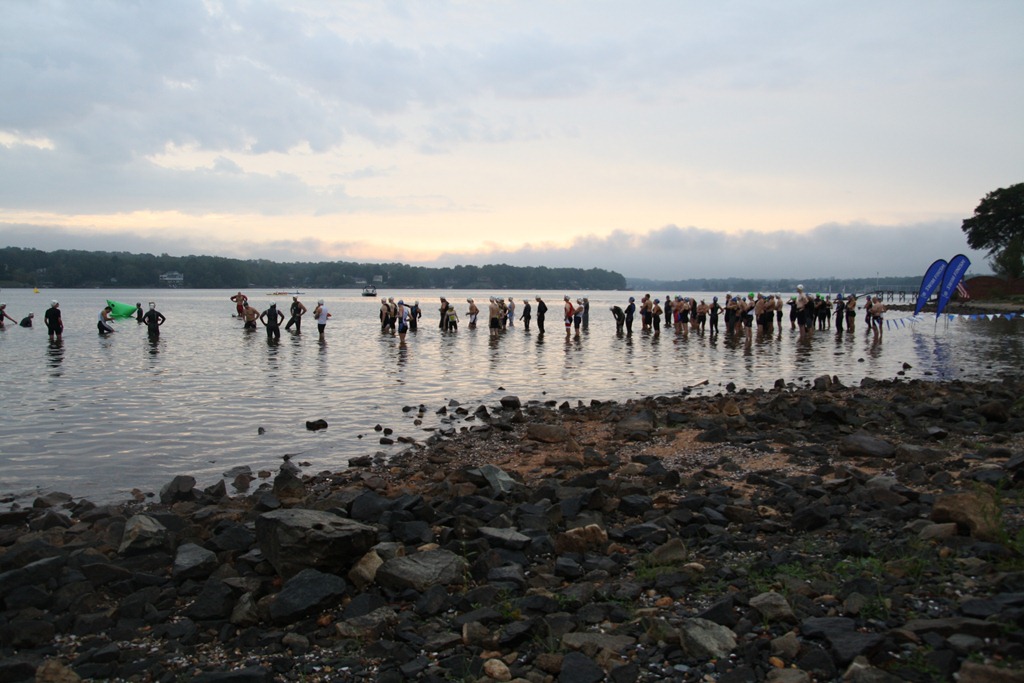 To be successful at the swim leg of a triathlon, you have to be prepared for the realities of swimming in a lake.  Unfortunately, most first-time triathletes do all their training in a pool and are underprepared for an open water swim.  There are a lot of panic attacks during a swim (don't worry – there are always lifeguards on kayaks nearby – you can always grab a kayak and rest like I did; however, this will technically disqualify you… Edited to clarify:  You will not be disqualified for resting on a kayak but you will be disqualified for using another device to assist in 'forward motion.').
The New York Times recently published a very interesting article about triathlon deaths.  Sadly, from 2006 to 2008, 14 Americans died during triathlons; 7 out of 9 who had autopsies died from cardiovascular abnormalities.  However, 13 of the deaths occurred during the swim leg.  Researchers theorize the high number of deaths during the swim leg because of the chaotic mass starts; people panic when they hit the water, and it's difficult for rescue workers to identify who is in trouble. If you're nervous about the swim, it's very important to be SMART about it.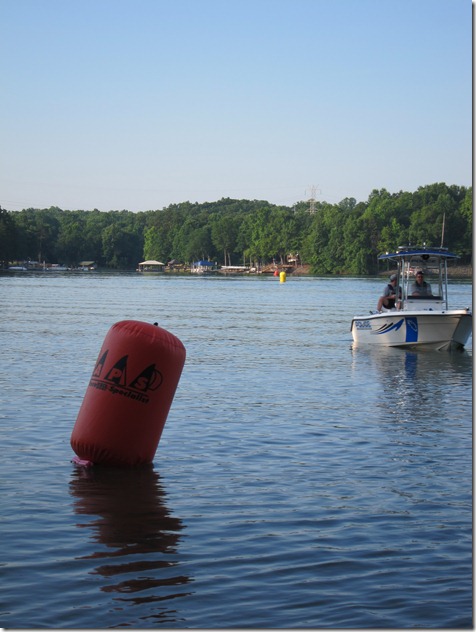 So, how can you mentally and physically prepare for a SAFE lake swim?
Practice swimming in a lake.  Never swim in a lake alone, obviously.  Talk to your local triathlon club about group lake swims so you can practice open water swimming a safe manner.

Spend time thinking about what the swim will be like – prepare yourself to be splashed, kicked, and swam over. It's not a big deal if you are truly emotionally ready for it.

Practice swimming in your wetsuit, if you are going to use one.  You can wear the wetsuit to the pool.   Edited to clarify:  As you should do with your bathing suit, always rinse your wetsuit with fresh water afterwards to help prevent breakdown due to the chlorine. 

Practice sighting (looking up) when swimming in the pool. 

Decide what you're going to do if you need a break.  I usually float on my back when I need a break so I can catch my breath.  There is NO SHAME in this. 

Especially for your first triathlon, select a smaller event and double-check to make sure the swim will begin in waves (they usually do waves by sex and age group).  This will make the start less chaotic. 

Don't push your way to the front.  If you are nervous about swimming, wait 30 seconds after your wave starts to begin swimming.  Stay in the back or the sides.

And last, but not least, start slow.  If you go out too fast, your breathing will become irregular, and you'll feel panicky.  Slow and steady!
Alternatively, if you really want to do a triathlon but want to get your feet wet before tackling an open water swim, do a pool triathlon!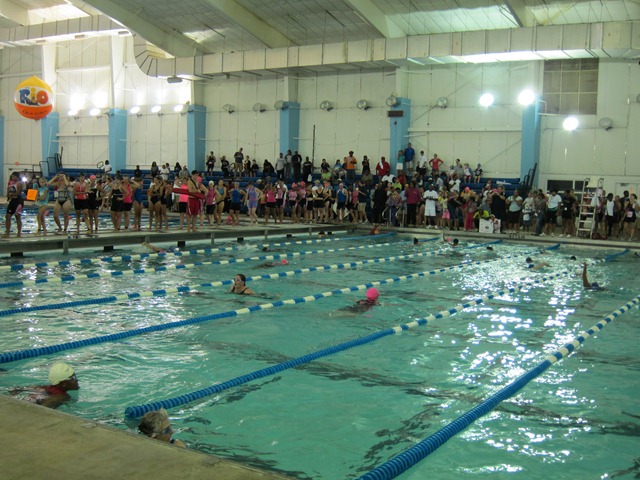 I did a pool triathlon this fall and loved the experience.  Pool triathlons are conveniently scheduled at the beginning of triathlon season because of weather, so you can do a pool triathlon and then tackle a lake swim.
I would've never said this three years ago, but swimming is now my favorite sport.  Conquering my fear of open water was a huge learning experience; now I love swimming in the pool, and I absolutely adore doing open water triathlons.  Swimming is such a fun and exciting challenge – and excellent workout!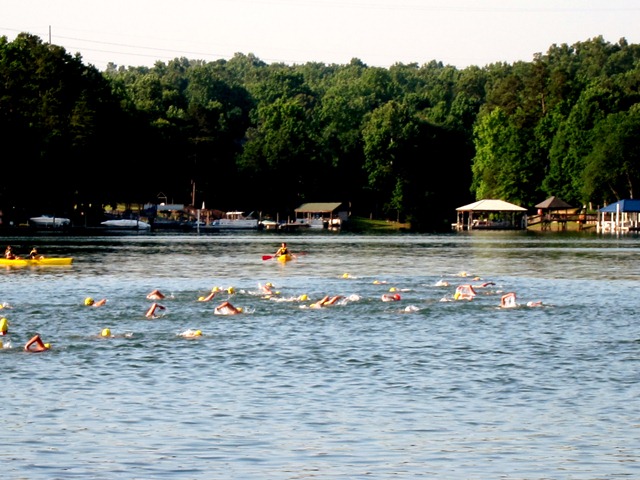 Want more triathlon info?
And stay tuned for the other posts in the So You Wanna Do a Triathlon series, which are coming next week!
Do you love the swimming leg of triathlons?  How did you learn to swim?  Did you conquer an open water fear like I did?  What advice do you have for newbie swimmers?