Major turning point in my triathlon career:  I didn't panic in the lake.  In fact, I actually ENJOYED the swim!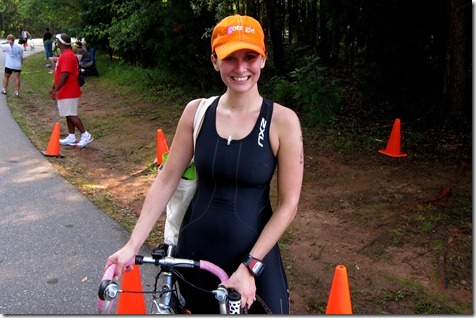 And I didn't do too bad, either!  Heh.  I finished right in the middle of the pack, placing 76 out of 142 females.  That's a far cry from my last triathlon, in which I was literally last out of the lake and finished 5th to last.   And you know what? I was in SUCH better shape last year – proving once again that so much of racing is about your mental state.  Believe you can do it, and you will!
Today's race started like the other 35 – with a peanut butter and banana sandwich. I'm trying to switch to a low-gluten diet due to an intolerance, but I didn't have time to test out other breakfasts during training.  Rule #1 of racing: don't change anything on race day!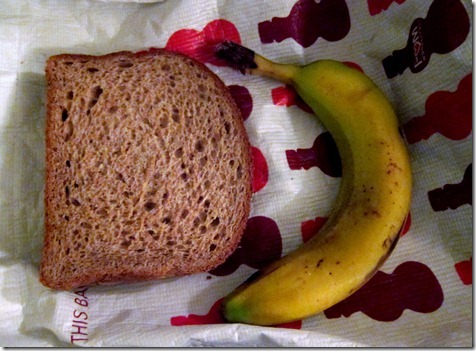 The Husband came with me.  I love it when he comes with me to races!  After so many races, I don't expect him to come with me anymore, but it's so fun when he does.   He brought Maggie and James, too.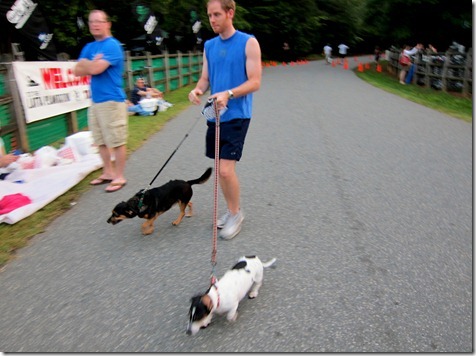 The first step of any race:  Packet pick-up!  At a triathlon, you get numbers for your bike and helmet, as well as the normal bib for the run.  You also get body marked with your numbers for the swim.  Last, but not least, you get a chip to wear around your ankle so they can time each leg of the race.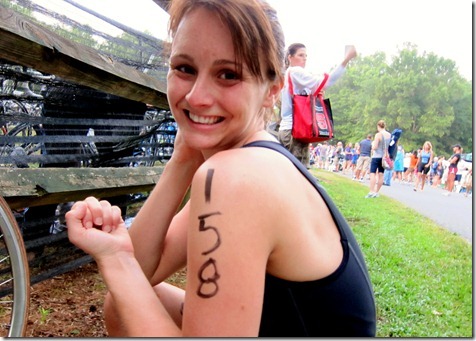 After getting my numbers, I set up my transition areas.  I really loved how this race organized transition by number – not just generally identifying which numbers go on which racks, but where on the rack, too.  People tend to fight over the 'best' spots (on the edge) so it was nice not to stress over that.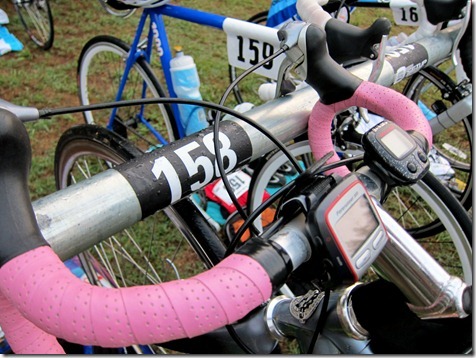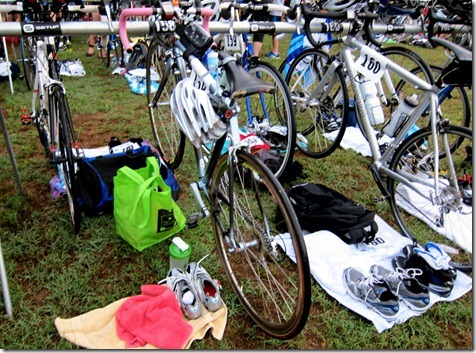 It can be very disorientating to enter transition after the swim or bike, and some people use balloons to mark their bikes!  Good idea, huh?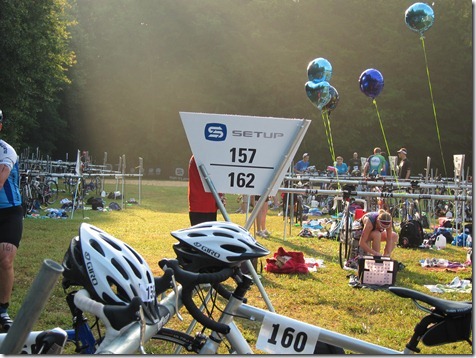 After the process of setting up, it was time to head down to the beach for start.
As we waited, I took slow, deep breaths and distracted myself by hugging Maggie. I didn't have a chance to warm-up in the lake so I did a bunch of arm circles right before we jumped in.  That seemed to loosen up my joints and warm up my muscles.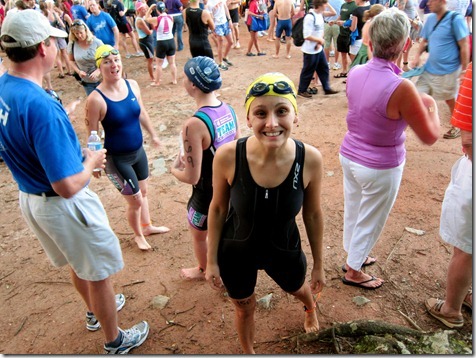 The Novice Women (under 40) were the third group to swim out (the Novice Men and Master's Men went first).  I think it really help to do the Open Water Challenge last week.  That race was at the same location, which helped calm my nerves.  I had already accomplished the distance once before; I knew I could do it again.  Instead of panicking, I focused on going as fast as I could.
I flipped to my back a few times to catch my breath, but NO PANIC ATTACKS! My heart rate never unnaturally accelerated; I never felt that crazy ringing in my ears.  My arms did get really sore at the end, though!  Guess I was working hard.
I blasted out of the water after 21:24 and ran up to transition.  Well, I tried to run!  My legs were so tired.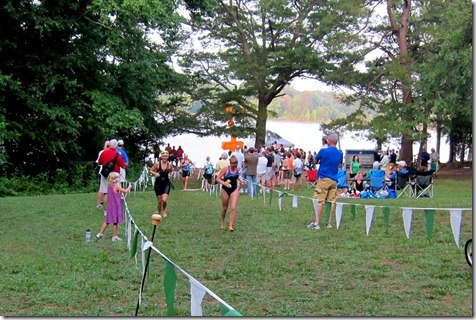 Maggie and James were SO surprised when I suddenly ran by them and screamed, "Hi puppies!"  They ran with me up to transition.  It was cute.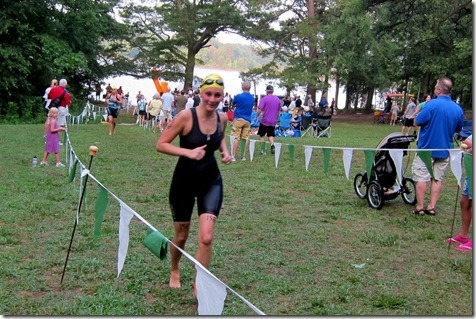 I'll admit that I didn't really kill myself in transitions.  In my last triathlon, I took off and then forgot my timing chip during T1, so I wanted to take my time and make sure I had everything I needed.
After 5:23, I was ready to go.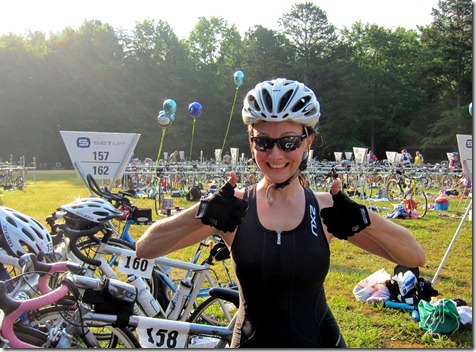 The bike course was 17 miles long.  My legs felt like LEAD coming into the bike.  I guess I was kicking rather hard during the swim!  I instanteously regretted writing, "I won't need to train too hard for a 17-mile bike" on the blog a few weeks back because OH MAN – I definitely should've ridden more during training.  Biking (fast) is no joke.  Especially up hills! 
There was one gnarly crash right behind me, but other than that – everything went smoothly on the bike.  I drank about 200 calories in Gatorade while riding, which I really, really needed; I could feel my energy waning towards the end.  I finished in 1:05:59.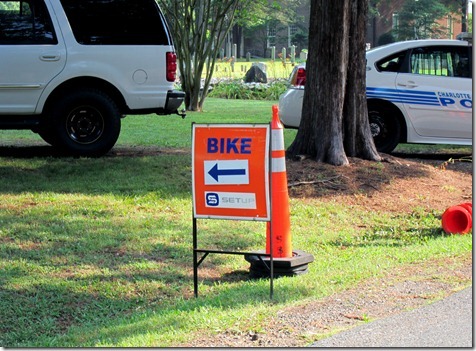 Back to transition to switch into running gear.  Again, I took my time, getting out in 4:43.
Ready, set, run!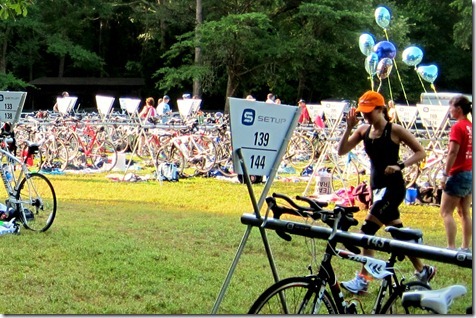 Normally, the run would be my strongest leg, but I was very nervous about my knee.  It began to ache terribly on the bike, and I was concerned about pushing too hard on the run and injuring myself.
I decided to walk regularly, especially down hills so I didn't hyperextend my knees.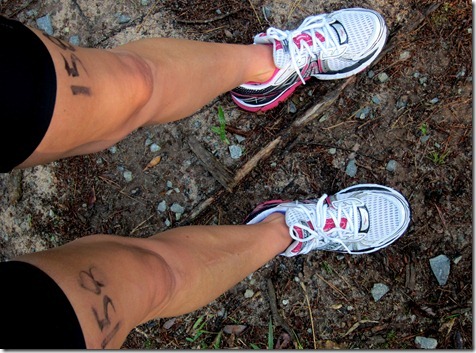 The run was through a wonderful forest on a gravel trail.  Most of the course was shady and cool!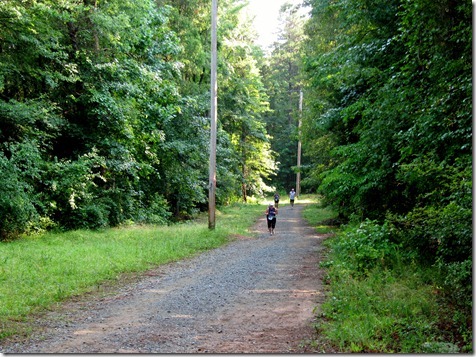 Towards the end of the run, I allowed myself to really pick up the pace, dropping down to a 8:30/mile.  I would choose a competitor right in front of me and try to 'pick' them off one by one.  This is a very effective race strategy!  It literally compels you forward.  I picked off three people before gunning across the 5K finish line in 31:33.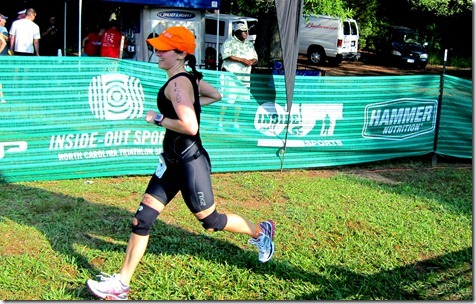 My final race statistics:
Swim: 21:24
T1: 5:23
Bike: 1:05:59
T2: 4:43
Run: 31:33
Total: 2:09:01
A totally awesome race.  My friend Kim did well, too!  She killed it, finishing in 1:59:21.  This was her first triathlon experience.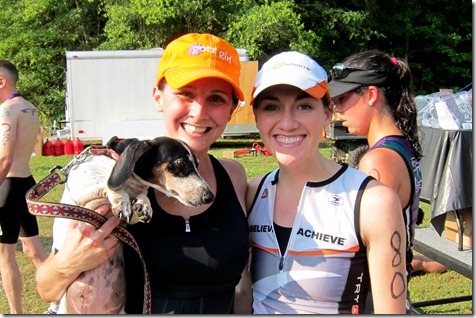 Came home and inhaled a whole wheat wrap with sweet potato, two fried eggs, and goat cheese.
Plus a bowl of ice cream: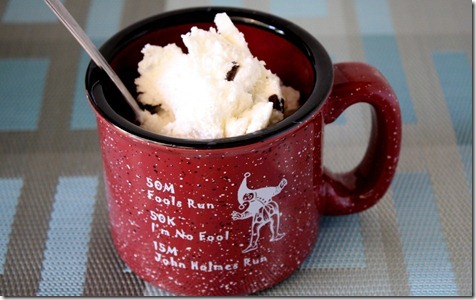 I then proceeded to take a long, hot shower and a two hour nap.  More food was immediately required upon waking up.  I had a quinoa mess with spinach, asparagus, broccoli, baked tofu, and balsamic.   Yum.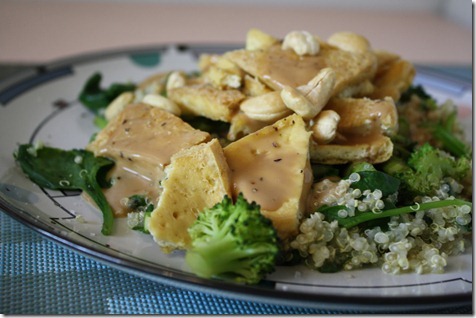 My muscles are so sore – it's time to STRETCH.
And I think I'll check out the upcoming triathlons… I feel so confident now – Maybe I can even beat my time instead of just trying to survive!