"Do one thing everyday that scares you." – Eleanor Roosevelt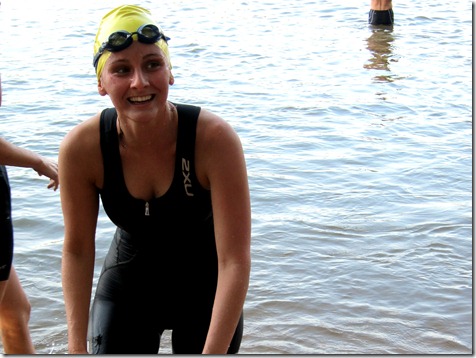 I came, I swam, I survived. 
Today's Open Water Challenge Race (800 meter swim and 5K run) gave me a HUGE confidence boost about swimming in a lake.  Now, I feel so much better about my sprint triathlon next weekend.  As you may know, I have a disastrous history with open water swims, including a DNF (did not finish) during a sprint tri and a major panic attack during an Olympic tri.  I knew I needed one GOOD open water swim under my belt before attempting to do another triathlon. 
However, it wasn't a perfect race… but that gives me room to improve for next week!
Today's race started like the previous 34 races – with peanut butter toast and a banana.  Once you know what your perfect pre-race meal is, don't mess with perfection!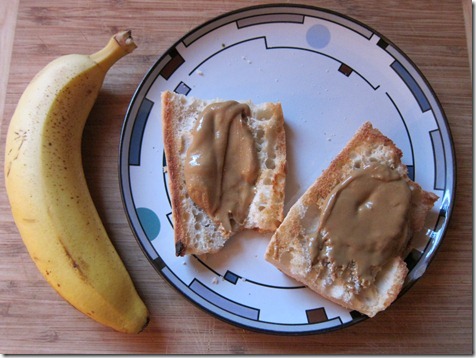 I actually ended up eating in the car because new friend Kim and her husband Justin arrived to pick me up.  Next week's sprint tri will be Kim's first, and she's been diligently training with a YMCA triathlon team for the past few months.  She has a YMCA coach that helps the group with running, swimming, and cycling.  Pretty neat way to stay motivated and accountable, huh?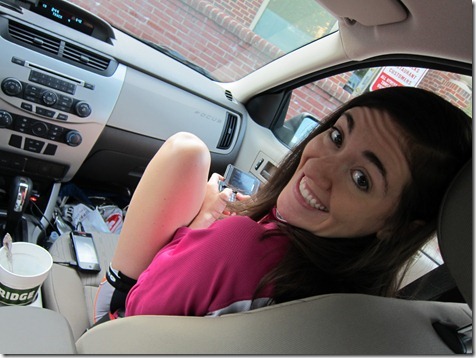 I started to get really nervous in the car.  I actually had trouble falling asleep last night because I was so worked up, and although I gave myself an epic pep talk in the shower, it didn't seem to calm me down at all.
We picked up our beautiful shirts and swim caps. I was #2, which I took as a good sign! I like 2's.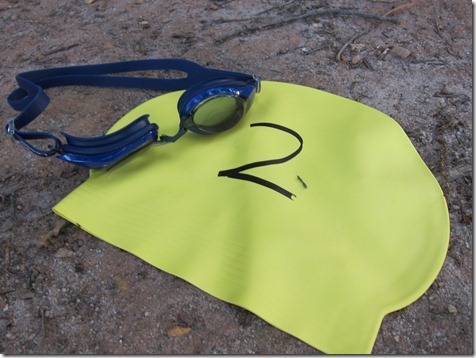 Kim and I ran into another blog reader named Ashley in the parking lot.  Ashley will also be doing her first triathlon next weekend!  Even though I've done two tri's, I still feel like a newbie and it was nice to be surrounded with people who were in the same boat.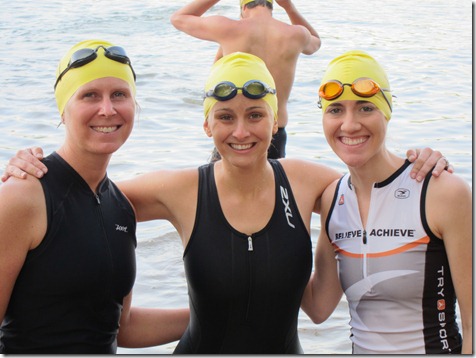 Together, we listened to the pre-race safety speech.  I was happy to see lots kayaks and lifeguards, considering I held onto kayaks during my previous two open water attempts…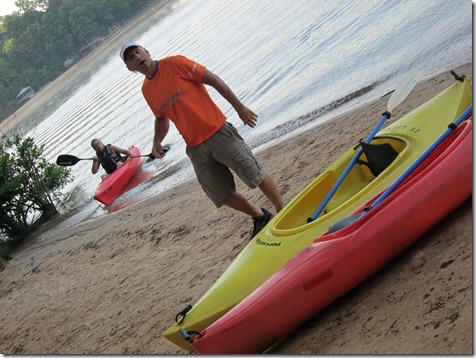 There was a collective groan when we were told that the yellow buoy was the mid-way point and the red buoy in the far back was the turn-around.  There was also a 1-mile and 2-mile swim group, and I think all the 800-meter folks were hoping the back red buoy was for them, not for us…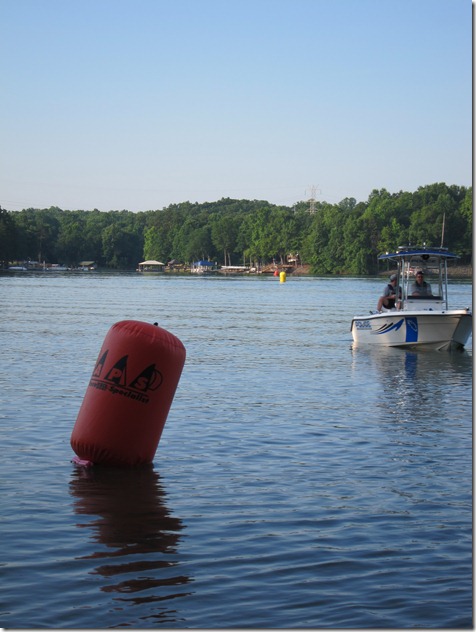 It seemed SO far away!
One thing I did differently this time around was I got in the water beforehand and swam a little bit to try to acclimate myself.  Lots of commenters told me that I really NEEDED to do this if I was prone to panicking, and it was great advice.  I felt a lot calmer after swimming some practice strokes and realizing how warm the water was (I think it was 85!).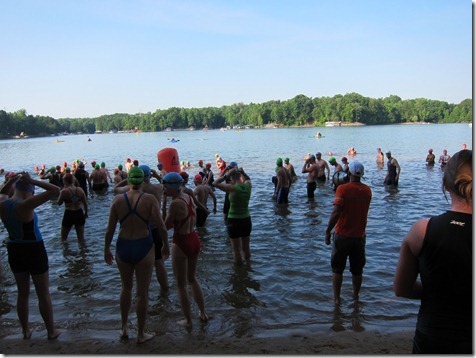 And then… it was time to go.  My heart was in my throat!
My problem with open water swimming is that I get really, really nervous and my breathing becomes very, very fast.  It's like I'm beginning to hyperventilate.  I try to tell myself to breathe slowly and calm down, but it's almost impossible to stop the cycle of panicking once it begins.  After the beach start, I swam about 100 meters before I freaked out and began to panic.  I looked back at the shore and actually thought about quitting right then and there…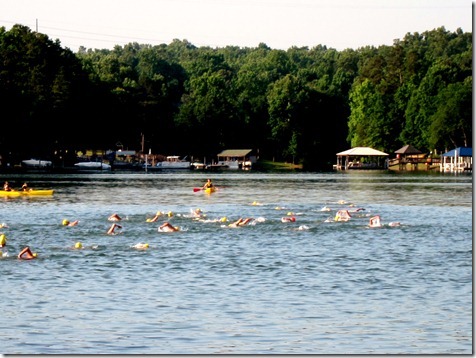 But, I trudged on!  I flipped to my back every 25 meters or so to relax. 
I was SO proud of myself when I passed the yellow buoy, the halfway to the turn-around mark.  And when I hit the turn-around, I nearly cried.  I was so happy to be going back to shore. 
I had three small freak-outs: one at the beginning, one right after the turn-around, and one at the yellow buoy on the way back.  I look my pulse at one point, and it was in the 190s!  I was in the back of the pack (I think I finished 15th to last), but I actually think that helped because no one was splashing me or kicking me. 
Plus – this race is against NO ONE but MYSELF!
I swam until my fingertips scraped the muddy bottom, and then I stood up and ran to the shore.  I practically kissed the ground.
My time – 23:45!  I would've been happy with anything, but I was really pleased with this time.
We waited for our friends to come in, and then we slowly changed into running gear (transition and the run wasn't timed, so there was no pressure to bolt).  The second part of the Open Water Challenge was a 5K trail run.
My new trisuit worked VERY well as a swimming outfit and as a running outfit.  I don't know if I would want to run much more than a 5K in this trisuit (without a real sports bra), but it was pretty comfy for the 32 minutes it took to finish the run.
Came home and refueled with a strawberry-banana protein smoothie.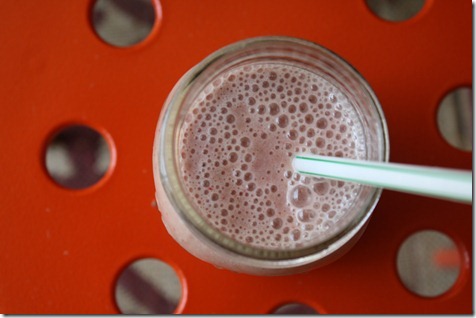 I wish I hadn't panicked three times, but truthfully – I expected to freak out a little bit, given my history with open water swims.  I'm hoping I can beat my time when I attempt the course next weekend during the sprint tri!
Also, this Open Water Challenge was kind of a reality check.  I know I've been injured for two months, but I have REALLY lost a lot of my cardio endurance.  I was feeling it during the swim.   I'm just not in the shape I was in last October.  That's fine; it just gives me something to work on.
I cannot wait to do the triathlon next weekend!  I'm going to eat that open water swim for breakfast.   All in all, a WONDERFUL race.