I'm currently running 17.0 miles, so I thought I'd leave you with a 5 Facts about Maggie post since the 5 Facts about James post was so popular.  🙂
Fact 1:  Maggie has a really weird body.  Not just regular dachshund-weird, but extra weird.  For example, she only has 7 nipples (circled below).  She is also as wide as she is long.  In fact, she's 18 inches long (from nose to base of tail) and 18 inches around her ribcage.   Her coloring is called piebald, which means she is a tricolor dog (brown, black, and white).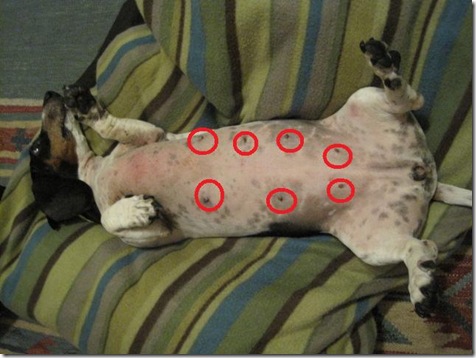 Fact 2:  We got her 3.5 years ago from an independent rescue organization.  She was given up by her owners because she is a little difficult and they did not have the patience for her.  When we first got her, she was skinny and had just had a litter of puppies!  Because of the way she was treated, Maggie has really bad separation anxiety.  We're tried every trick in the book to help her, but nothing has worked. 
Fact 3:  Maggie is mildly famous!  This photograph of her and her 4th birthday cake is featured on the homepage of the Dog Treat Recipe Exchange website.  I have actually had readers of my blog recognize Maggie on the Dog Treat Recipe Exchange site and send me an e-mail.  :) 
Fact 4:  Maggie is not the brightest crayon in the box.  We took her to puppy school and after 5 weeks of training, the dog trainer pulled me aside and said, "Look, some dogs are not not meant to learn tricks… like sitting."  :) 
She frequently runs into the sliding glass door.  Also, if I open the door of her crate and she is facing the other way, she won't realize the door is open even if I REACH IN and GRAB HER butt. (I need to make a video of that one day!) My BFF, who is a vet, told me that some dogs just aren't "all there."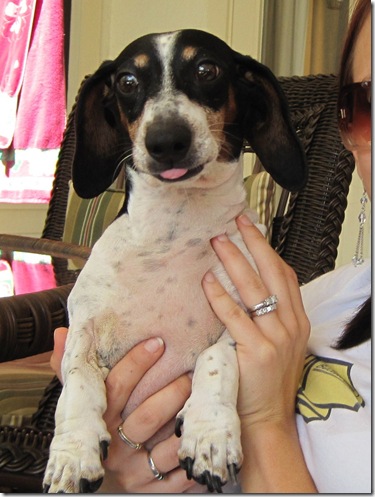 Fact 5:  Maggie sleeps in between the Husband's legs every night.   It's in her dachshund instinct to bury under the covers and find the safest, darkest, warmest place.   At first, I was concerned about her ability to breathe, but I guess she's OK! (Or maybe that explains the lack of brain cells….Hmm.)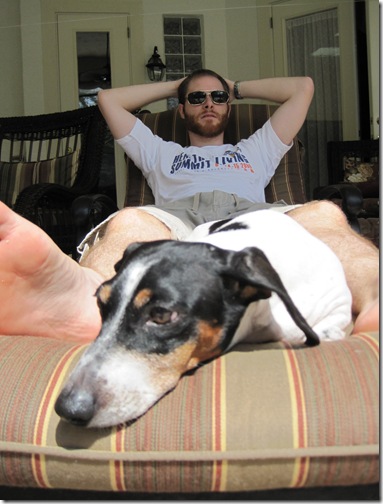 Remember, October is Adopt a Shelter Dog Month!  :)  My little Maggie is one of the brightest spots in my life, and I could not imagine my days without my furry friend. 
Be back with a long run recap soon!