Today was an incredible experience.  Although I didn't fully conquer my fear of the open water swim (explanation below), I did face my fear and didn't quit – and to me, that's all that matters!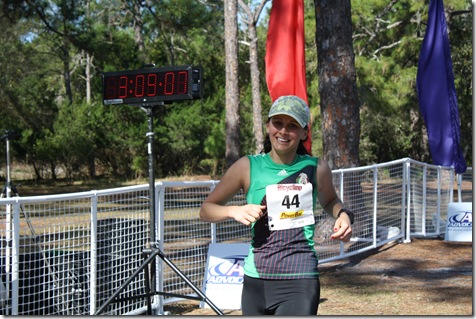 As I explained earlier, this triathlon was very special to me because two years ago, I had a panic attack during a sprint triathlon and quit the race.  All I wanted to do today was redeem myself for that failure.
I never sleep well before a big race, but I managed to fall asleep by midnight and clocked a decent five hours before my alarm went off.  I had my traditional pre-race breakfast of toast, almond butter, and a banana.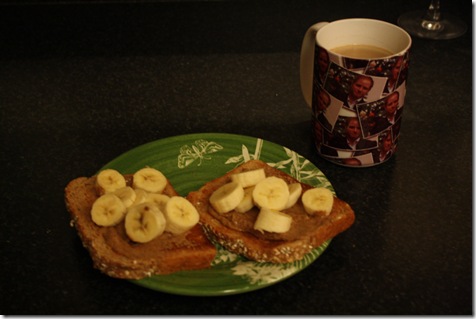 And then the Husband and I drove to Moss Park.  I was SO excited when the Husband offered to come to the race.  I've done a lot of races so I don't really expect him to wake up at 5 AM anymore.  :)  It was really nice that he came with me instead of just meeting me at the end.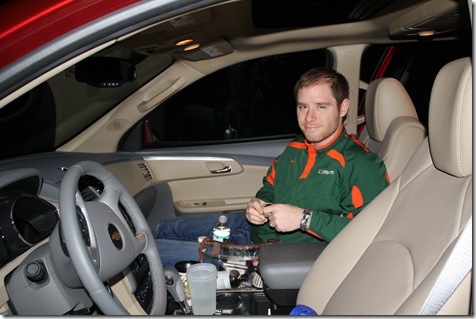 I got my bib and my chip, and then we took my gear over to the transition area.  I laid everything out and assured myself that I had everything I needed.  Then, I put on my wetsuit (from Wetsuit Rentals) and we walked to the beach.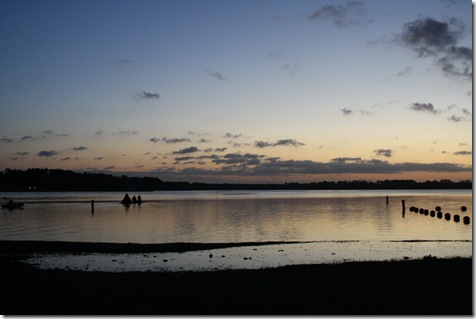 It was a little chilly out, but the water was absolutely frigid.  The race director told us that it was 55 degrees!  Every single athlete had on a wetsuit. 
At the start line, I ran into my Dad and Katy.  Katy is an experienced triathlete and gave me a big pep talk about the swim.  She said, "It's OK to be scared. If you start to panic, just flip onto your back and float."
I actually wasn't scared until I lined up for the start.  The men's wave went first – there was about 50 men and maybe only 20 women. 
I started to take slow, deep breaths, but I could feel myself starting to get really, really scared.  I looked up and down the row of women, and they all seemed so confident and professional.  The race director asked if anyone was doing their first triathlon, and no one raised their hand!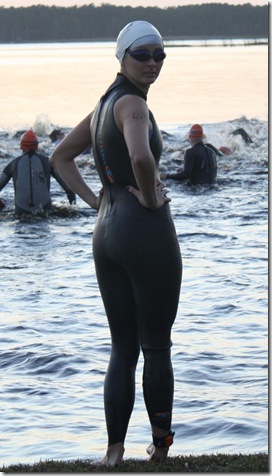 And then… the gun went off!  And we all jumped into the icy water.
I'm in the middle:
Within 50 meters of jumping in, the women on the right swam OVER me, and then woman on the left kicked me in the face. 
I started to hyperventilate within the first 200 meters.  I'm sure some of you are thinking that an open water swim isn't that big of a deal, but please understand that swimming in the lake in a HUGE phobia of mine.  I was breathing so fast that I was worried I was going to black out.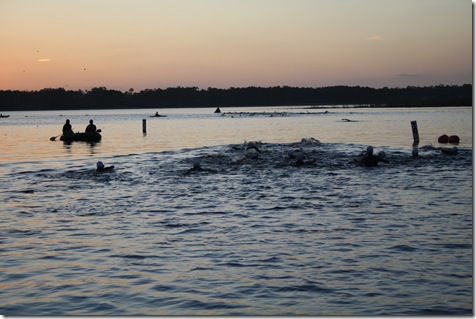 I didn't even put my face in the water for the first 250 meters.   I tried to swim normally, but the water was so cold, and I felt like I couldn't breath.  In a panic, I reached back and unzipped my wetsuit, which caused cold water to rush all over my bare back.
The swim route involved three buoys in a triangle formation.  The Olympic triathletes had to swim around the triangle twice.   At the end of the first lap, I looked around and realized that I was the last person by about 100 meters.  I didn't care AT ALL.  I just wanted to be done.
At the turn around point, I was about 20 meters from shore.  I could see my Husband, my Dad, and Katy watching me.  They knew I was panicking and thinking about quitting.  I heard Katy scream, "DON'T QUIT.  YOU CAN DO IT!" and that motivated me to keep going.
When I turned to do the triangle again, the sun had risen and was right in my face.  It was blinding!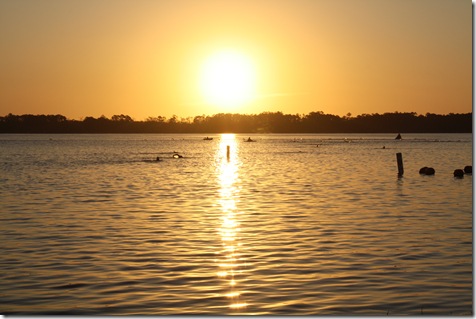 Since I was the last person and obviously struggling, three lifeguards on kayaks circled around me.  I want to say THANK YOU SO MUCH to the Buttar Event volunteers and lifeguards because they were SO motivational and helpful.  They asked me what my name was, and then they started to say, "You can do this, Caitlin.  You got it.  You can do this!"
I really can't convey how terrified I was – my breathing was so quick and shallow, and I was having trouble controlling my emotions.  The lifeguards could tell I was freaking out, and one asked me if I wanted a noodle.  I asked him if it would disqualify me if I used the noodle, and he said no, so I took it.  I put the noodle under my arm pits and went back to swimming.  I don't think it made a huge difference in my buoyancy (probably the same as having sleeves on my wetsuit), but it boosted my confidence.
I trudged along, all by myself.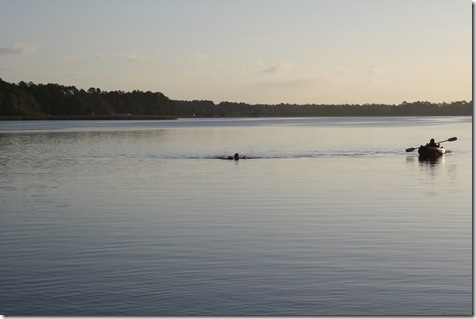 And suddenly, my feet hit the mud, and I could stand up.  I bolted out of the water as fast as possible and raced to transition.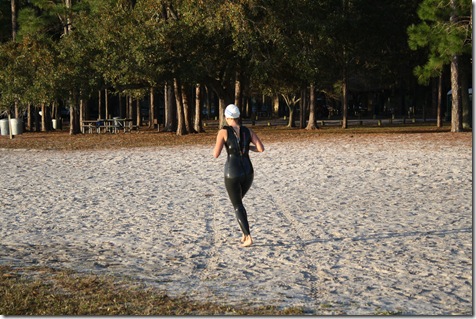 I just keep saying to the Husband, "I didn't quit! I didn't quit!" Actually… I kind of sobbed it to him hysterically.  I was just SO relieved to be OUT of the water.
It total, the 1.5 KM (0.92 mile) swim took me about 41 minutes, and Transition 1 took me about 6 minutes.
In T1, I realized I was only 5 minutes behind the other last two females.  This gave me a confidence boost because I knew I could catch them on the bike.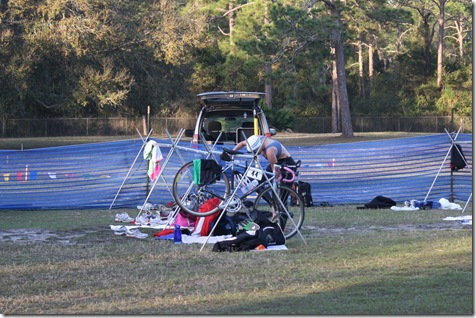 MAJOR ROOKIE MISTAKE:  I took my chip off from my ankle so I could strip my wetsuit off, and I left it in T1 on the ground! Luckily, I had my Garmin on during the bike, but this means I don't have an official time.
I was extremely excited to be on dry land.  🙂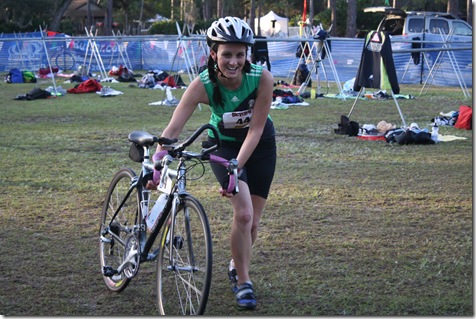 The bike went REALLY well (generally).  I focused on pedaling hard and managed to pass not one, not two, but THREE women!  I was SO happy each time I passed a "rabbit."  When someone came into my view, I locked onto their jersey and just pedaled as hard as I could to catch and pass them.
The bike, like the swim, involved two laps. Unfortunately, during the turn-around point, I WIPED OUT hard.  I flipped off the left side of my bike, smacked my knee and arm and hit my head on the pavement.  I have awesome bloody road rash on my arm.
Milli-seconds before the crash: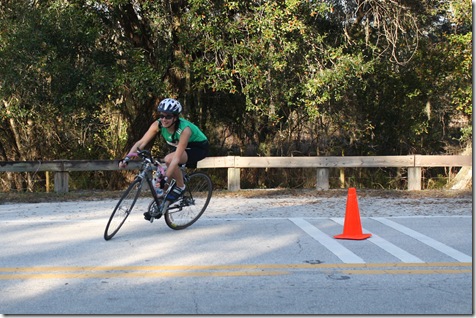 Although I didn't get a picture of the crash, I do have it on video (it's INTENSE).  I'll show it to you later!
The rest of the bike went smoothly, and I finished the 22.54 miles in 1:23:06, which is an average pace of 16.3 mph.
T2 went smoothly, and I talked to a race official about forgetting my chip during the bike.  He sorted it out!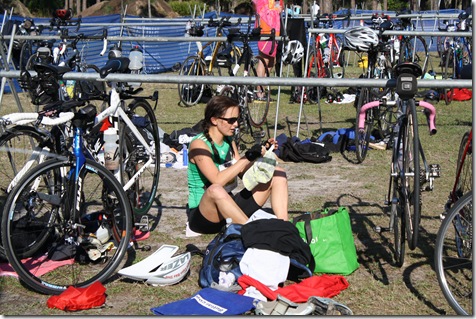 The run was AWESOME!  I passed two more women, and I had a lot of fun running through the woods.  🙂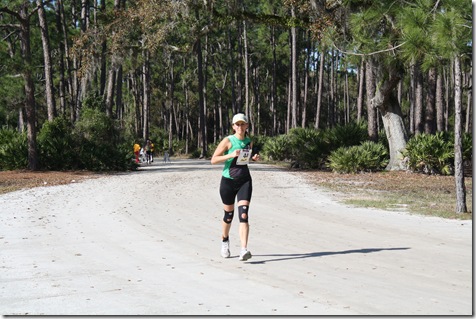 Here are my run statistics:
Duration:53:24 minutes
Distance: 5.64 miles
Average Pace: 9:28
Mile  1: 9:19
Mile 2: 9:13
Mile 3: 9:18
Mile 4: 9:51 (getting tired!)
Mile 5: 9:43
Mile 5 – 5.6: 6:01
I was SOOOO excited to see that finish line!  My unofficial time is 3:06:07.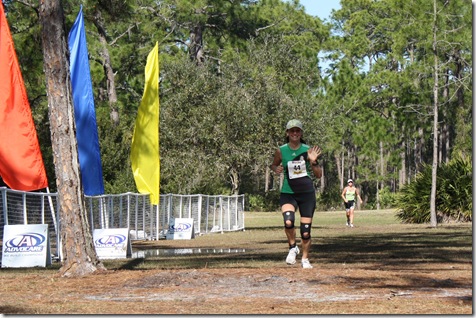 And, ironically enough, I walked away from the event with a plaque!  I got second place in my age group – BUT there were only two women in my age group!  :) 
The Buttar Event race director told me that use the noodle technically would have disqualified me, but I told him that the lifeguard said it wouldn't (I would have NEVER taken the noodle if I had known, and I really don't think it helped that much), so he gave me the plaque as an honorable mention.   He told me I have to do another Olympic Tri and not use a noodle to really redeem my failed sprint triathlon.  :)  I think it was cool that they were flexible and understood how hard the swim was for me.  Three cheers for a supportive and fun atmosphere from the folks at Buttar.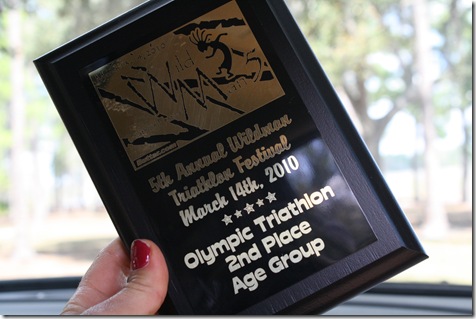 After the race, my family and friends showed up, and we tailgated out of the Chevy Traverse.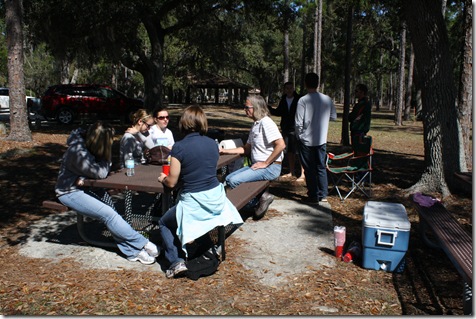 Thanks to all my buddies who came out, including Megan, Kelly, and Raya!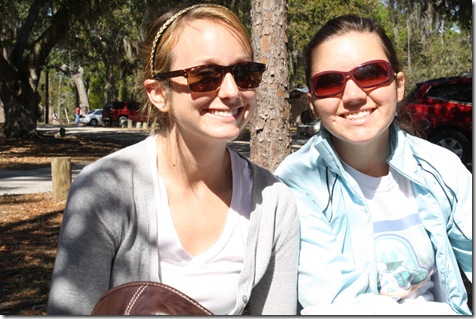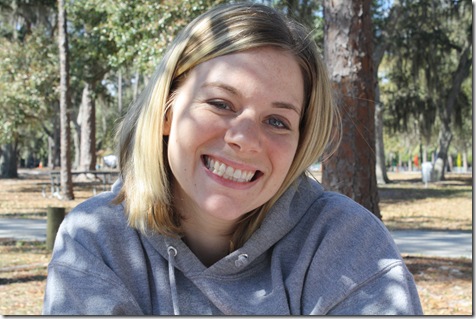 AND MAJOR THANKS to Katy.  I really might have quit the swim if it wasn't for her loud, booming voice telling me keep going.  I love you, Katy!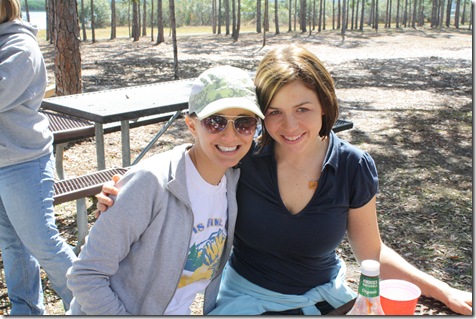 I had a veggie burger with cheese and ketchup on an Arnold Sandwich Thin, chips, and fruit.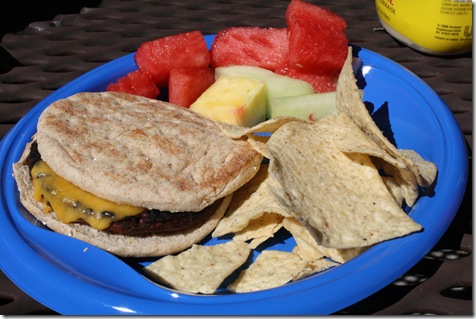 And two beers: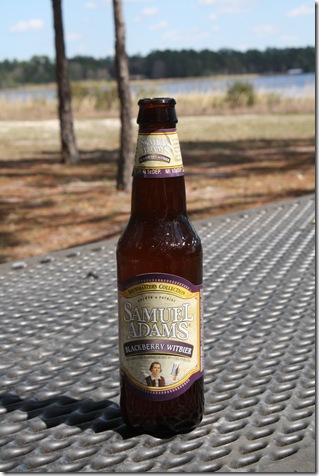 I came home and had a Pineapple Chobani for protein: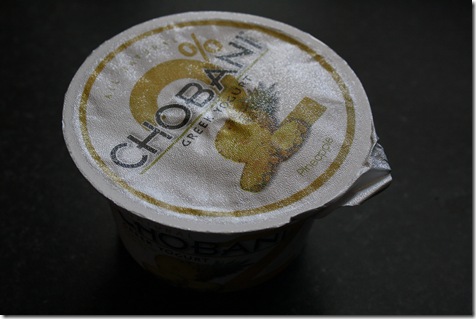 I really need to eat more – I had three packets of Goo during the race, but I'm definitely not adequately refueled.  Sometimes, I have trouble keeping food down post-intense cardio, so I'm waiting to just get naturally hungry.
All in all, it was a really exciting and intense race.  Although I don't feel like I conquered my fear, I do feel like I faced it.  I didn't let the fear control me.  I don't think I've ever been so scared for so long in my life, but I didn't quit. 
I feel like this triathlon just goes to prove that the race is really against YOURSELF.  It's fun to win and beat other people, but at the end of the day, just try YOUR hardest.   And really – you can do anything you put your mind to!
"When you cross the finish line, no matter how slow or how fast, it will change your life forever."