Still reeling from the weekend!  Normally, weekends are for relaxation, but Saturday was super stressful because… we went under contract on a house and will close on July 22!  And it only took three rounds of negotiations and endless number crunching.  Heh.
Closing on a house is a very interesting process indeed.  We have to finalize financing, get an inspection, set up homeowners insurance, get a property survey, transfer the utilities, and – of course – actually move.  I have to say that this all lights a major fire under my butt to get the first draft of the Healthy Tipping Point book finished!  
I haven't posted a house tour, but here's a sneak peak.  We have lots of DIY projects ahead of us.  Young House Love has convinced me that we're entirely capable – at least when it comes to the small stuff.  Someone else should probably gut the master bath.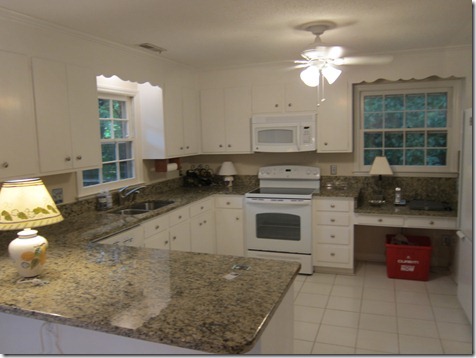 Here's a list of things we want to do to the house, both short-term and long-term:
Every single room needs to be painted. 
Almost all the fixtures need to be updated… I have a personal hatred for fans.  Fans must go.
Sand and stain the hardwood floors darker
Lay stone patio in backyard under the second-story deck
Paint kitchen cabinet cream, add tile backsplash, lay new flooring
Sand and stain the deck
Remove popcorn ceilings (maybe)
Put in a backyard fence (leaving this one to professionals)
Landscaping gut in the front of the house
Paint exterior
Tear up carpets in the den and replace with new flooring
New master bath + walk-in closet (this will not happen for years)
Remove glass enclosure in the guest bath
Renovate fireplace
Whoa.  That sounds like a lot of work!  But the house is in an incredible neighborhood – the best school district we could afford to buy in and close to shops.  So hopefully, it will all be worth it in the end.  I hope!  Ask me again when I'm knee-deep in DIY projects.
Aaaand, after closing on Saturday, I ran a sprint triathlon on Sunday.  Whew!  What a whirlwind.  I'm hellua sore, especially in my arms and back, but my knee feels pretty good – just tight. 
Breakfast time: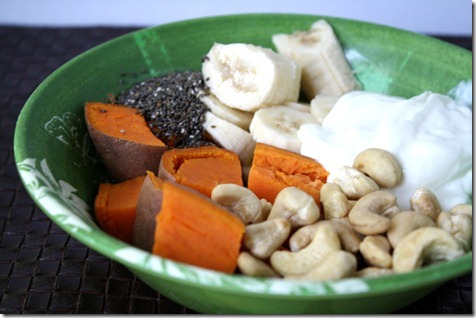 Chilled sweet potato taste FABULOUS with Greek yogurt – trust me!  To make it quickly in the morning, I just put it in the microwave for 5 – 7 minutes, slice, and then pop in the freezer for another few minutes.  Tada!  Chilled sweet potato.
With vanilla Greek yogurt, banana, cashews, and chia seeds for a little Omega-3s.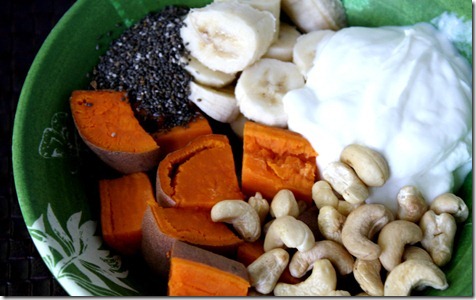 Fellow homeowners:  What's the biggest DIY project you've successfully tackled?  What did you call in the professionals for?