Since I have some new readers after The Today Show segment aired, I thought I'd properly introduce myself!  🙂
My name is Caitlin, I'm 26 years old, and this is my personal food and fitness blog.  Healthy Tipping Point's tag line is "when everyday decisions add up to something amazing" and it's the embodiment of the Operation Beautiful lifestyle.  I really believe health and happiness is about balance and moderation.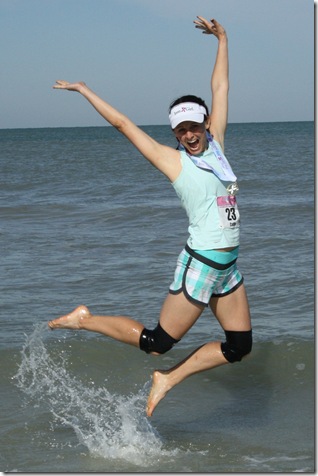 I take pictures of what I eat and create healthy recipes to prove that you don't have to restrict or "diet" and that healthy foods can actually taste good (like French Toast sundae).  I'm not perfect nor would I ever want/claim to be.  I'm just a regular girl!  Oh, and I love to run!  I'm not super fast, but I love to race and have completed 28 races, including shorter distances, a marathon, triathlons, and bike races (here are my recaps).  I'm all about having FUN with food and fitness.  Healthy doesn't equal boring – trust me!  Here's a selection of my most informative posts.
I used to work as an urban planner, but now I'm a full-time blogger, freelance writer, and author.  You can read about the transition on this post and this post.
I'm just a small part of a larger healthy living blog community of women and men bloggers.  We are supportive of different choices (healthy means different things to different people!), friendly, and engaging.  If you want to find other bloggers like me, just check out the comments section!  And welcome to my blog!
So… about last night.  🙂
I took a nap around 6 PM and woke up feeling very refreshed.  Which was great because I had a late-night television spot to do for a local Philadelphia show (it was filmed in NYC, I was just beamed in via satellite).
Before leaving, I ordered some room service.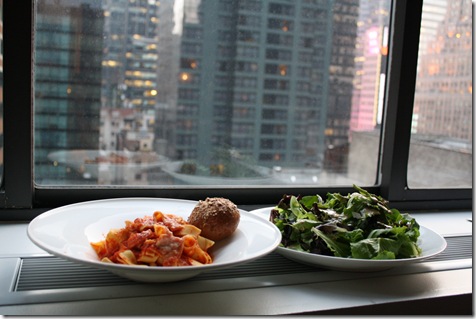 The dinner menu for room service looked pretty sparse in terms of healthy vegetarian options, so I politely asked the chef to create something for me.  He happily agreed!  He made me a pasta with red sauce and mushrooms.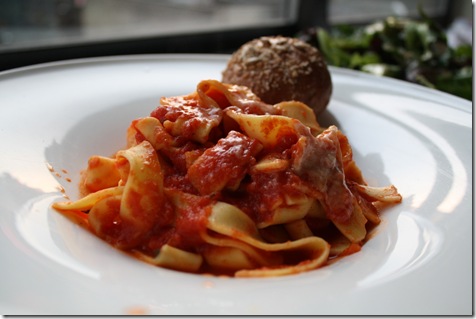 And a big green salad.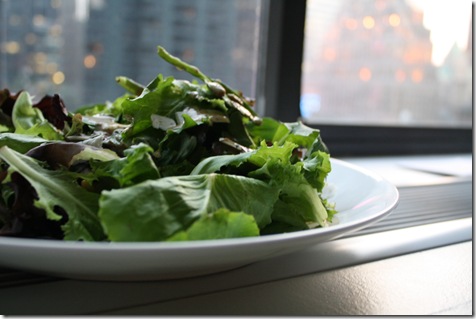 I got in a car and headed to the FOX studios.  Unfortunately, my "babysitters" (publicists) weren't with me so I got a little lost.  :)  I would!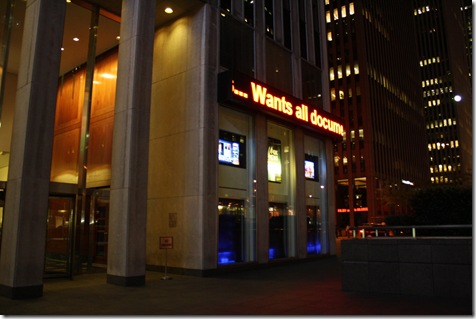 Eventually I found the studios and navigated my way to the Green Room.  And then I waited and tweeted to keep my mind occupied!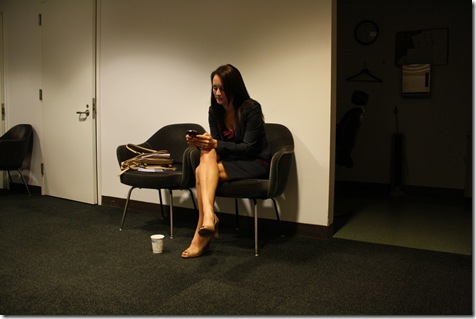 I went on around 10:45.  After doing The Today Show, I don't think I'll ever be nervous to do live television again!
Said thank you to everyone and then I got my boo-tay back to the hotel.  I positively collapsed in bed!
I woke up 7 hours later with my mind SPINNING.  I have so much to do – so many ideas swirling around in my head!  I indulged my workaholic side for a while, and then I ordered more room service (I know, I know… NYC has so much good food, but I'm pressed for time on this trip).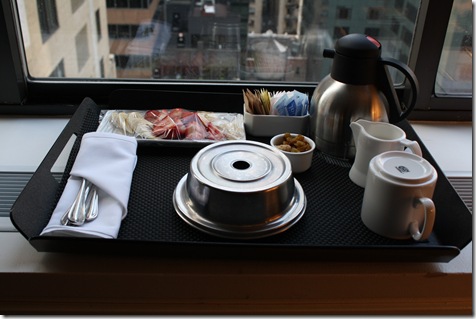 I ordered oatmeal with fresh fruit.  Not as great as homemade,  but it was a perfect breakfast considering it was hand-delivered to my door.  🙂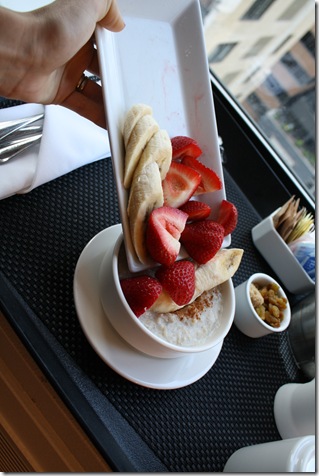 With a little brown sugar: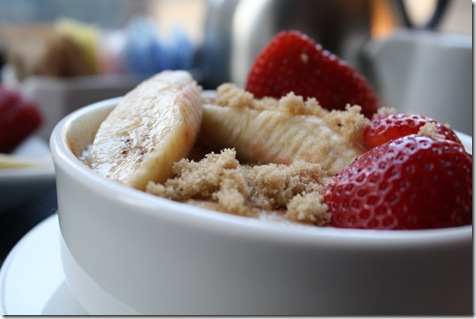 I've got to run, but I'll see you for lunch!  I have a meeting and then I'm going back to North Carolina.
In the meantime…
Toot-toot!  Check out today's stop on the Operation Beautiful Virtual Book Tour!
Today's Virtual Book Tour stop is at Oh She Glows. Angela recovered from distorted thinking and eating to find a new happy weight – and a new sense of balance.  A blogger who turned her love for baking vegan treats into a successful online bakery, Angela continues to inspire and delight thousands of readers each day with her positive attitude.  Stop by her blog to read what Angela thinks about ending her fight with the scale.

In honor of the OB Book Release, women (and men) all over America and the world are submitting guest posts describing their own experiences, struggles, and triumphs over body image issues.  To read the posts from earlier in the week,check out this page.  You can also enter for a chance to win the Operation Beautiful book!

Here are today's featured posts: