Catching up on the weekend?
I wanted something simple yet hearty for breakfast.  I love shredded wheat!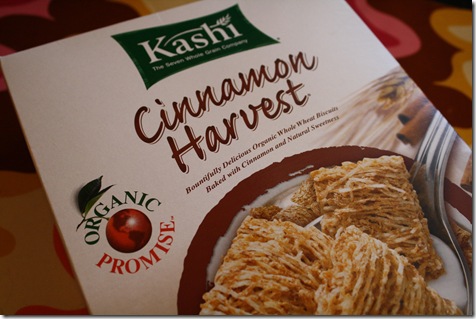 One serving isn't going to cut it with my activity level, so I had about 1.5.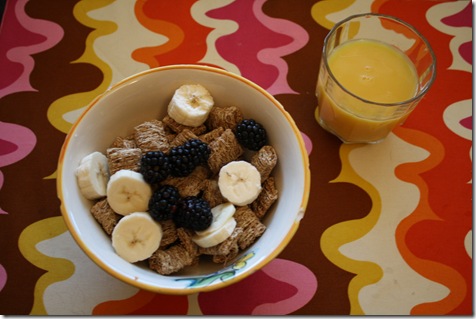 And I topped it with a bunch of blackberries and 1/2 a banana.  Plus almond milk and OJ.
Everything Changes Part II
In September, I laid out three confessions to the blog world.
I had just received a book deal for Operation Beautiful.
I had been secretly attending night classes at community college for a few months in hoping of becoming a physical therapist.
I was quitting my full-time job as an urban planner to write the book.
It was a BIG announcement!  It felt good to lay it all out there.  I was still taking two classes at night, and it was nice to be able to say what I was truly doing in the afternoons (I had to hide it from my employer).
Once I confessed that I had been hoping to make a career change and become a physical therapist, things really started to happen with the website (speaking engagements and whatnot) and my freelance writing.  Plus, I was writing the book! 
I started to feel a little overwhelmed, so I took a hard look at my Fall class schedule and decided to drop a course.  I ended up dropping Physics (thank God!).  I really liked my Anatomy course and ended up with a B!  🙂
Around the same time, I got into my top (only) choice for physical therapy school, University of South Carolina.  I was very happy because they only accept 10 or 15 people.  I was going to start in August 2010.
Then it came time to sign up for Spring classes.  I needed to take Physics, Chemistry II, and Biology II.  I was really busy with the website and writing, and my publisher told me I'd be doing a book tour in August.  I started to take a long, hard look AGAIN at my career options and the timing of graduate school, and I decided not to take any Spring classes and defer my acceptance until August 2011.
Annnnd then I was bitten by the baby bug!  If you follow me on Twitter, you probably know what I'm talking about.  :)  Although the Husband and I are not starting a family anytime soon (we're talking years), the idea of committing to graduate school for 4 years, $90,000 in student loans, and then re-starting my career at 30 years old did NOT sound appealing to me.  This works for some people but it doesn't mesh with my current goals for my family.  I am NOT making a judgment on other people's choices, of course.  Nor is 30 too old to make a career change… it just doesn't work for me.
I'd rather see where my writing career takes me (Book #2!) and continue to support the Operation Beautiful mission.  I believe you have to give opportunities the room to grow, or you'll never know where your dreams will take you.  At this time last year, I never in one million years imagined that I'd be in this position.  Plus, the Husband needs my support to launch his own acupuncture business this August. 
So, that's the update to my career plans!  🙂
What are your goals for your career and family life?  Do they sometimes conflict?