My feet are killing me! I never, ever wear high heels anymore, and after trudging around in 3 – 4 inchers for three days, my feet are incredibly swollen.  I've been trying to keep flats in my bag so I can switch into something more comfortable for long hauls, but still… Ouch.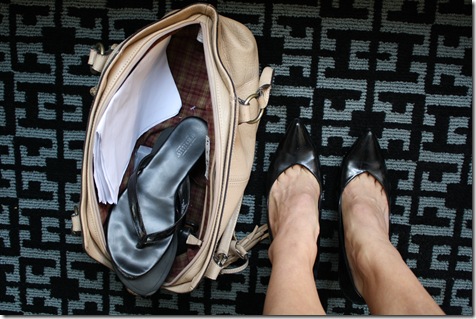 How very NYC of me.
Although I chose not to bring any workout gear on the trip (which worked out well because I haven't really had a minute to spare), I've been getting in a lot of cardio just by moving around the city.  On Wednesday, I walked about 4.0 miles and today, I did another 2.25!  The subway system intimidates me, and walking is free!  🙂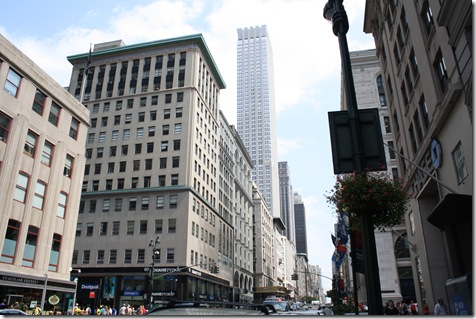 Do you walk to work or class regularly?  Isn't it nice?
My commute took me to the Shape magazine headquarters on Park Avenue.  I met with Jenna and Meghan to discuss all things social media and blogging.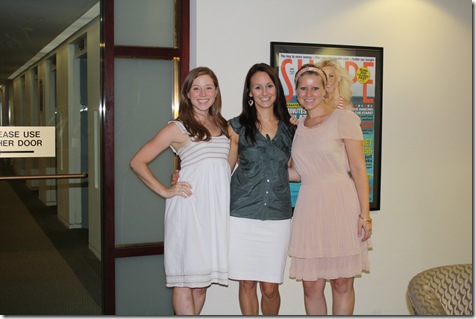 And then I walked back.  🙂
Realized on the way that I passed right by the Empire State building and didn't notice!  How could I possibly miss it?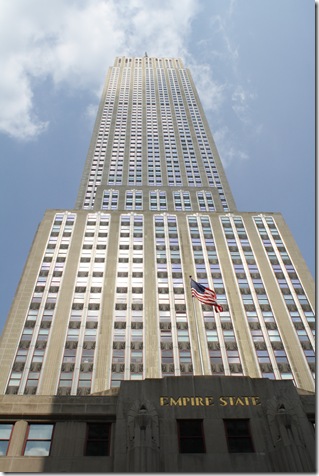 I stopped into a Pret to grab lunch to go.  I was OBSESSED with Prets when we were in London because they offered so many (inexpensive) vegetarian sandwich options.  The selection in NYC wasn't as great, but I still found something delicious.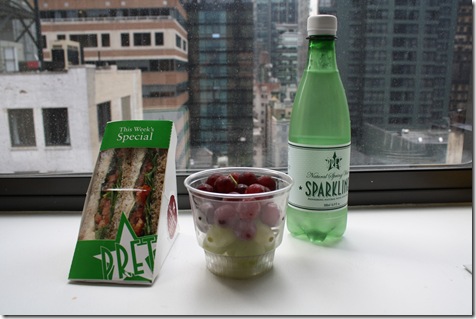 I got a tomato, arugula, and brie (?) sandwich.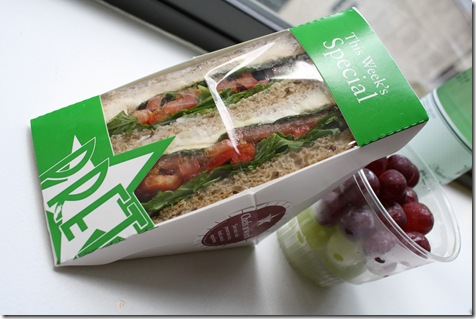 Plus grapes.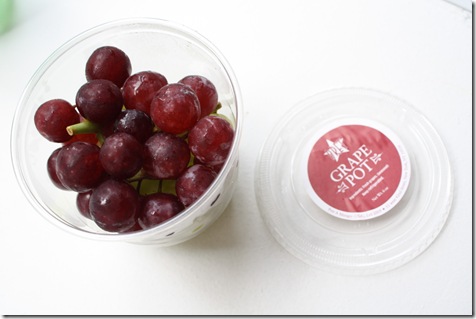 And sparkling water (chilled, of course):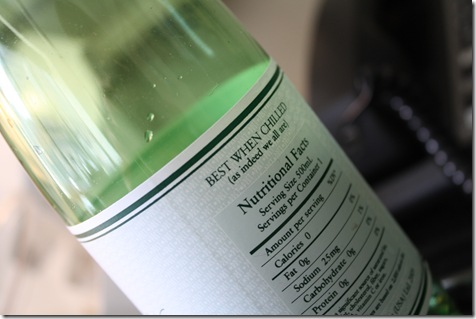 Time to pack up and get to the airport.  So excited to see the Husband and dogs.  And maybe go for a run!
The winners of the Very Operation Beautiful-ish Post-It Giveaway Contest are:
Laura wrote, "My compliment is for my best friend Blaire. When I was going through some really tough times with self-esteem and body image, she was always there to help bring me out of funks. And, thanks to her encouragement, I have started developing a healthier and more positive outlook on fitness, outlook, and life!! Thanks, Blaire!"
Saima wrote, "My dad is my inspiration…he inspires me immensely that with determination one can achieve their dreams no matter how difficult the journey may seem!!"
Samantha wrote, "Definitely my parents are a huge inspiration to me. They support my decisions and also support me financially by paying for my college. They seriously deserve some recognition because I know money doesn't grow on trees!"
Danielle wrote, "Truthfully, if we're talking the blog world, I couldn't pick just one blogger to compliment. All of the healthy living blogs I read truly do add something special to my life. Those busy weeks where my Google reader's unread items approaches 300 I really feel like I'm missing out, and I relish the time I spend catching up, getting new food and fitness ideas, and relating to the topics that affect us all. So thanks to all of you!"
Julie wrote, "My compliment is for my very best friends from the 'burgh. Even though we are now scattered, these girls are all intelligent, beautiful, witty, and amazing!"
Congrats!