This race was notable for two reasons:
1) It rained nearly the entire bike ride.  I was terrified.
2) I actually whooped butt on the swim (relatively speaking, of course).  I never thought I'd type that sentence!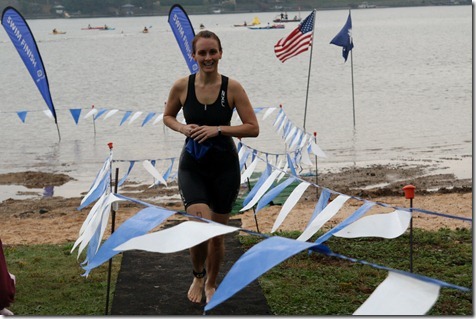 I have a long and storied history with the swim leg of the triathlon.  My first time, I panicked 200 meters in and quit the race.  My second attempt, I was dead last out of the lake because I had another panic attack – but I didn't quit.  I finally conquered my fear of open water by doing a lake race, and I felt pretty good during the swim of my 4th, 5th, and 6th triathlons.  So to finish strong – and fast – today felt AMAZING!
Okay – let's back up.
The Husband and I were on the road by 6:00 and ate in the car.  I fueled a bit differently for this race.  Normally, I eat a peanut butter and banana sandwich, but I wasn't feeling it, so I had a Clif Bar and a soy latte instead. 
We arrived at the park and did check-in and body markin', and then I set up my transition area.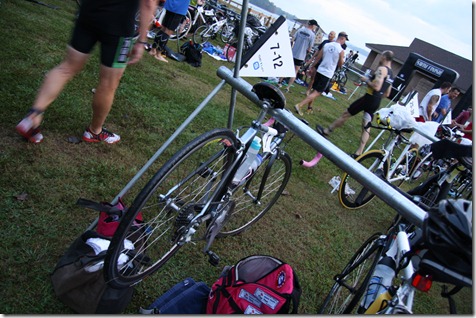 This race was very small – only 90 competitors – so transition wasn't crazy.  No nutty triathletes fighting over rack space (which does happen, believe it or not).  I took one look at the sky and decided that I should leave all my gear in the bags instead of laying it out.  This ended up being a very, very wise decision!
We headed down to the lake and waited to be directed into the water.  The sun was just coming up!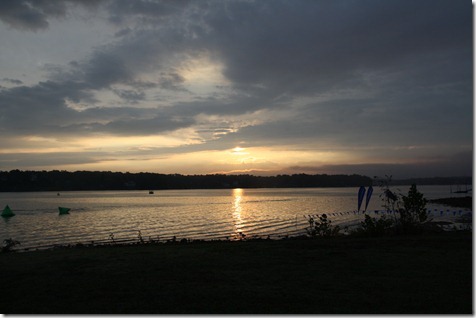 While waiting, I spoke to a mom who's husband and two boys were also doing the triathlon.  Her husband had lost 180 pounds in the last three years, and her boys are only 11 and 12 and already do triathlons!  Isn't that impressive?  I was a little intimidated by the boys, who were wearing matching kits and serious game faces.
The race director called us all into the water…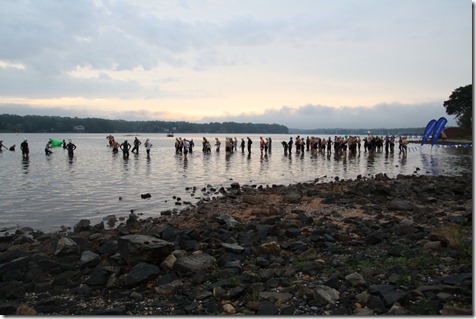 I love in-water starts.  I think it's horrible to be forced to run from the beach into the chilly water (the water temp was 75, so many people were wearing wetsuits, but I opted not to – wetsuits are more trouble than they're worth, to me).  I was in the third wave.
Ready, set, GO!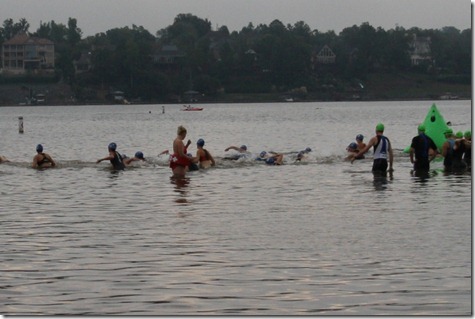 The swim was 500 meters.  Short and sweet.  I started off WAY too fast and paid for it by the first turn. 
I tried to focus on my breathing, taking three strokes and a breath, but I had come out so fast that I wanted to breathe every single stroke, which made me feel like I was hyperventilating.  Finally, I got my emotions under control, and just like that – the swim was over!
I finished the swim in 12:47 and placed 19th out of 29 women!  Sure, I'm not breaking any records, but please remember – I used to LITERALLY come in last.  So to beat 11 other women… I was thrilled!
Hauled my butt into transition.  The Husband said to me afterwards, "I know I've never ran a triathlon and know nothing about transitioning, but you really need to work on changing into your bike and run gear faster."  Ha!  He is right, though.  I tend to sit down and look around.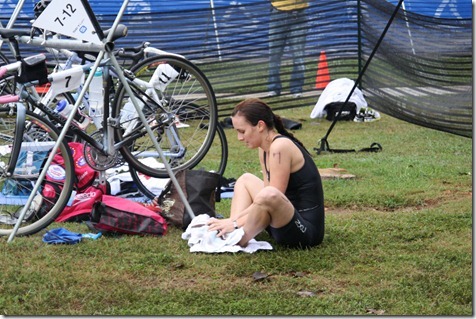 T1 took 1:57.  Most of the women transitioned in 1:30 or less.
Let's ride!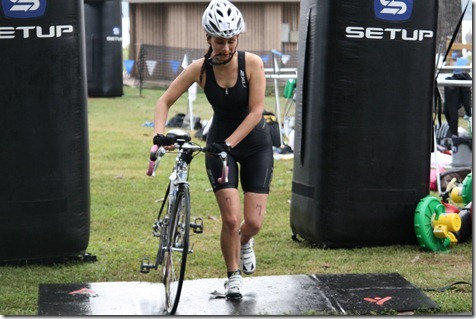 Ugh.  The bike.  I was dreading the bike.  I haven't really ridden outside in… weeks.  And I felt so underprepared for the extremely hilly course.  I wanted to kick myself the entire ride – I was so mad that I was clearly undertrained.   Plus, it began to rain about 10 minutes into the ride.  I'm so scared of cycling in the rain, but it was fine.  I just took it really, really easy around the corners.
I finished 14 miles in 52:40.  I was not pleased going back into transition, especially when I discovered that all my gear was totally soaked.  Thankfully, my extra pair of socks (ALWAYS bring an extra pair of socks to a tri!) were dry because I had stashed them in a waterproof bag. 
When I began to run, I immediately felt better.  The run is always the best part of a triathlon, at least for me!  It's my strongest leg and the one I feel most comfortable tackling.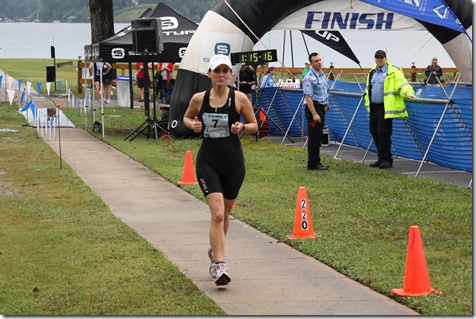 The Husband caught me mid-Shot Blok eating.  Yum.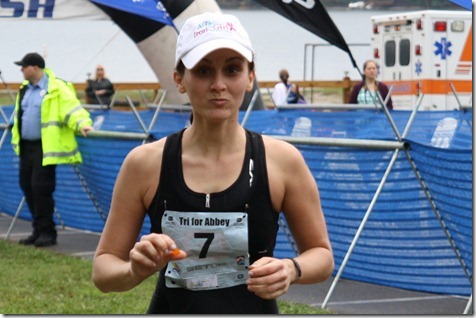 The 5K was challenging.  Very hilly course, just like the bike.  I walked up the steepest hills but tried really hard to maintain a steady pace.
My good mood quickly disappeared.  I caught myself being so negative on the run.  My poor bike time was weighing heavily on me, and I was thinking things like, "You are so out of shape,"  "Two years ago, you would've crushed that ride," and "Why didn't you train harder?"  Then I realized what I was doing – it's amazing how quickly negative thoughts can overtake you during a race. 
I consciously corrected myself with positive thoughts, "You are alive and active," "Three years ago, you would've already cried four times and you are being so strong now!" and "You kicked butt on the swim." 
Funnily enough – I ran faster when I was being positive…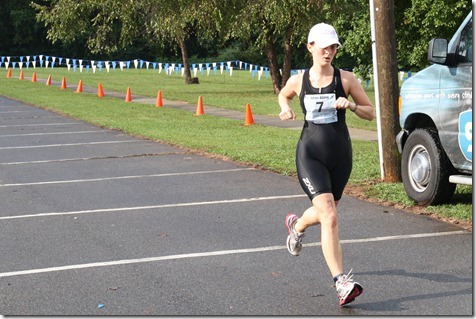 I spy the finish line!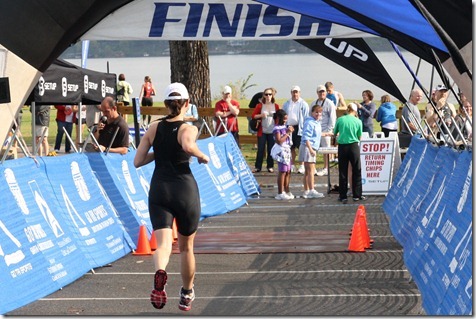 I did the 5K in 28:23 and finished the entire race in 1:37:24. 
The very best part about today's race?  The Husband spectating.  I love it when he comes to my races and I get to cover him in sweaty hugs afterwards.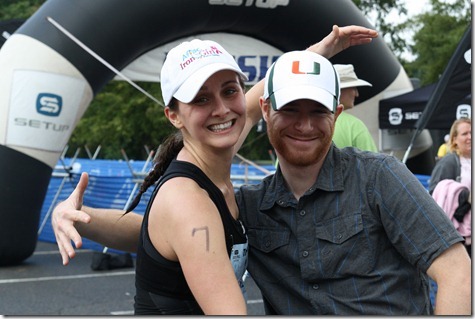 Ha – just kidding.  We air hug and stand 5 inches apart.  You are smelly, wet, and dirty after a triathlon.  No clean person wants to touch you.
I tackled the post-race food and ate two bags of Cheez-Its.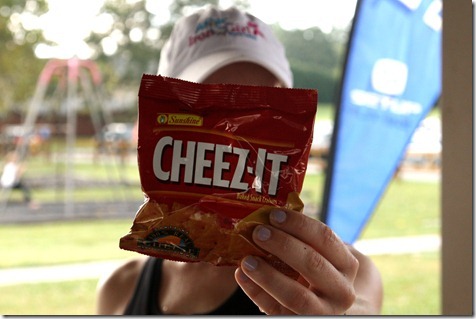 And then we grabbed take-out for lunch – I had a yummy wrap and more chips.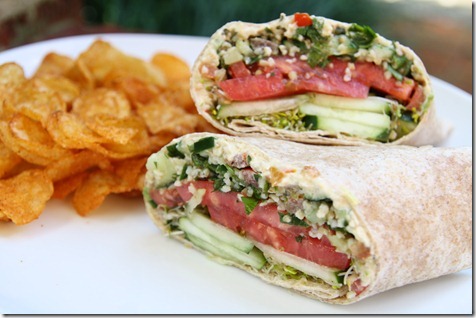 Now that my belly is full, I need a shower and a nap.  I'll feel like a new women in a few hours!
How do you combat negative thinking during a race?  What are your favorite positive mantras to use mid-race?