We did it!  We did it!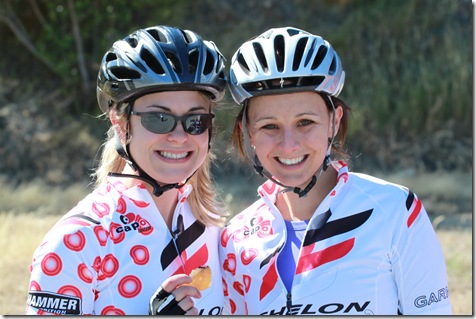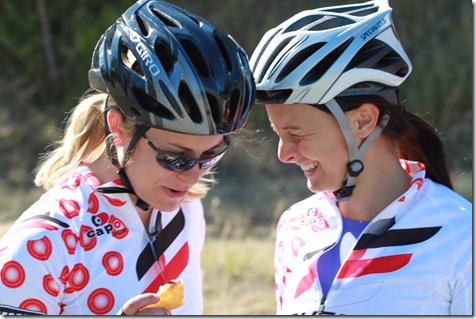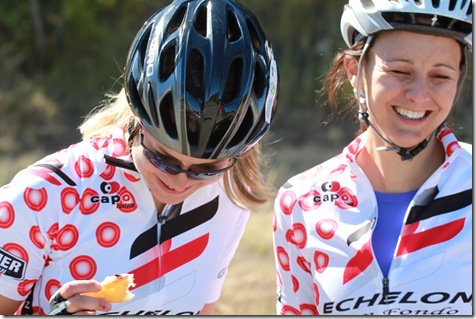 We may not have been super fast; it might not have always been easy (there was definitely a moment when I openly sobbed into my handlebars); and it was definitely not always pretty, but Jenna, my Dad, and I had an absolute blast riding 100 miles through Napa Valley, California.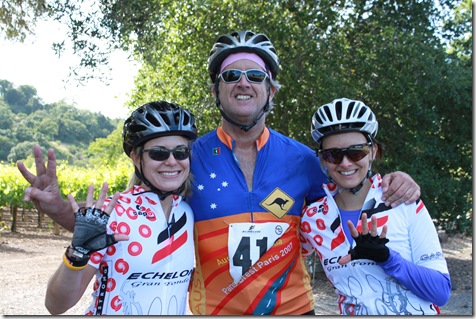 The race morning started off like the other 26 races I've completed… my alarm was blaring at 5 AM.  I rolled out of bed, pulled on my race gear, and ate a stabilizing breakfast of banana and English muffin with jam.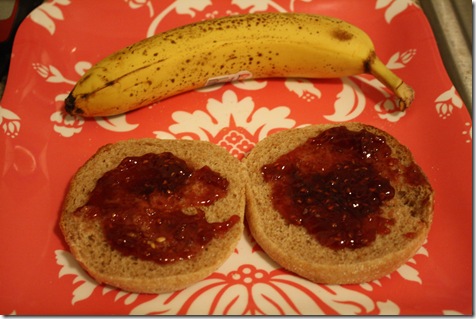 Then, Jenna, my Dad, and I piled into my Dad's van for the 1-hour haul to Napa Valley.  I was a little concerned because it was absolutely FREEZING outside (for a Florida girl like me!) and decided to wear three layers – an undershirt, a long sleeved shirt, and a bike jersey – as well as awesome thigh-high socks that I had purchased the day before.  $5 spent well!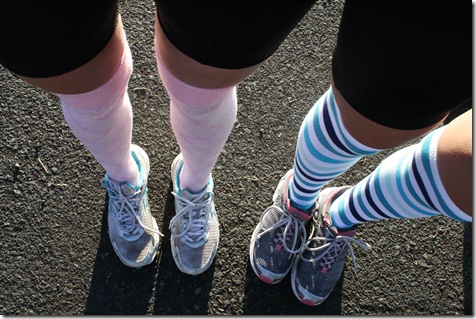 Packet pick-up went smoothly, and then we met up with the rest of my Team Awesome.  We raised a ton of money together for cancer research – together, we raised more than $5,500.  Pretty awesome!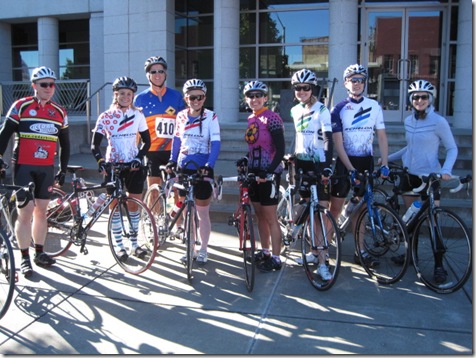 Before gearing up at the start, I inhaled a PB bagel…
And then we lined up at the starting line.  I've never been to a bike race this size and got VERY nervous.  I was a little intimated by how professional and collected everyone else seemed – I was shaking in my boots just IMAGING 100 miles.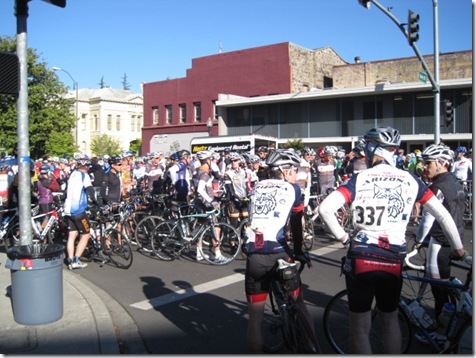 With a little fanfare, we started the race at 8:45.
There were 3 groups – a 30 miler, a 60 miler, and a 100 miler.  I felt congested and tired at the starting line and told myself I could bail from the 100 mile group if I needed to and switch to the 60 mile group.  However, the groups split at mile 24 or so, so I'd have to make that decision soon.
Luckily, I had the scenic Napa Valley countryside to distract me: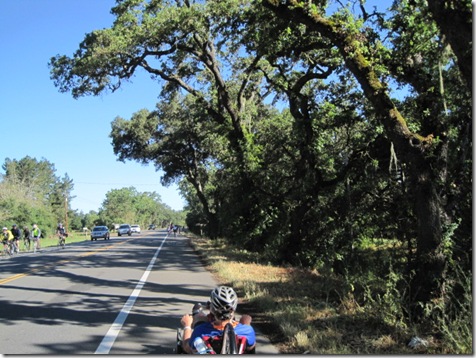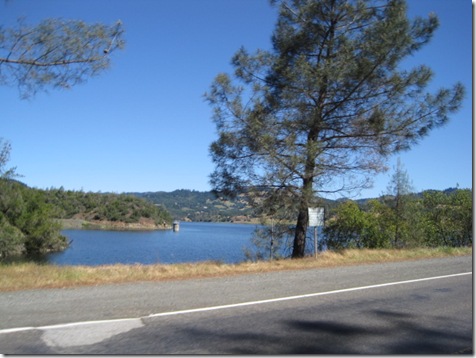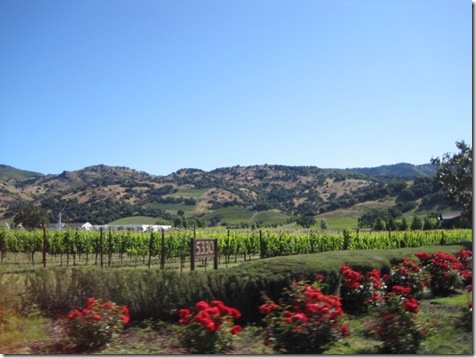 The first aid station was at Mile 20, and I was so excited to see it!  I really wanted to eat DONUTS, but alas – they didn't have any.  Apparently, in Napa Valley, they are fancy and serve croissants and brie cheese.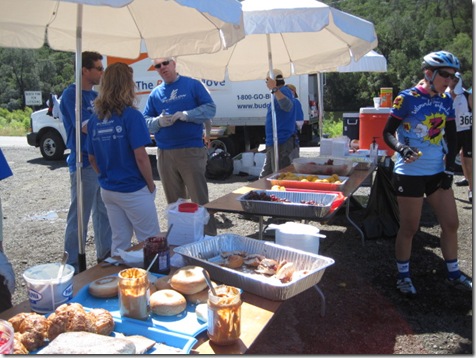 I opted for cookies and Gatorade.  I tried to keep track of what I was consuming over the 100 miles to tell you about it, and here's a rough guesstimate:
1 Goo shot
1 Clif bar
12 Fig Newtons
5 Oreos
Fruit
Goldfish
Licorice
Multiple Gatorades
Pringles
I easily burned 4,000+ calories on the ride, and when you're experiencing that kind of calorie burn, you just need GLUCOSE – fast.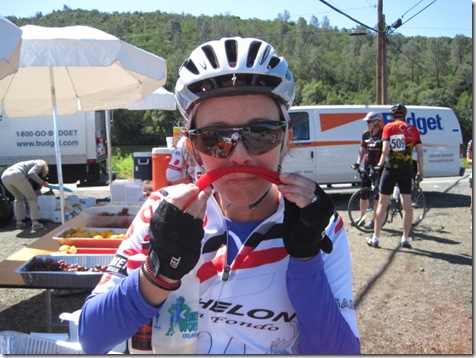 Following the first aid station, I had a tough decision to make:  60 or 100 miles?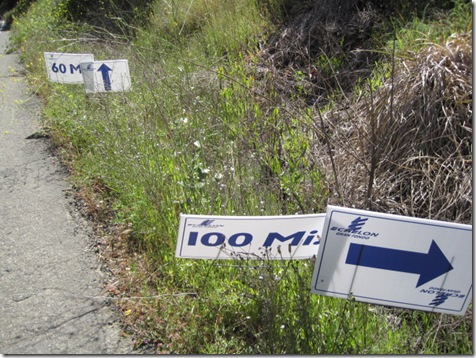 Since Jenna decided to do the 100 miler (she was originally signed up for the 60), I also decided to stick with the Century distance. 
But I almost immediately doubted my decision because that's when the massive hills started.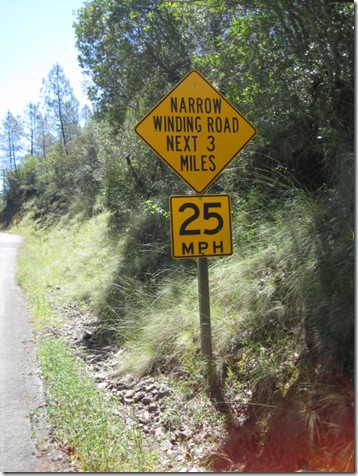 It was like torture!  There were TWO major climbs in the course (and multiple smaller climbs), and the first one was pretty rough.
Jenna said this part of the course was the hardest for her, but I handled it pretty well.  After all, what comes up, must come down… right?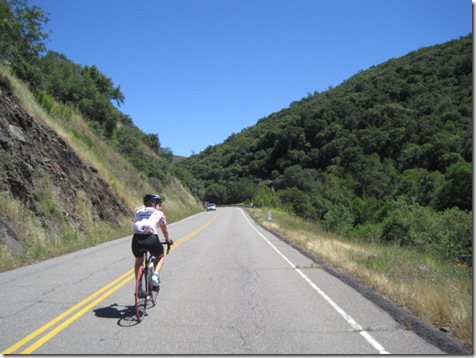 Nothing feels as good as GOING DOWNHILL after climbing for 1 hour straight!
At the second aid station, we realized we were running pretty slow and would have to work hard to make it to the third station before it closed down, too.  I know we didn't do the FASTEST Century or even a medium-paced Century, but in my opinion, they were too quick to close the rest stops.  It put a lot of pressure on the riders in the back, and it made me feel frantic.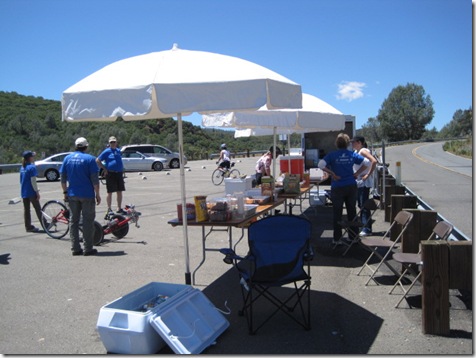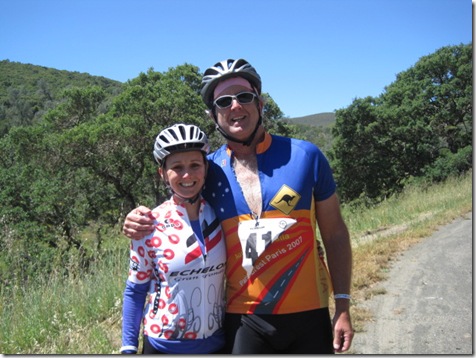 Unfortunately, my anxiety would only grow because we hit the second climb around Mile 55.
It… was… grueling.  I cannot explain to you how hard this climb was.  It was 4 miles long, and the elevation increased more than 1,500 feet.  I consider myself to be in good shape, but the atitude + elevation + sickness did me in.  I got off my bike MULTIPLE times to walk, and two miles in, I had a complete breakdown.  I got off my bike and just openly cried.  I knew it wasn't going to be over anytime soon, and the task ahead of me seemed so insurmountable and scary.
But then….
Jenna's boyfriend came to the rescue!  He drove to our location and brought us food + drinks so we didn't have to worry about missing the aid stations.  Just seeing his smiling face + truckload of food lifted my spirits!  I really don't know what we would've done without him.
And he came bearing Pringles!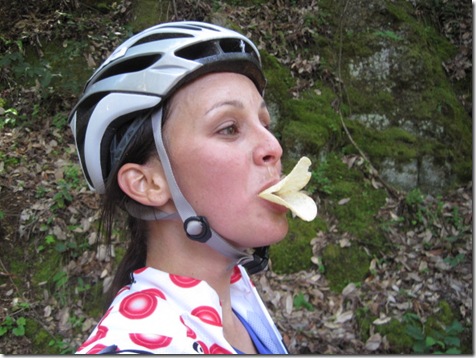 At that point… it was truly all downhill.  Although we had another 30+ miles to go, the course changed dramatically.  No more major climbs!  We spent a lot of time just coasting down the mountain at 30 mph or more.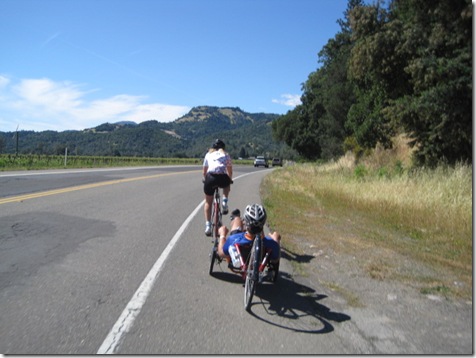 The minutes ticked by, and before I knew it, I was calling out, "Mile 95!"  And just a few miles later, we coasted into the finish line.
Distance: 100 miles
Duration: 9 hours, 30 minutes on the nose
I cannot believe I worked out for 9 hours and 30 minutes.  I don't even SLEEP that long!  It was insane. 
I was SO proud of Jenna for working so hard.  She kept a smile on her face the entire ride, and she truly blew my expectations for her out of the water.  She's a tremendous athlete!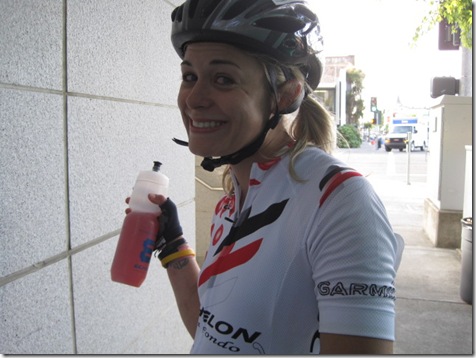 After the ride, we grabbed pizza at a cute restaurant in Downtown Napa: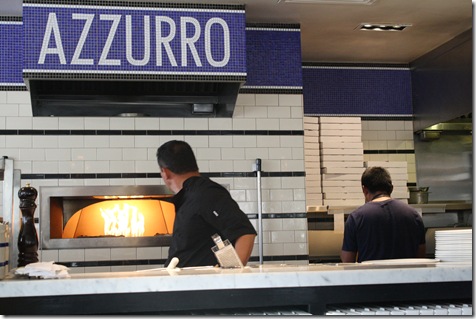 I had 6 slices of veggie pizza.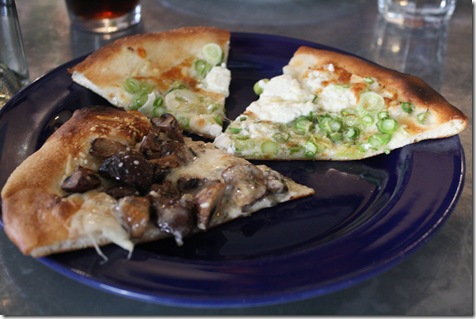 And after I said goodbye to Dad (I love you, Dad! Thank you for riding with us!), Jenna and I went back to her boy's place, we drank wine, and sat in the hot tub.  Bliss.
I am utterly EXHAUSTED!  I cannot believe I rode 100 miles today.  I'm proud of myself for sticking it out even though I was under the weather and the course was hard.  It was truly an experience I'll never forget!  In a word… it was epic.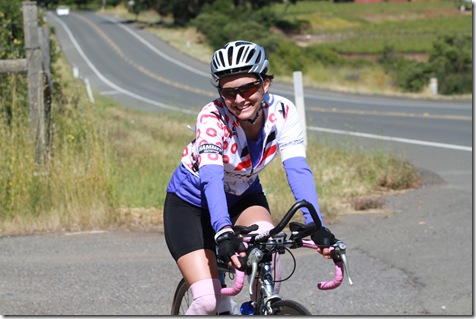 Our plans for Monday include WINE TASTING in Napa!  I'm so excited – a relaxing day is exactly what Jenna and I need.
Thank you for your support!  :)