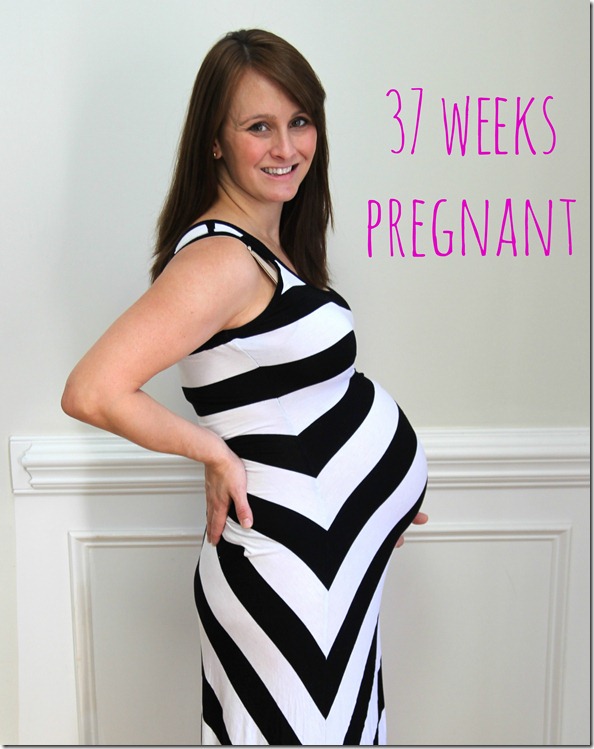 Time for another pregnancy brain dump!
Physically, I am…
…Meh.  I came down with a really bad ear, nose, and throat infection over the weekend (I have a double ear infection!).  A terrible cold + being 9 months pregnant is kind of the ultimate EFF YOU to my body.  I'm on antibiotics to kick this thing ASAP – my big fear is that I'll go into labor sick.  I can't IMAGINE laboring like this.
…Up 40 pounds, getting sciatica in my right leg, and hate the stairs with all my might.
…Blowing off exercise.  MomHTP heard I was sick and said, "Oh, honey, make sure you don't try to push yourself too hard with your workouts!" and I actually LOLed.  The only 'workouts' I've been doing are 1 mile walks around the neighborhood with James.  I really, really wanted to hold out on sweat-inducing workouts longer, but it's just not going to happen.
Emotionally, I am…
…SUPER FREAKING EXCITED.  Oh man.  We are so pumped to have this baby!  We have no plans to have more children, so Little One's arrival feels extra special because we will be 'complete.' Kristien and I are just really overjoyed to meet him or her and to experience the baby phase again.
…Not ready quite yet.  My prediction is that I will go before my due date (December 1) because I went into labor with Henry at 39 weeks + 5 days.  But I hope and pray that I will last as long as possible because I feel like I have a ton to do still!  It's all silly, small stuff – like raising the crib and installing the carseat and making freezer meals – but I'd like to have everything DONE DONE before the baby comes.
…Feeling good about labor.  I was NOT feeling so good about labor, but I re-read some of my favorite Bradley Method / natural birth books, attended a Bradley Method refresher class, and just did some chatting with Kristien.  Reading and talking it out made me feel much more on top of my game – less freaked out and more prepared.  I am hopeful for another great experience!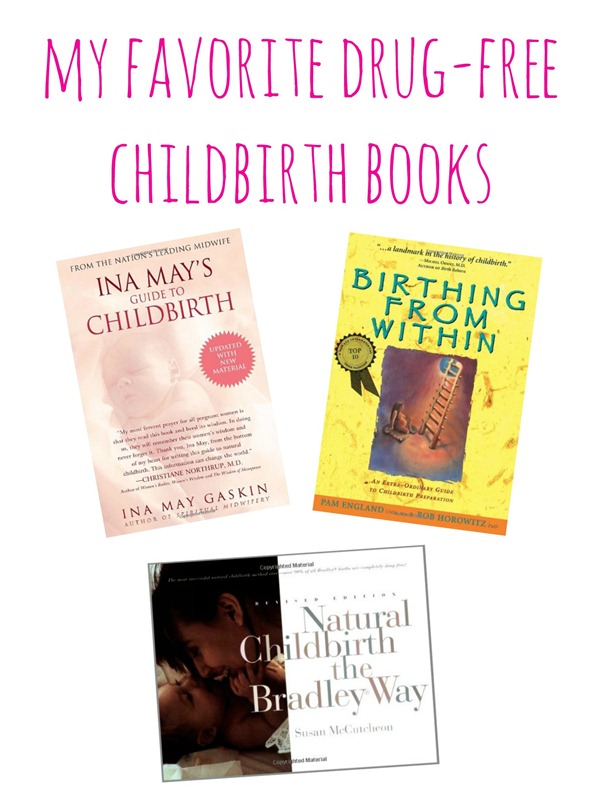 Henry is…
…Aware of what is happening.  He knows the baby is coming soon, but he also thinks that he also has a baby in his belly that is coming out soon, too (he keeps asking me to "poke it, mommy, poke the baby!" and lifting up his shirt!).  However, he is more excited that MomHTP is coming to stay with us when the baby is born – I honestly think her visit will have a bigger impact on him than me bringing home a newborn.
I am really excited that…
…Under my ACA healthcare plan, I get a free Medala breastpump! All I had to do was call my insurance provider and it's being delivered in the mail. Pretty awesome – it's a nice double electric one, too!
I am busy…
…Packing!  Here are the things that I'm packing in my hospital bag…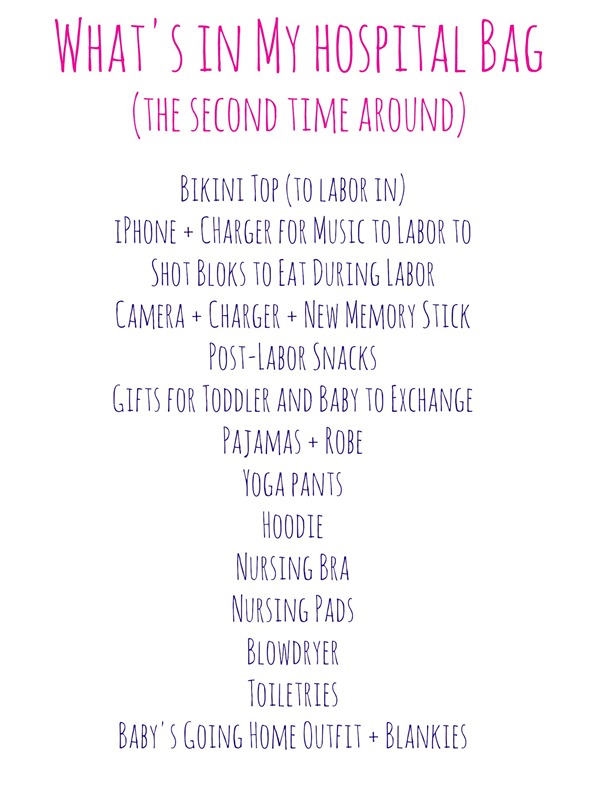 Did I forget anything?!  I overpacked with Henry (as I'm sure most first-time moms do) and recognize that I don't really need THAT much stuff.
Let's compare my first pregnancy to my second…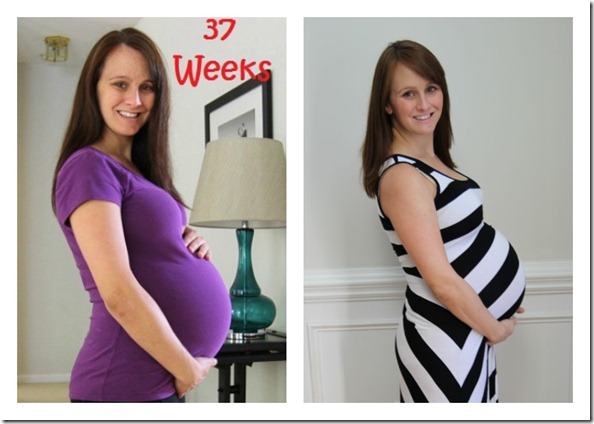 I'm standing at a different angle, but I think this baby is higher (and the bump is way bigger!).
My official sex prediction is that this baby is a…
…GIRL!  No, BOY!  No, GIRL!  Heck, I have no clue.  This is, of course, the question that everyone asks me when they find out that we're "Team Green" and the truth is that I have no idea what we are having.  I try to close my eyes and really focus on the baby and get a sense of whether it's a girl or boy, and sometimes, I get girl vibes… and then at other times, I get boy vibes.  Hah. 
I have been wanting to write a little "Public Service Announcement" for things NOT to say to Team Green moms, but I haven't figured out exactly how to word it as a stand-alone post… So I'll just say that if you know a mom who doesn't know the sex of her baby, pleeeeease don't say, "I hope you're having a XXX!"  I've been getting a lot of "I hope it's a girl!" and that comment crushes me (FYI I straight-up tell this to the people in real life, so this isn't a passive aggressive dig via blog post – LOL!).  I truly don't mind, "I think it's a girl!" – it's just someone saying they hope it's a girl.  It makes me so sad (for obvious reasons!).
Personally, I think two boys would be a heck of a lot of fun.  A boy and a girl would be a cool experience, too.  But I always wonder about the fascination with the baby's sex – it's not like the sex is the end-all, be-all of who that person will become… you know?  It's just one characteristic of many.  I'm just praying hard – every single night – for a healthy and happy kid!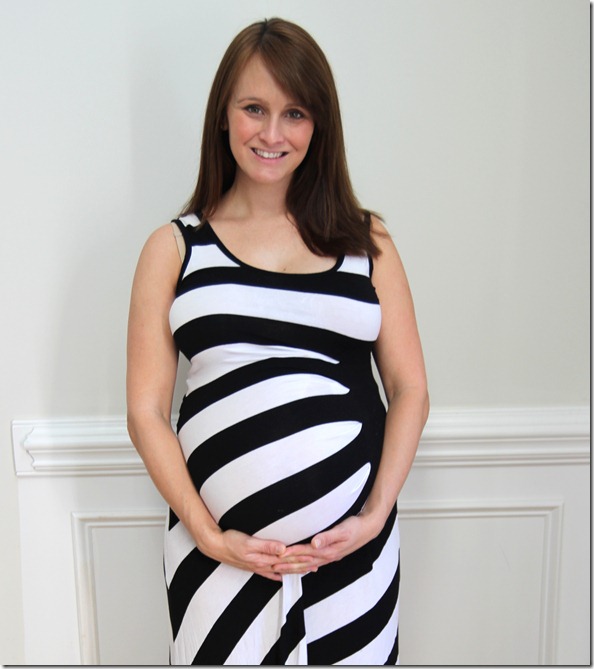 Can't wait to meet you, Little One!
Other Little One posts:
In the Oven {Again} (Announcement Post)
Things I Learned About Having a Newborn
Panic-Free Pregnancy: Round Two