First of all…

Thank you all so much for the well-wishes.  It is so appreciated.  In particular, I really loved the comments from people who have been reading since before K and I got married – it's so lovely that you've followed my blog and my family for so long.
Obligatory mirror selfies shall now commence!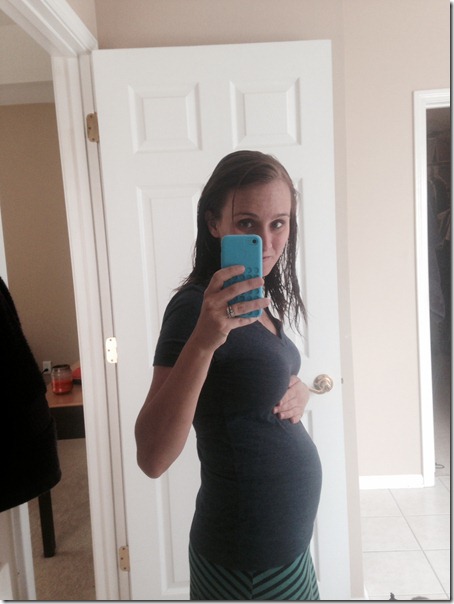 They say that every pregnancy is different, and so far – that's true for me. Round 2 is way different. Little One knocked me on my butt for a few weeks (this was a big reason why I fell off the proverbial health wagon a few months back – I just couldn't explain it fully then). I know that, relatively speaking, my morning sickness wasn't too bad; it's more the exhaustion that did me in.   I took some notes on my phone so I would remember what was happening and when – here's a few highlights (and lowlights):
Tested positive five days before missed period – just like I did with Henry!
5 Weeks 1 Day – Really, really bad puking and digestive symptoms.  Horrible.  Glued to the couch.  All I want is French fries and fountain drinks.
5 Weeks 5 Days – I wrote down this:  "I have serious, soul-crushing exhaustion."
7 Weeks – Nausea and gagging.  Smells are terrible.  The full trash can is my nemesis.  Dirty diapers are my other nemesis.  Exhaustion is getting worse.  I want to nap all the time.
8 Weeks 6 Days – I luckily feel awesome on my 30th Birthday!  I cannot get over how pregnant I already look…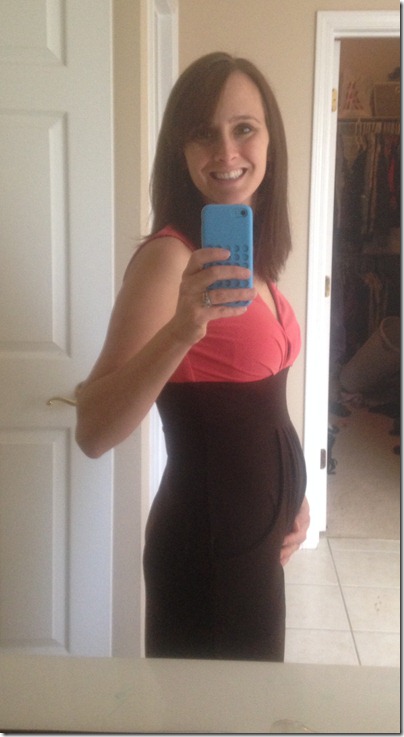 9 Weeks 4 Days – I give up.  I am getting the maternity clothes out of storage.   None of my clothes fit me anymore (already?!).
10 Weeks – Insomnia is starting.  It's strikes around 2 AM and I end up starting at the dark ceiling for 2 hours.
11 Weeks – We hear the heartbeat for the first time!  It's amazing.  Heart is 170 BPM.
12 Weeks 4 Days – Ughhh, please go away, morning sickness.
14 Weeks – I feel SO MUCH BETTER overall.  I only gag when I brush my teeth or eat something weird (like a mealy apple – gross).  And I've noticed that I don't usually get insomnia on the days that I work out. So… that's a good reason to exercise!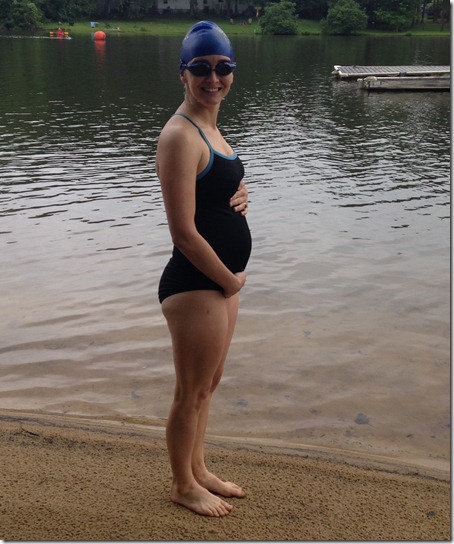 Here's one thing that is the same about this pregnancy:  I stopped running with Henry at 16 weeks, and I'm thinking the end is near for this baby, too.  Running is getting more and more challenging. I don't mind going slowly (and taking a lot of walking breaks); the real trouble begins after I'm done. Running knocks me on my ass. I did 4.5 miles on Friday, and I was so exhausted by that evening that I went to bed at 8:45 PM.
I was SUPER proud of myself for Saturday's 1 mile open water swim, and swimming is a lot more fun overall because I don't 'pay' for it later.  I'm going to switch to mostly swimming for my cardio workouts after this weekend…   I swam until two days before I delivered Henry, so I know that it's a workout that can last me through the duration of pregnancy, assuming everything else stays normal.
Some FAQs…
I thought I'd answer some of the questions that I got in the announcement post / things that I bet people are wondering!
How did you tell Kristien / Does Henry know?
I told Kristien by making Henry this shirt!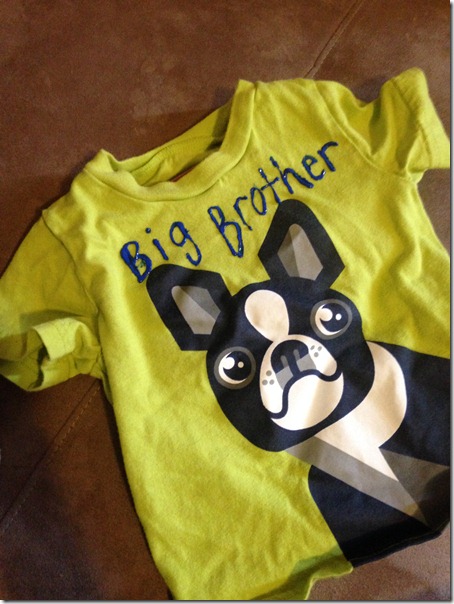 He came over from work and played with Henry for a few minutes before noticing.  He was super shocked and excited.  I recorded it just like I did when I told him about Henry.  I love those videos!  He gives me the best "OMG" face both times.
And yes, Henry knows!  I've been telling him since Day 1.  I have no idea if he really knows what going on, but he's much more into little babies now when we see them at the store, etc.  Occasionally, when I say, "Mommy is going to have a baby!" he pouts and says, "Henry da baby!" Awwww…
Are you going to find out the sex of this baby?
Yes, we are definitely waiting.  I wrote out the reasons why we wait (and the drawbacks) in this post.  We really loved not knowing Henry's sex until birth and cannot wait to experience that again.  I have no real premonitions of whether this baby is a boy or a girl, and I have zero preferences.  I think it would be pretty amazing either way – I think Henry would enjoy a brother, and I like being a mom to a son, so another boy would be great.  And a girl would be fun, too, just in other ways.  I don't take healthy babies for granted, so that's all that I'm focusing on.
Are you going to do the Bradley Method again?
(Just an FYI: Bradley Method is a technique for a drug-free childbirth – here's my Pre-Birth Review and my Post-Birth Review.  Bradley totally "worked" for me as I had the drug-free delivery that I wanted.)  Yes, I am going to do Bradley again.  We are not going to do the classes again because we simply don't have the time, but I'm going to read all my books and 'study' the method again.  I enjoyed my birth experience overall and would love it if this baby was basically a repeat (although the pushing stage could go a little faster, please and thank you).
What does this mean for the blog?
With Henry, I did weekly updates.  I mostly used the updates as a way to address a variety of parenting topics that were on my mind as a first-timer, so I don't think I'm going to rehash the weekly updates – I'm not sure that I'll have anything new to say about pregnancy/parenting every week!  Maybe I'll do an update every two or three weeks?  We shall see!  I guess it also depends on what you guys want – I know some of you would like the more frequent updates and others would rather skip it.  Personally, I enjoy reading other bloggers' weekly updates even if it's just "this is how big I am!" pictures, but I'm in a mommy stage of life so…
How do you feel about going from 1 child to 2?
We are really happy. Obviously, this pregnancy was very much wanted.  I do feel strange about going from 1 kid to 2 because I am an only child. I have no frame of reference in my own childhood about what it will be like.  I mostly worry about stupid stuff, like how we will do bedtime.  But I try to balance that out by thinking about the kids growing up together – taking family vacations and playing in the backyard during the summer and rowdy dinners at home.  In general, I think that 2 kids will be CRAZY FUN.  
Hey, can I have that cake recipe? / Oh man, I thought the double layer meant twins!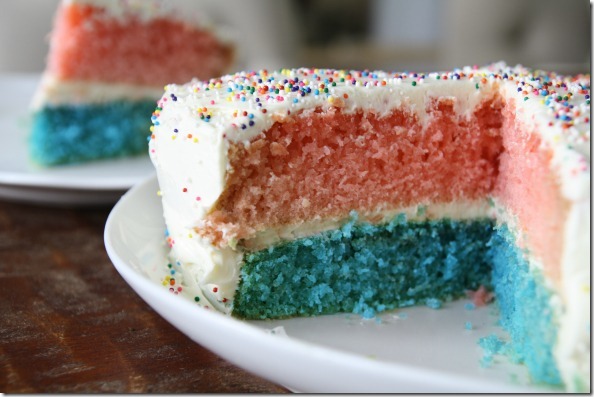 It's Betty Crocker's gluten free yellow cake mix – two boxes, the top dyed pink and the bottom dyed blue.  And sorry that I psyched some people out regarding twins with the double layer – haha! I didn't even think of that.  And actually, we haven't had an ultrasound yet, so I guess anything is possible… Twins would be ironic considering that I April Fools the Husband into thinking that was the case!
Just for fun:
Henry's Pregnancy Announcement
Henry's 'All the Baby Details' Post
All of Henry's pregnancy updates
For the other moms -  Did you run through your pregnancy?  Were your more tired with subsequent pregnancies? How did you feel about going from 0 to 1 and from 1 to 2?