30 weeks.  Holy hell!  I gave birth to Henry in Week 39.  Assuming I follow the same pattern, that means that we're in single digit week countdown mode.  <—If you could see my face right now, it'd be an combination of sheer panic and utter joy.
I feel the blog has been rather baby and parenting (and pumpkin recipe) heavy lately – I'm sorry!  I know some of you *love* these posts and others would rather have a greater variety.  But it's just way that my writing has worked out lately.  Plus – it's kind of what my life is about at the moment (especially the pumpkin – hah).  I promise some variety is forthcoming!
A comparison of then and now: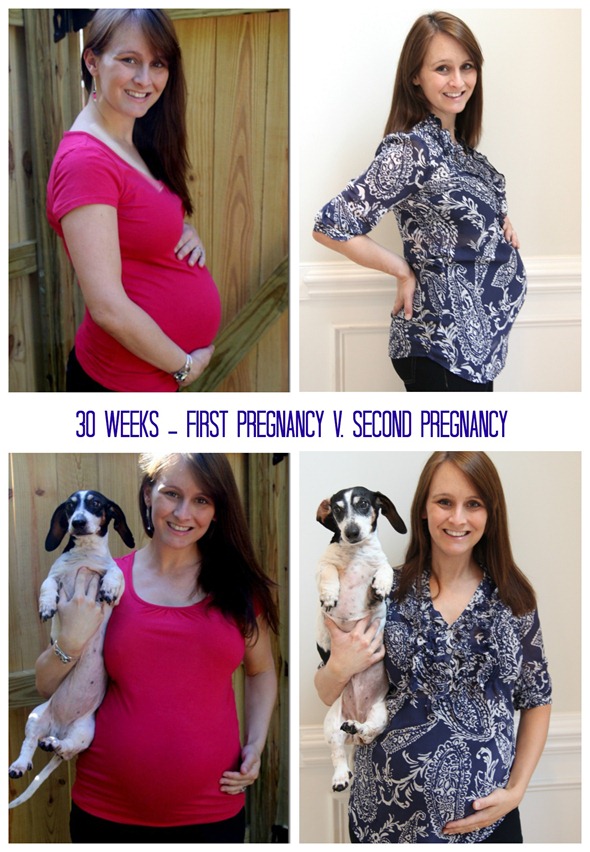 Week 30 Q&A:
Total Weight Gain: 31 pounds… I think I'm going to end up somewhere around 40.  I read the other day that the baby now weighs THREE POUNDS, which sounds so big.
Clothes:  NOTHING FITS ME.  Because I'm only 4 pounds away from my maximum gain with Henry, and because he was born in the summer instead of the winter, I am pretty much screwed when it comes to winter clothes.  I pulled on my favorite jacket this morning, and it was truly comical. 
Movement:  Tons!  I can video it now – the rolls are visible from the outside, which is always a cool milestone.  I love the videos I have of Henry in my belly.
Best Moment of the Week:  I was laying in bed with Henry and he randomly said, "Mommy, you are NOT going to hold the baby." My heart started to break because I thought he was being jealous.  I said, "Well, Henry, sometimes, I am going to have to hold the baby a lot because little babies can't sit up or walk yet."  And he goes, "No, mommy, you are NOT going to hold the baby – HENRY going to hold the baby!"  Awwww.
Things I Miss:  Being fit (i.e. the ability to climb the stairs without dying), not busting out of my clothing, wine, wine, wine, and the ability to sleep more than three hours without having to wake up to pee.
Boy or Girl:   I'm back to "I have no clue" mode about the baby's sex.  
Names:  Still waffling on boy names.  We have two strong options and a third back-up that the Husband really loves but I think is kind of meh.  Girl's name is locked down.
Birth Class:  I scheduled a refresher crash course with a Bradley Method instructor.  Excited!  I still haven't cracked open my books.
Thoughts on Birth: I'm in denial about the birthing process.  Truthfully – I do not want to do it again.  I need to get my head around it and gear up, but I feel like I have seen something that cannot be unseen, know what I mean?  Hah.
Belly Button:  It's totally flat.  Thankfully, this time around, my belly ring holes are not insanely itchy – last time, they KILLED me.
Wedding Rings: Still fit – probably not for long!
Things I've Bought: A few really adorable newborn sleepers in baby blue and grey. SO LITTLE. SO CUTE.
Sibling Presents:  In the hospital, we're going to have Little One "bring" a present for Henry (and Henry give one to the baby).  I've heard this can really help ease the initial shock of seeing Mom holding a new baby – plus, who doesn't like presents?!  Henry will be giving LO a cute elephant lovie, and LO will be giving Henry the Cars DVD (and then I plan for us all to snuggle in the hospital bed and watch it).
Things I Need to Buy:  But I have been making a list of things we need to replace or get double of… Thanks for everyone who made suggestions.  Here's our final list!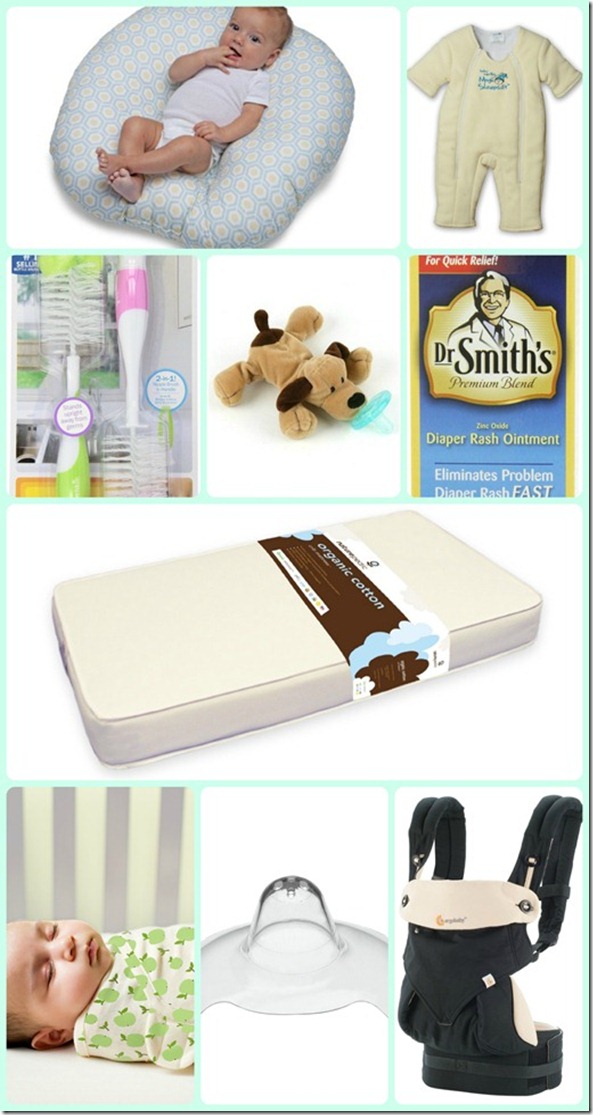 From top left to bottom right (FYI – affiliate links):
Boppy Newborn Lounger – This was our #1 most used baby item with Henry.  We still have our old one, but it's kind of become a dog bed… Time for a fresh pillow!
Baby Merlin's Magic Sleepsuit – Never tried it with Henry but have heard so many great things about it that we'll definitely use it with LO.
Bottle Brushes – I pumped a lot in my bedroom, so it's nice to have a brush/drying rack in the master bath AND the kitchen area.
Diaper Ointment – No experience with this particular brand, but I've seen it everywhere on social media and want to give it a try.  If you have a newborn coming, DEFINITELY have diaper ointment on hand. 
Naturepedic No Compromise Organic Cotton Classic 150 Crib Mattress – Our big splurge item but well worth it (Henry has the same mattress).  There is no off-gassing, it's super comfy, and – frankly – other crib mattress don't compare.  I remember that he started to sleep SO much better when we moved him onto this mattress!
Organic Swaddles – I can't wait to make baby burritos again!
Nipple Shields – Because I'll probably need them, and you can never have too many (those suckers disappear faster than socks in the laundry).
Ergo 360 and the Newborn Insert – Our second big splurge.  Soooo many of you recommended this carrier when I said I wanted one that could be forward- or chest-facing. It certainly isn't cheap, but I learned with Henry that cheap carriers are really terrible for my back, and I anticipate that this baby will be in the carrier a lot. 
If you're looking for other baby gear recommendations:
4.5 Months Old: Baby Gear We Love
Other Little One posts:
In the Oven {Again} (Announcement Post)
Things I Learned About Having a Newborn
Panic-Free Pregnancy: Round Two