This post is sponsored by Musselman's applesauce.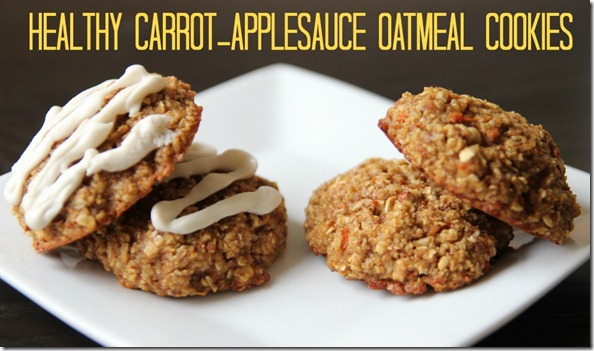 I was challenged by Musselman's applesauce to create a healthy back-to-school snack and immediately knew that I wanted to make cookies.  Because – let's be real – kids and adults alike will eat pretty much anything if it comes in cookie form.
These moist cookies are tasty AND good for you!  They're gluten-free and dairy-free, and they don't include any peanuts, so they're safe for peanut-free schools (on the topic of allergens, they do contain tree nuts and eggs).  There are whole grains and healthy fats packed in.  The recipe even includes veggies and fruit, thanks to the carrots and applesauce!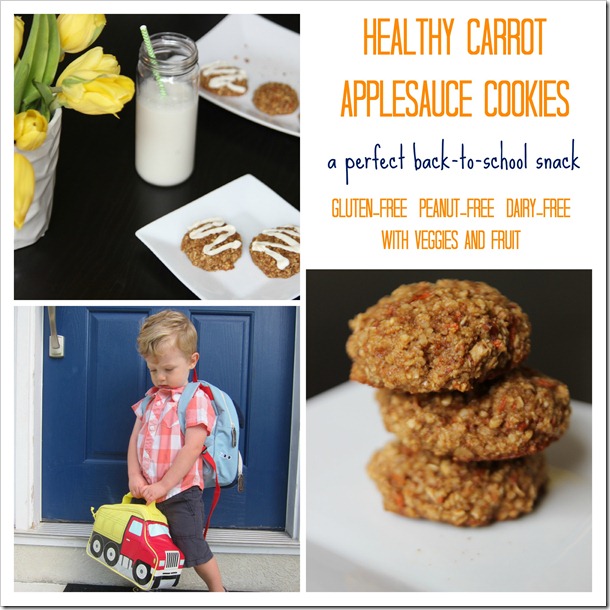 I made this recipe two ways – with icing and without.  The icing-free version contains much less sugar, which I know some of you will appreciate.  The icing version is probably toeing the 'healthy' line but – DANG!  It tastes a lot like carrot cake.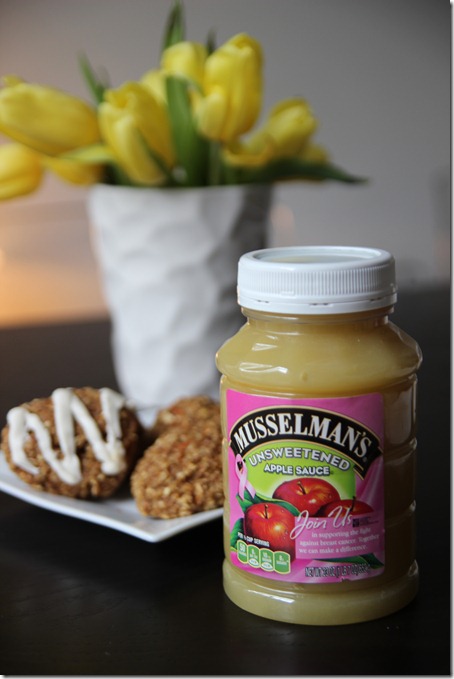 Healthy Carrot-Applesauce Oatmeal Cookies
Ingredients (for 15 cookies):
2/3 cup raw, unsalted almonds (measured whole)
1 and 1/3 quick-cook gluten-free oats (if using rolled oats, pulverize briefly in blender)
2/3 cup shredded carrots
1 teaspoon baking powder
1/2 teaspoon baking soda
1/2 teaspoon pumpkin spice, DIY pumpkin spice, or cinnamon
1 egg
2/3 cup (6 ounces) Musselman's unsweetened applesauce
1/4 cup brown sugar
1 teaspoon vanilla extract
1 tablespoon coconut oil
Directions:
Preheat oven to 350 degrees and grease a cookie sheet.
In the blender or a food processer, pulverize almonds until an almond flour forms.  Pour into large mixing bowl.  Process shredded carrots for a few seconds to break the shreds into smaller pieces.  Add to almond flour.  Mix in oats, baking powder, baking soda, and pumpkin spice.
In a mixing bowl, combine egg, applesauce, brown sugar, vanilla extract, and coconut oil.  Use a mixer to blend for thirty seconds on low.
Add dry ingredients to wet ingredients and mix thoroughly.
Freeze dough for 20 minutes (don't skip this step!).  Remove from freezer, form into small balls, put on cookie sheet, and use a fork or spatula to lightly flatten the balls.
Bake for 15 minutes, remove, and enjoy!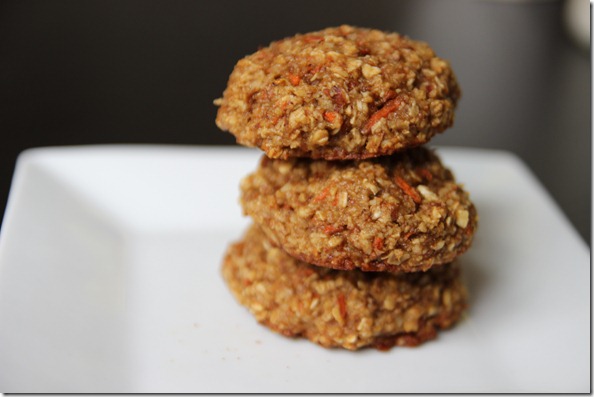 If you want to make the icing, here's the recipe:
Simple Hard Cookie Icing Recipe
3 cups powdered sugar
1 egg white
Juice of 1 lemon
Mix on high until icing forms.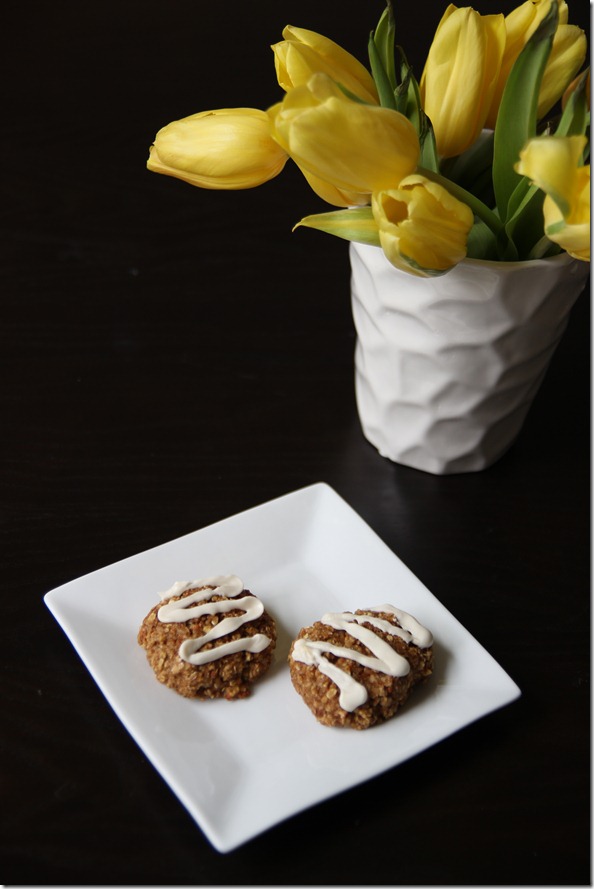 If you've never put homemade icing on cookies before, it's super easy to make it look pretty – just stuff it into a plastic storage bag, cut the tip off, and squeeze.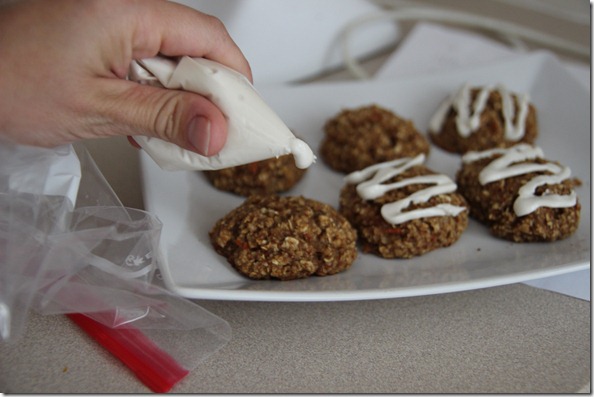 Final verdict:  I LOVEEEEEEEEEEE these cookies, and so does Henry.  It's nice to know that he's getting something healthy while munching on a cookie.
If you'd like to win a prize pack of Musselman's applesauce, simply enter the giveaway below using the widget.  As usual, I'm closing comments on the post so there's no confusion on how to enter the giveaway!
Hope you enjoy baking these!  <3 <3 <3
This post is sponsored by Musselman's.  As always, I truly appreciate you taking the time to read sponsored content, which allows me to help support my growing family.  Thank you!