Did you know that Domino's makes gluten-free pizza?  I didn't either!  DadHTP ordered a few pies for dinner – my MIL was over, too, so it was fun little pizza party.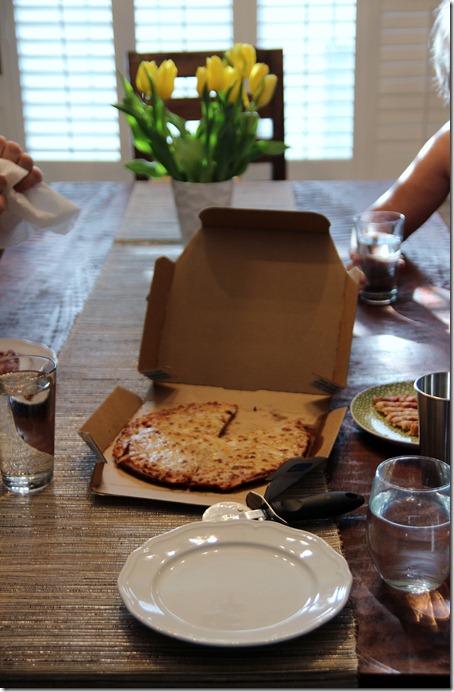 Verdict:  Pretty good, as far as gluten-free pizzas go.  Obviously never going to taste as good as the real thing.  But to have pizza DELIVERED TO MY HOUSE again is pretty cool.  I like it when dinner rings the doorbell.  Hah.
I actually managed to go to bed at a decent hour – lately, I've been getting sucked into reruns of Naked and Afraid, which is my new favorite show as I eagerly await the return of Parenthood.  I was definitely banking on a good night's sleep, but I think my body is in full-on newborn prep mode, as I woke up several times and then was wide awake two hours before my normal time.  It's a cruel irony of pregnancy that just when you REALLY, REALLY want to stock up on sleep – you can't!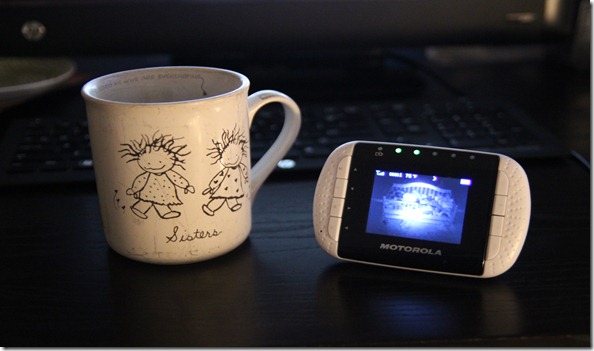 But all was well because that gave me a lot of work time.  I'm in the process of revamping the Operation Beautiful presentation.  It's almost speaking season again (I travel the country each year speaking to college students about the movement – I've been to over 100 schools now… crazy!).  I'm trying to squeeze in a bunch of events before I get too nervous to be away from the Husband and the hospital, so I'll be doing a slew this week and in mid-October.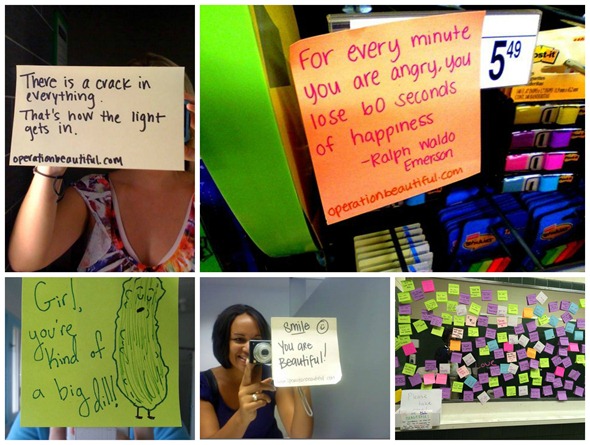 Breakfast time…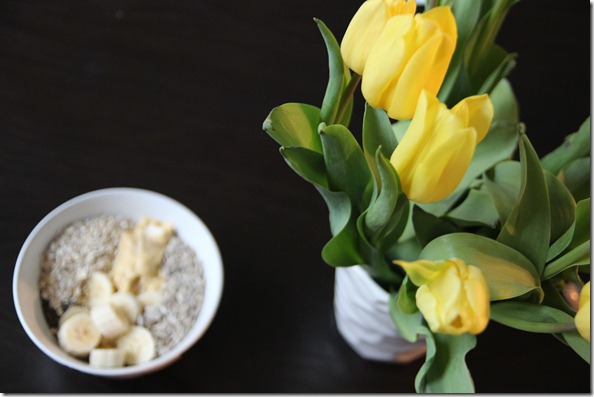 Pumpkin Yogurt is back!
Yes, another pumpkin recipe.  What can I say – it's autumn. You can buy flavored pumpkin yogurt in the store now, but I have long preferred to make my own.
1/2 cup plain Greek yogurt
1/4 cup pumpkin puree
Drizzle maple syrup, to taste
DIY Pumpkin Spice, to taste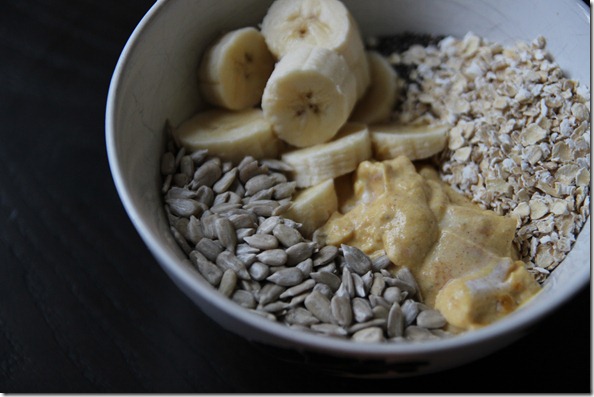 With oats, banana, chia seeds and sunflower seeds.
Other fun pumpkin recipes:  Pumpkin Pie ice cream and Pumpkin Spice Tofu.
Just for fun…
Currently Listening To:  Sia's Fire and Gasoline.
Currently Laughing About:  This hysterical Tumblr. 
Currently Drinking:  Coffee (obviously).
Currently Wearing:  A maternity maxi dress that I've transformed into a housecoat.
Currently Planning:  To meet up with my MIL to get Henry's hair cut.
Currently Craving:  A long, hard run (which will not happen for many, many months – but I'm seriously looking forward to it).
Also Currently Craving: Very Orange Tofu Quinoa. Is it lunch yet?
Currently Plotting:  My return to triathlons… I spent an hour last night browsing potential races.  It's an addiction, I swear.  Oh, and can you tell that I'd love to do a 'real' workout instead of a pregnancy waddle down the block?  Yup.
Currently Ruminating On:  This awesome quote.
Currently Looking Forward To:  My friend's wedding in October.  I haven't been to a wedding in forever, and Henry gets to wear a tux!
What about you?  What are you currently doing?