Everyone talks about how mommas-to-be experience an urge to 'nest' right before their baby comes – and part of this nesting phenomenon is buying baby gear.  I know that I really worried about buying all the right gadgets and gizmos – as well as the right necessities, too.  Being stocked up and supplied makes you feel a lot better about the major changes that are about to occur.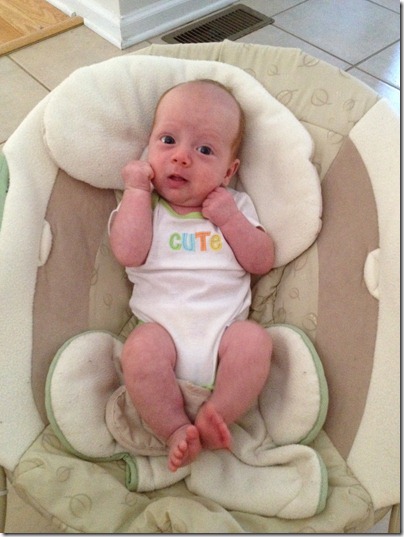 But I'm happy to say that over the last seven weeks, I've learned something very… well, very freeing: Newborns really don't need that much stuff.  Sure, there are products that make your life a lot easier, but generally speaking, all babies really need is a parent's loving embrace, something to eat, a clean bottom, and a place to rest and sleep.
A few people have asked me to blog about what newborn baby gear we are actually using and what stuff we bought or were gifted and didn't use at all.  So, here's a few of Henry's (and my) favorite things.
TO LOUNGE IN:  I highly recommend the Boppy Newborn Lounger.  Henry sits in this throughout the day when I need to put him down so I can cook, brush my teeth, shoot an email, etc.  Babies aren't supposed to sleep in it unsupervised, but Henry often naps in his lounger when we're all watching TV at night.  We also took the lounger with us on our recent road trip to Tennessee so he had somewhere to sit at Grandma's house.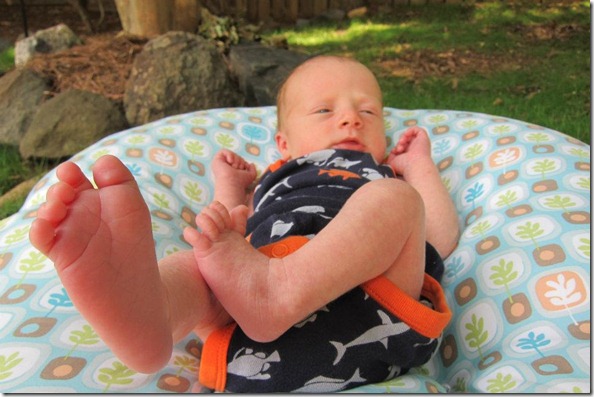 Henry also likes lounging in his bouncy seat, which I bought for $5 at a consignment.  Truly the best $5 I spent preparing for his birth!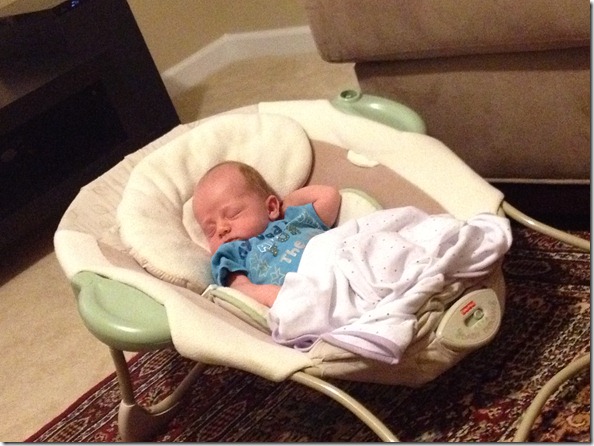 Someone else likes it, too…. I can't keep her out of it!  Thanks goodness it's washable.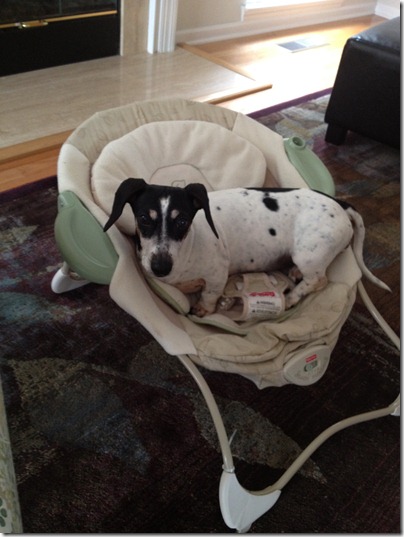 FOR EATING:  Instead of using a fancy breastfeeding pillow, we just use a regular pillow with an old pillowcase.   And after much internal debate ($$!), I bought the Medela Pump in Style Advanced, which seemed tremendously expensive at first; however, I tried a cheap hand pump and that convinced me that a pricey electric pump was the only way to go.
My mom gave me a Stork Craft glider.  I know some people buy gliders and end up never using them but DANG – we use this glider for every at-home feeding.  I even moved it out of the nursery room and into the living room. There are many expensive gliders on the market, but this one is affordable and just perfect.  I love how it has pockets on the side to stash a watch, burp cloths, etc.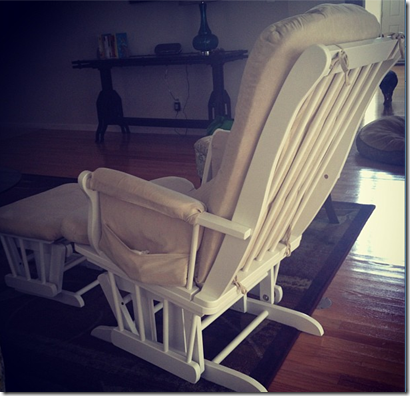 FOR SLEEPING:  Henry sleeps in his bassinet in our room, which is on loan from our friends.  I love having him right beside me at night.  He is beginning to take naps in his big boy crib, though!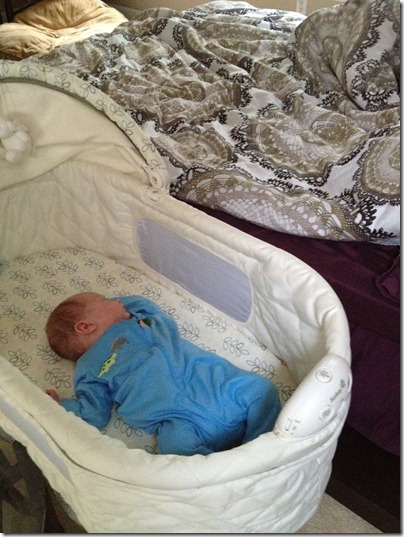 He also really likes his Swaddle Me swaddles, which have Velcro on them so they stay extra snug.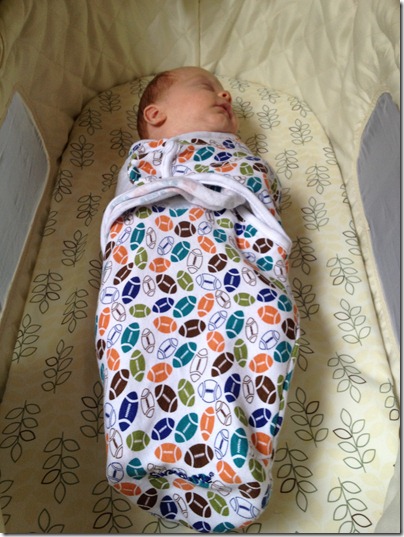 FOR DIAPERING:  I decided a long time ago that cloth diapering simply wasn't going to work for us, and I'm really glad that we're using disposables.  Truly, we tear through diapers.  Maybe cloth diapers will work well down the road, but for right now, I'm lovin' Pampers Swaddlers.  I compare prices at several stores, clip coupons, and check out Amazon.com for the best deal (and then buy a months' worth!).  I intended to only use organic diapers, but they are expensive and Henry's skin isn't bothered by conventional disposables.
Our diaper bag is great – I love how it stands up when you set it down on the ground.  I also like the side pockets for bottles, and the pad keeps the strap from hurting my shoulder when I carry it.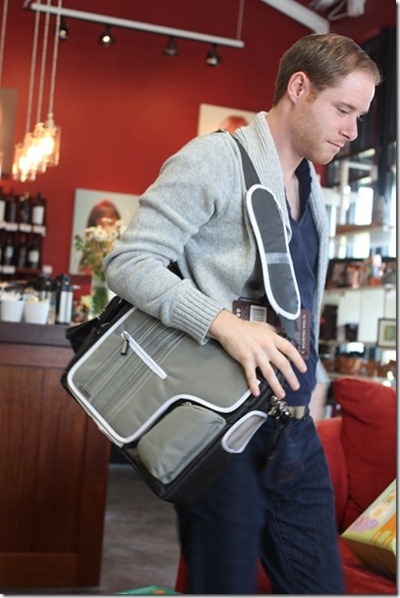 Last, but not least, I highly recommend all new parents put together a diaper box and keep it in the area of the house that they spend the most time.  Only 10% of Henry's diapers are changed in his nursery, where his changing pad is located.  Everything else gets changed on a towel in the living room.  The diaper box has diapers, wipes, hand sanitizer, change of clothes, and toys, so everything is within easy reach.  Tip:  Put a trash bag under the towel so surprise pees don't soak the carpet.
FOR TRAVELING:  We have the City Mini stroller and the KeyFit 30 car seat, and we like both.  The stroller glides easily and folds with one hand (awesome), and the car seat drops into the base without a fuss. My only compliant is that the car seat gets really warm, and Henry's back gets sweaty.  Not sure if this is normal for car seats or if this is a unique problem for the KeyFit.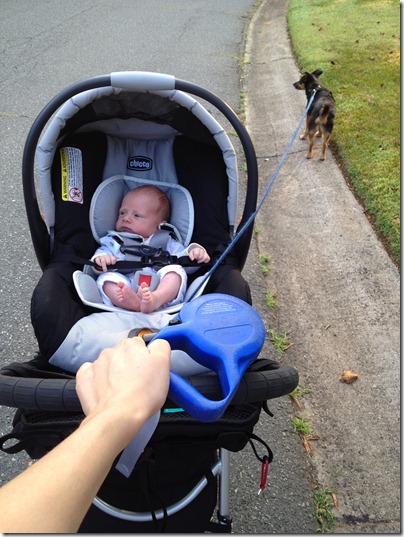 FOR BATHING:  We just bought the First Steps Newborn to Toddler bath, and I LOVE IT.  It has a hammock attachment for newborns to rest in while being bathed.  It was only $18 at Target and fits over our kitchen sink perfectly.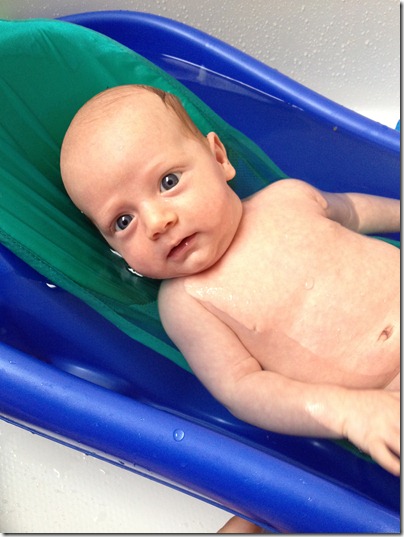 Other odds and ends that we use frequently: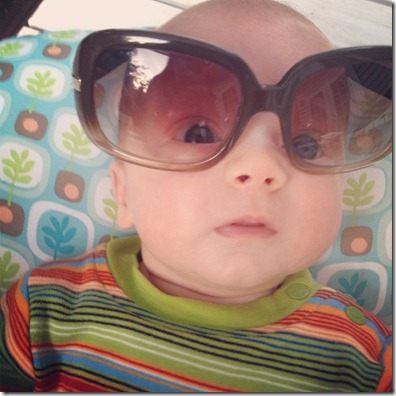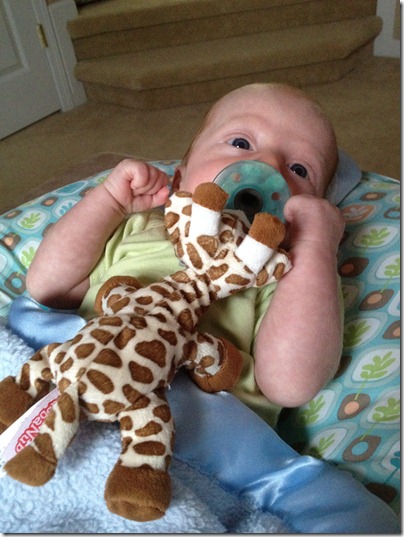 Baby gift which we purchased or were gifted to us and we do not use very much: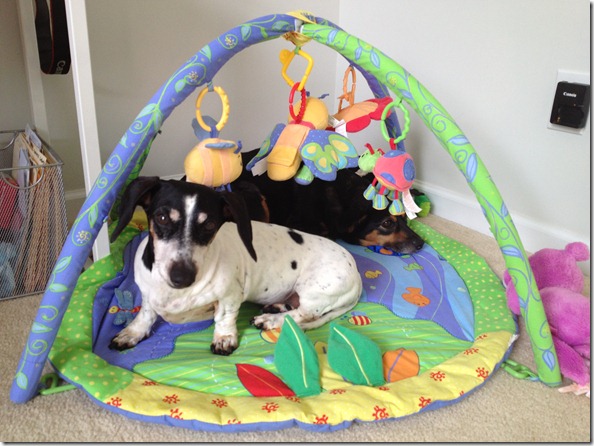 So – those are all the things that Henry uses and loves!  I bet a lot of this is child-specific; I'm sure some babies love their swings or wraps, for example. And I'm sure his stash of stuff will grow the bigger he gets!
On that note, I'll close with my favorite photo of brand-new Henry.  He was only a day old at this point!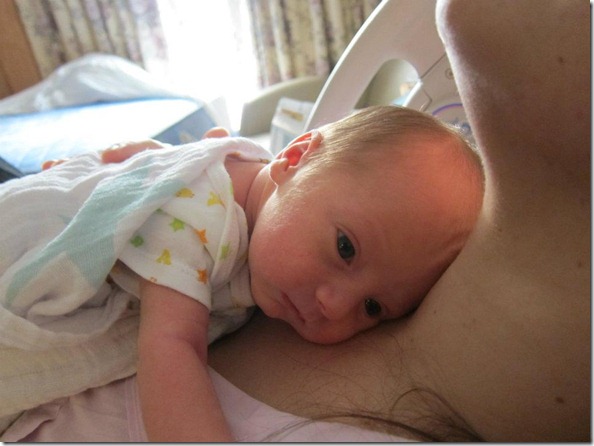 What gear did your baby love and hate during the newborn stage?  What stuff did you get second-hand or on loan from friends?