Somehow, I have roped my brother-in-law Nick into doing a triathlon.  I'm pretty excited because Nick lives with us, and that means that we can hold each other accountable on a day-to-day basis.  Our schedules might not always match up for workouts (he works full-time; I spend all day chasing after Henry) so our intention is to put our training plans on the fridge.  That way, we can check on each other's progress.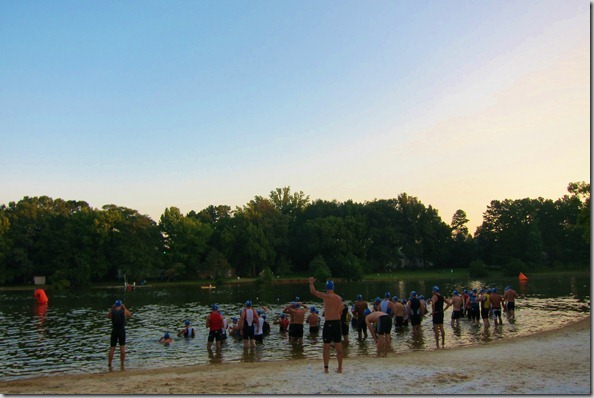 Wisely, Nick wants to start off with a sprint triathlon.  I suggested that he do a triathlon early in the season (summer) so if he gets really into it, he has time to do another one – or even a longer one – before the cold temperatures roll back into Charlotte.  We've decided to do Tri Latta, a sprint triathlon in June.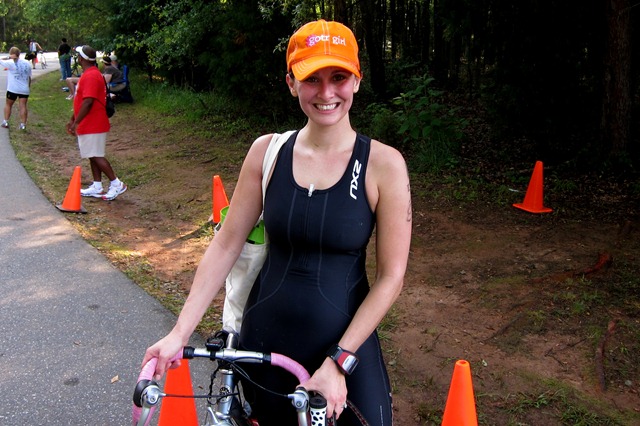 I did Tri Latta in 2011 – and I just realized that the race was one year to the day before Henry's birthday.  Ironic!  On June 12, 2011, I was careening through a triathlon; on June 12, 2012, I was screaming to my Husband, "I haaaaate youuuuuu… How could you dooooooo thiiiiiis to meeeee?" 
Just kidding.  Obviously.
Anyway…
When I initially broached Nick with the idea of a triathlon, one of his first questions was, "Do you really think that I can do a triathlon?"  I get this question on the blog all the time!  Now, I'm no triathlon superstar.  I'm just a regular woman who thinks that plowing through a lake swim, a hilly bike ride, and a sweaty 5K or 10K sounds like an awesome way to spend a weekend. 
I hear all sorts of 'doubts' about triathlons.  I get it.  They sound scary.  But they aren't!  Triathlons are REALLY fun, and you don't need to be this super fit athlete to do one (case in point: I did a triathlon 11 weeks after childbirth).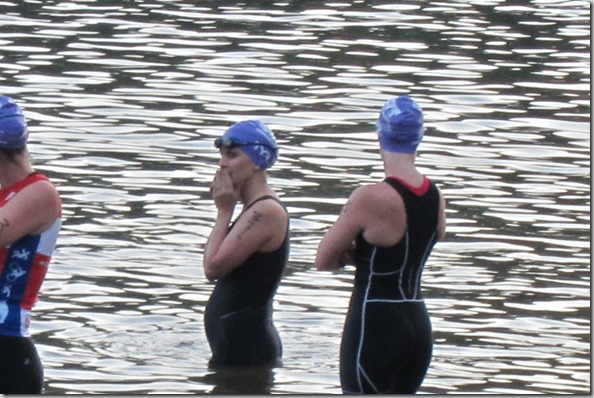 Seriously, if I can do that, anyone can survive a triathlon… and have a blast doing it.
Just like any event, yes – you need a certain level of physical endurance.  And yes, you need to develop some skills.  And sure, you need some gear.  But triathlons are totally attainable.  You will see people of all shapes, sizes, and ages at the starting line.
Let's break down the barriers, shall we?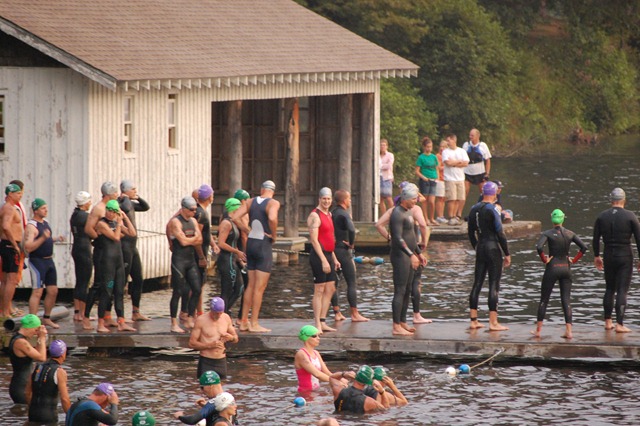 "BUT CAITLIN… I'M REALLY NOT THAT FIT."  Don't worry – there's a triathlon for every type of person, and if you pick the right race, you can definitely train for it.  There are sprint triathlons, which are usually a 500 – 750  meter swim, 15 – 20 mile bike, and 5K run.  There are even super sprint triathlons, which are even shorter.  If you are in North Carolina, I highly recommend the Ramblin' Rose series – I did their event back in 2011; it was a 250 yard swim, 9 mile bike, and a 2 mile run.  To put it in perspective, I finished the entire event in 54 minutes.  Of course, if you get really into triathlons, you can graduate to the Olympic, the Half Ironman, or even the Ironman – a 2.4 mile swim, a 112-mile bike, and a marathon.  I can't even IMAGINE doing an Ironman but other people love it.  There truly is a distance for everyone.
"BUT CAITLIN… I'M AFRAID I'M GOING TO DROWN."  Swimming is, for most of us, the scariest part of the triathlon.  If you've been reading for a while, you may remember that I famously (infamously?!) had panic attacks in the lake during not just my first… but also my second… triathlon.  Swimming in open water is SCARY.  I've written lots of posts about this very topic, so be sure to check out: So You Wanna Do A Triathlon: Swimming, So You Wanna Do a Triathlon: Pool or Lake Swim?, and Best 'How to Swim' YouTube Videos.
Also – you won't drown. There are loads of lifeguards at every USAT (USA Triathlon, the official governing body of triathlons in America) event.   It's also okay to float on your back if you need to catch your back.  My biggest fear of open water swimming was getting eaten by an alligator, but as far as I know, no triathletes have been attacked by a gator during a race.

"BUT CAITLIN… I ONLY HAVE A MOUNTAIN BIKE."  That's okay!  Of course, it's best if you have a road bike.  The thin tires and lightweight frame mean you can bike faster and easier than you could with a heavier mountain bike.  But if you're doing a sprint triathlon, you don't need to worry – a mountain bike or hybrid is fine.  You won't be the only person with a non-road bike.  Or… you could always buy a used bike – here are my types on how to buy a bike (I got mine for about $350 – a steal!). Or… you could consider borrowing a friend's bike – just take it on a few practice spins first.
"BUT CAITLIN…. I'M BROKE. I CAN'T AFFORD ALL THIS GEAR."  Yes, triathlons have a higher cost than running races.  Not only are the entry fees higher, but you need more stuff.  But like a lot of things, you can buy a ton of unnecessary but nice-to-have stuff or just the bare bones.  The bare bones isn't too bad.  All you really need to do a triathlon is: goggles, a bike, a helmet, sneakers, and something to wear. People are very concerned about what to swim, bike, and run in.  You could buy a trisuit (Trisuits: One Piece or Two?) but you don't have to.  I did most of my early triathlons in a sports bra that I knew wouldn't stretch out when I swam in it and a pair of bike shorts.  You definitely need some type of padded shorts.  And the race officials will give you an 'official' swim cap to wear that will be color coded by your age and gender.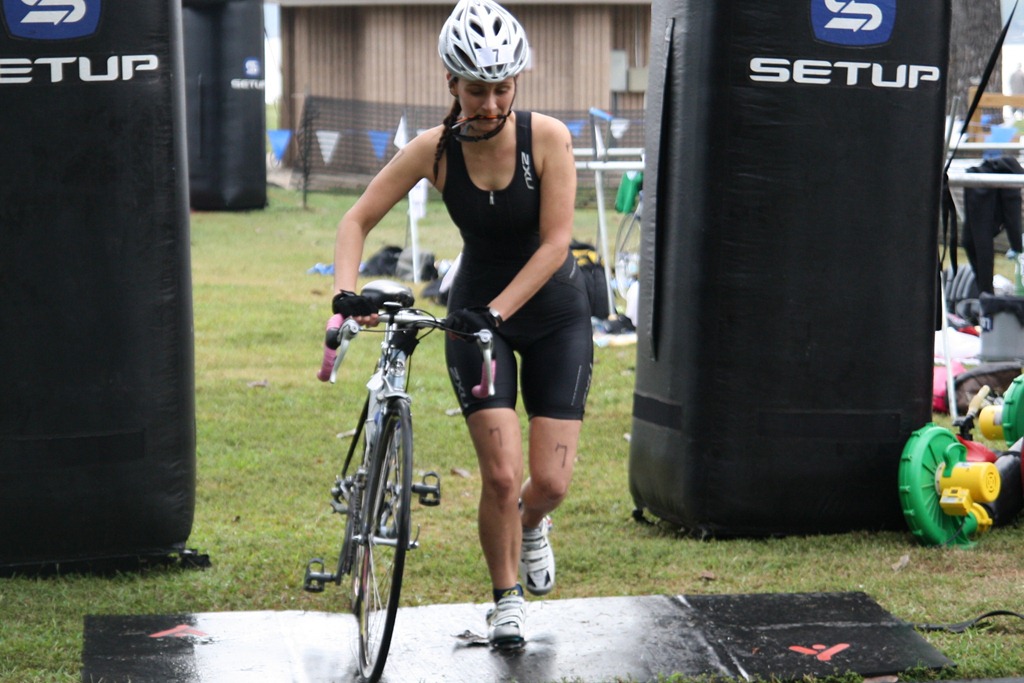 "BUT CAITLIN… I HAVE NO IDEA WHAT TO DO DURING TRANSITIONS."  There are two transitions – the transition between the swim and the bike, and the transition between the bike and the run.  Transitions can be overwhelming, but here are the basics.  I'm still working on my transitions – it's definitely an art.
"BUT CAITLIN… I DON'T HAVE TIME TO TRAIN."  Make time!  Hah.  No, in all seriousness, if you are doing a sprint triathlon, you don't need to spend that much time training. You'll want to workout four to five days a week, but you don't need to log hours and hours in the pool, on the bike, or on the treadmill.  For the most part, you're looking at a commitment of several 30 – 45 minute cardio sessions a week – something that most of us already do (or strive to do).  The hardest part about triathlon training is focusing on not one, not two, but three sports.  However, that is also the BEST part about triathlon training.  It's never boring!
This post (So You Wanna Do a Triathlon: Training) is a good introductory post regarding triathlon training.  Once Nick and I finalize our training plan, I'll be sure to post a copy.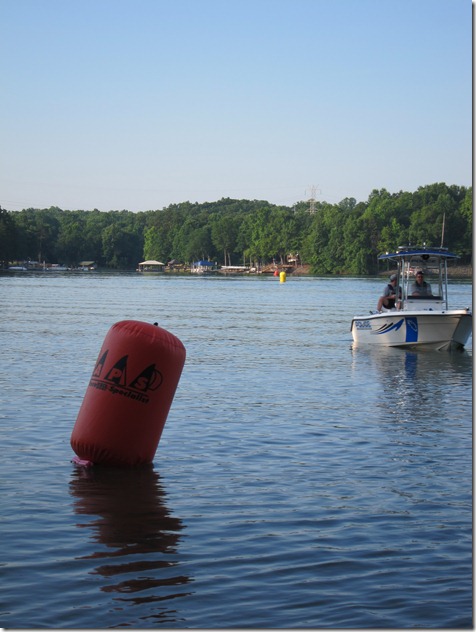 I know that's barely scratching the surface, but I really wanted to blast away the typical "I can't!" excuses when it comes to triathlons.  If it's your dream to do a triathlon… DO IT!  It's so fun, it's completely attainable, and you'll feel so proud of yourself afterwards.  I, for one, am completely stoked about the upcoming triathlon season.  I can't wait to get back out there!
(For more, check out my So You Wanna Do a Triathlon series – lots of good info!)