I spent all last night on the couch, reading a book and watching Boardwalk Empire.  And keeping Maggie warm.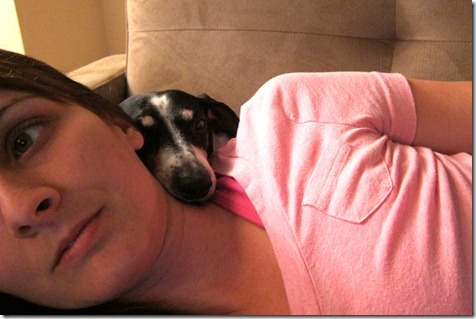 That's what fur moms are for, right?
Even though I was beat last night (a Sprint Triathlon on Saturday and a Super Sprint on Sunday will do that to you…), I woke up feeling pretty good.  In fact, I feel great!  The only soreness I have is in my feet – and I think I know why.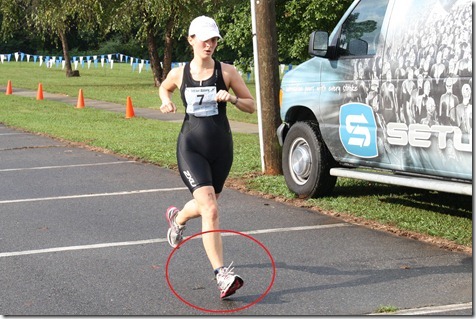 Heel striking strikes again.
Look – apparently I did heel striked (struck?) all the way to the finish line on Saturday.  And probably through much of the race.
I've really been trying to pay attention to my form and modify my gait so I don't heel strike, but it's so easy to fall into the 'lull' of running and end up smacking my heel again the ground (which is bad because it inflicts a lot of force to your knee, hips, and spine and can cause injuries – it's better to land on your forefoot). 
Since so many people have recommended the Chi Running workshops, I tried to get into a Charlotte class.  However, I'm busy the day of all the workshops – boo!  Chi runners – do you think reading the Chi Running book would be just as effective?  I'm such a visual learner…
Anyway – I went on a 2.0 mile walk this morning with James in my Vibrams.  The last thing I wanted to do was put back on my sneakers.  I've been slowly re-introducing my Vibrams (you have to really ease into barefoot walking/running).  Hopefully, this will help with my form, too.  In the very least, it makes me more aware of my footfalls.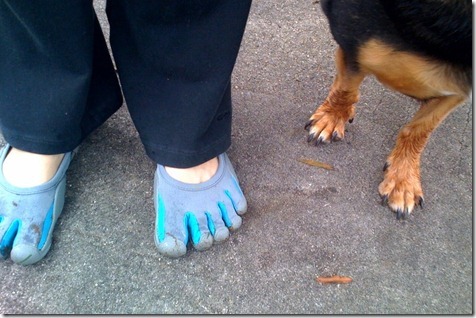 When we got home, I made breakfast: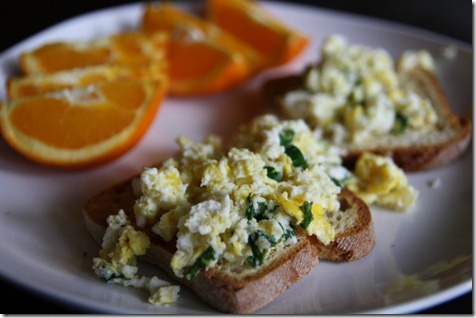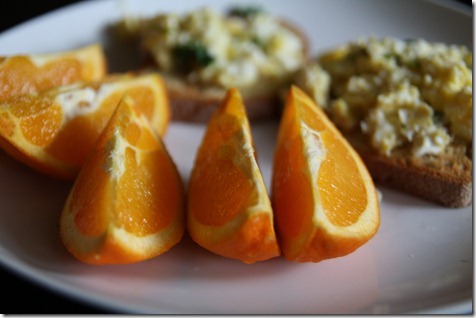 Scrambled eggs with cilantro (try it – yum!), toast, and an orange.
Then I hightailed it to the shower, through my hair into a sock bun, and got my day started.  Hi ho, it's back to work I go.
Have a wonderful Monday!