Lately, the Husband has been very enthusiastic about my cooking (he must want something).  Lots of whoops and hollers whenever I put a plate in front of him.
This meal got a "MMMMMMMMMMM!!! Mmmm Sauce is back!"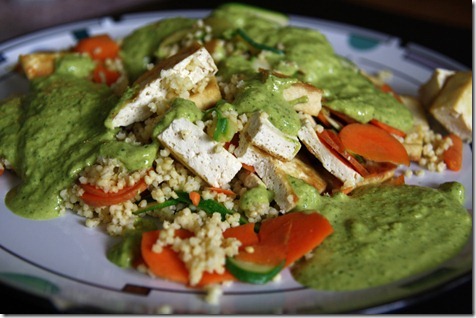 Oh yeah.  Bring on the Mmmm.  It's been a while – for a few weeks, I made so much Mmmm Sauce than just a whiff of nutritional yeast made Kristien's eyes cross.  So after a brief hiatus, my favorite yummy sauce is back.  Mmmm.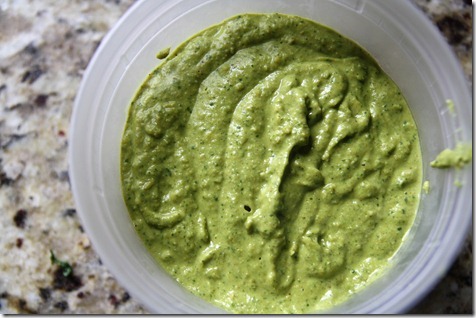 My Mmmm Sauce is green because I always add a big handful of fresh cilantro.  It gives the sauce a very zesty flavor.
In the mix:
Baked tofu
Millet
Carrots
Zucchini
Mmmm Sauce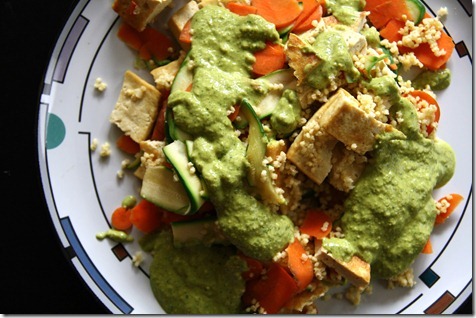 So – I'll admit…
I'm stereotypically in love with pumpkin, as well as other fall flavors and scents (hello, apples and gingerbread!).  If pumpkin is wrong, I don't want to be right.  Here are my top 5 favorite pumpkin recipes.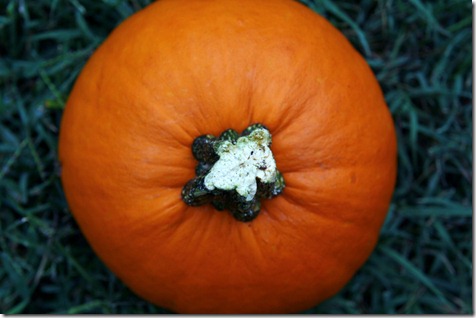 Did you know there is a pumpkin shortage this year?  Be still, my heart.
The shortage is the combination of several factors:  heavy rains and flooding in the spring and summer, a fungus outbreak, and the impact of Hurricane Irene.  It's going to be harder in some parts of America to find whole pumpkins for carving, and prices are anticipated to be higher than normal.
Not sure if the shortage impacts canned pumpkin.  I hope not!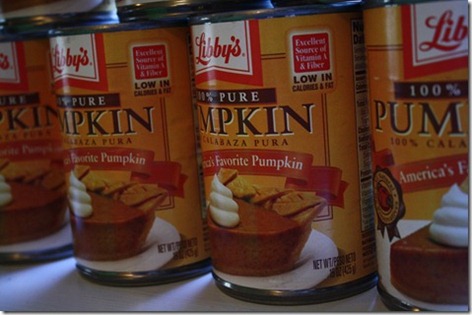 Fun fact:  In the South, most grocery stores do not carry Libby's canned pumpkin year-around.  It's a seasonal thing.  So ever year, I stock up – and by stock up, I mean I clean the shelves – and hoard them all through winter and fall.
What's your favorite fall flavor?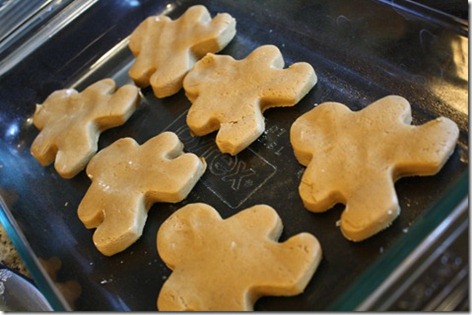 This gingerbread cookie recipe runs a very close second to my addiction for pumpkin!