Hopefully, the very last post in a very drawn-out series!
Before you read any further – as I've joked before, this post series should be called, "The posts in which I talk about my vagina."  You've been forewarned.  All kidding aside, I think it's very important to talk about reproductive health, and I don't ever want anyone to feel as alone and confused as I felt when I was first diagnosed with high-grade cervical dysplasia back in 2009.
So – where did we leave off?  Oh yes – I had recovered from the painful LEEP procedure, in which they remove the outer cell layer of your cervix.  The LEEP was successful in that I had a series of clean pap smears, but in June, I received news that I had another abnormal pap and my dysplasia was probably back.  Honestly, I was devastated.  I know cervical dysplasia is not cancer, but it was still upsetting because, of course, it can become cancer if left untreated.
My doctor (who we'll call Doctor M for privacy) recommended immediately coming in for a colposcopy, which is when the doctor looks at your cervix using a high-tech machine.  She can identify any 'unusual areas' and, if necessary, take a biopsy.   Doctor M told me that, considering my history, I should come in right away at get looked at.  However, I felt like I was just re-starting the chain of events that led me to the LEEP the first time around.  Although the LEEP is considered pretty safe, there are potential side effects, like an increase in scar tissue, that can cause problems down the road.  And it is very painful.  Since I do not have HPV, no one could tell me the cause of my cervical dysplasia.  I felt like I was being more reactive than proactive.
Instead of going back in for the colposcopy, I decided to wait two months and make several proactive lifestyle changes.  Most of these changes were aimed at reducing overall inflammation in my body.
I worked really hard to reduce stress in my life.  When I couldn't reduce the stress, I tried to manage my reaction to it in a healthier way.
I cut WAY back on alcohol and my beloved coffee.
I began taking some Chinese herbs to help with general female health.  I don't feel comfortable saying what type of herb the Husband gave me because it's a medicine and one size does not fit all, especially when it comes to herbs.
I came off birth control pills.  In holistic medicine circles, there is a very loose theory that BC contributes to irregular paps in some women.  I am not saying this is 100% true and it has not be scientifically proven.  But to me, it was worth a shot, especially since I am in a monogamous marriage and if I got knocked up, it wouldn't be the end of the world (okay, okay – I'd be thrilled!).
I cut back on gluten because another test revealed that I may be sensitive.
I tried to get more regular and restful sleep.
I began to take a folic acid supplement, as some research suggests folic acid improves cervical cell health.
I made a serious effort to eat only organic produce and to eat a lot of dark, leafy greens.
After two months of these efforts, I went back into Doctor M's office.  This time around, I brought the Husband with me.  I was very nervous and knew that I would cry and not ask the right questions.
Now, I like Doctor M.  She is smart and nice, and she actually pays attention to what I'm saying.  I don't want to personally insult her or any other medical professionals out there when I say this next bit…  Just trying to keep it real!
I asked Doctor M why I kept having problems with cervical dysplasia, given that I do not have HPV, the most common cause of dysplasia.  She said she didn't know.  I asked her what were the potential reasons.  She couldn't list any reasons that I would be having irregular paps beyond HPV and smoking.   I asked about drinking – she said it's not related.  I asked about stress – she said it's not related.  I asked about tampons – she said it's not related.  I asked about Vitamin D deficiency – she said it's not related.   I felt like I was running up against a brick wall.
Then, I asked about birth control – and she said it's not related.  She asked me, "Why did you go off birth control, anyway?" because my chart indicated that I had gone off since the last appointment.  I told her I was concerned it was impacting my paps and that I also wanted to get off the pill to allow my natural hormones to reset before I starting trying to conceive.  She said, "There is no way your hormones are not back to normal if you've been off the pill for two months. You're fine."
Let me tell you something – there is NO WAY Doctor M knew if my hormones were functioning properly.  She didn't even ask about my cycle!  For all she knew, it could've been 60 days between my periods.  She didn't do any testing.  At this point, I got really irritated because, once again, I felt like the medical system was just pushing me along, ignoring my questions because I didn't fit into a neat little box.
In the end, I decided to get the colposcopy as opposed to another pap smear.  I wanted to be 100% safe.  The last time I had a colposcopy, my other doctor had to take FIVE biopsies; luckily, Doctor M only had to take one.  And yesterday, I got the news that… my biopsy came back normal!  Normal never felt so good.   I'll never know if there was something wrong with my last pap smear or if my lifestyle changes improved my cervical health, but I definitely plan to continue with my changes and take care of myself from the inside-out.
This entire process has really driven home one point:  it is extremely important that you advocate for your own health care.  For me, that meant asking lots of questions, doing my own research, talking to a variety of doctors (both Western and alternative), and bringing the Husband to appointments so someone else could 'watch out' for me, too.  Not only should you question your care provider, but you should question their answers, too.  As a side note, I hope that all of the Husband's patients question him and do their own research, because that's what patients should do.
I'm NOT saying that you can't trust doctors.  But any type of doctor – Western or alternative – is inherently limited.  They are busy people; they ALL have a biased perspective; and they have to deal with time-suckers like insurance, too.  Doctors are awesome, but just because one person says something is true, doesn't mean it is.  
Research different opinions and options, and never, ever be afraid to ask questions.  Don't make medical decisions just because you're afraid.  Advocate for yourself.
So – that's it.  Hopefully the last post in this series.  Fingers crossed!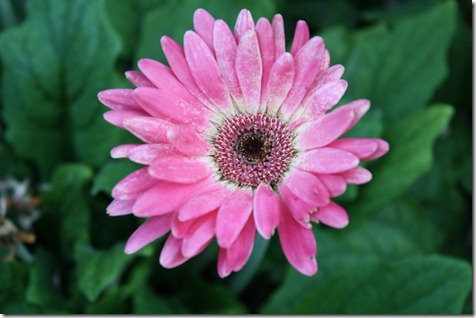 Is your doctor open to questions or is it all very black-and-white?  If you're a doctor or nurse, how do you feel about patients questioning you (I'm sure Dr. Google is somewhat annoying!)?  What's the best way to approach patient advocacy?