Name: Nicole (Mrs. Muffins)
Location: Ohio
Age: 24
Race: 4Life April Fool's 5k
Personal Tidbit: Mommy and Marine wife! Oorah!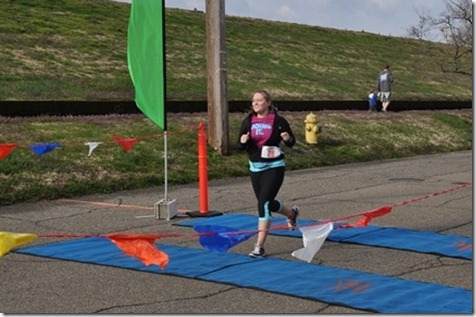 In Her Own Words:
"I can't run," I used to say. I've always loved to exercise but anytime I tried to run, it hurt and it was hard and I would quit. Even being married to a Marine didn't persuade me to run. It wasn't until after I had my daughter that I decided I wanted to run. I would read blogs like Caitlin's and think "Man, she has already ran a race today and I'm just waking up."
I kept reading about the Couch to 5K program and even though I could not imagine myself running 3.1 miles, I decided to try. The best advice I received was that it was okay to repeat weeks if I needed to and believe me, I did. Week 5, day 3 was my biggest challenge. It's a 2 mile (or 20 minute) run and after two times of failing at it, I decided to quit the program for a while. 
And then my mom died.
The news hit me a lot harder than I expected and it took me a whole month and a half to bring myself to run again. I asked one of my friends to start the C25K program over again with me and she said yes. Between both our work schedules and Ohio's winter weather, it took us a little longer than the nine weeks but we finally finished. 
On April 2, 2011 I ran my first 5k. I used Caitlin's tips on setting goals and listed my three goals. The first, of course, was to finish. I didn't get my other two goals, of running the entire course or my time goal but I did have an unexpected surprise! I won second place in my age division! 
The race was small but I was still really nervous before lining up at the start. I started out strong and it wasn't until I took a sip of water from a volunteer that things went south. I had never once drank water during training and I knew I didn't need it but it looked so tempting! It was ice cold and turned my stomach into knots as soon as I drank it. One of my goals was to not walk at all but I'm proud of the little bit of walking I did. I think it helped me more than it hurt me. I may not have finished if it weren't for those little breaks. 
Besides giving birth to my daughter, I've never been more proud of what my body can do. I can't wait to do more races and I'm continuing my training using the Bridge to 10K program.   I love running now and I can't imagine my life without it! I even recently ran a Warrior Dash obstacle race!
More Race Recaps!