Name:  Marisa
Location:  New Jersey
Age: 32
Race:  Haddonfield Adrenaline 5K
Personal Tidbit:  Married and mother to two beautiful boys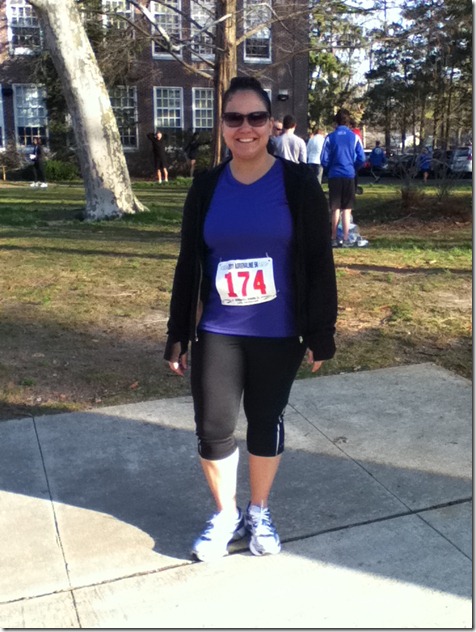 In Her Own Words:
Yesterday, I ran the 6th Annual Haddonfield Adrenaline 5K in Haddonfield, NJ.  I had two goals in mind – not to finish last and to run the entire time.  Well, I can proudly say that I was able to accomplish one of my goals:  I did not finish last.
I have been training by running/walking so the running the entire time was a bit of a hefty goal and one that I'm not upset I didn't accomplish.  I have to admit that I was really scared.  I felt like I was way out of my league.  I only started running the beginning of this year so this is all very new to me.  I tried my best to push all those feelings aside and remember that I have trained well for this.  I could do it. 
I heard a girl next to me say to her friend, "I'm so scared….everyone looks so serious."  Oh my Goodness – she took the words right out of my mouth.  Just hearing those words come out of a complete stranger made me feel so much better because others could relate to me. 
The air horn blared and everyone was off.  I just completely zoned out to my music and got into my pace.  I passed the 1st mile marker at 11:30.  The 2nd mile was pretty rough for me, I could feel my hip that has been bothering me for the past month and my breathing was all out of whack so I took a lot of walking breaks.  My 3rd mile was better and once I saw the finish line approaching I gave it everything I had.  I finished in 37:11 (chip time) and was 811 out of 847 finishers. 
I'm really proud of myself for what I have accomplished in 2 1/2 months.  I'm ready for more- in fact, I have my 2nd 5K this coming Saturday the 26th.  Now lets see if I can accomplish my second goal of running and improve my overall time!
Race Recaps is a new blog series!  The posts will feature stories from readers + other bloggers who just completed races of all distances and paces… including 5Ks, Marathons, Ironmen, and Triathlons.  If you have a story of an epic recent race, send the recap + picture to caitlinjboyle@gmail.com.