I cannot believe how many people are involved in buying a house!  I guess it's one of those things that you just don't fully understand until you go through it.  There are realtors, lawyers, paralegals, inspectors, brokers… Whew.   But I'm learning a lot from all these professionals, which is fun!  I want to know everything I can about home ownership. 
We met with our broker today to sign gobs of paperwork (if anyone in Charlotte needs a recommendation, e-mail me – our lady is awesome!), and now we're heading out for another inspection.
Breakfast were waffles (made with this mix), sunflower butter, maple syrup, and strawberries.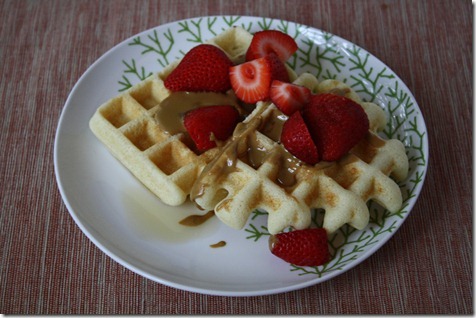 And lunch featured the next "Prepping…" series ingredient:  Simple Baked Tofu!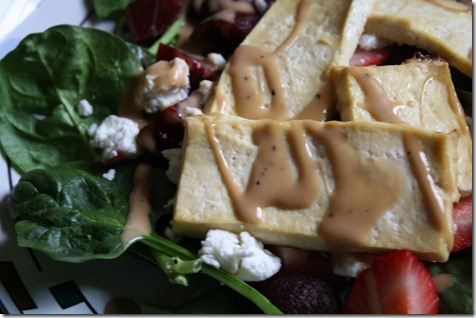 Tofu is very versatile, but my favorite way to cook it is to bake it.  I love the Perfect Baked Tofu marinade, but it requires longer prep and cooking time.  This Easy Baked Tofu isn't as flavorful because there is no marinade, but it is crunchy, tasty, and works quite well as a salad topper or in wraps. 
For baking, extra firm is the best.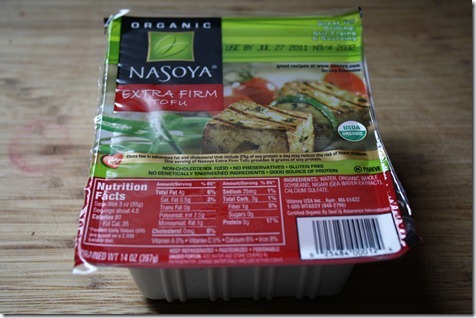 Slice the container and drain out the liquid.  Don't worry about pressing the tofu.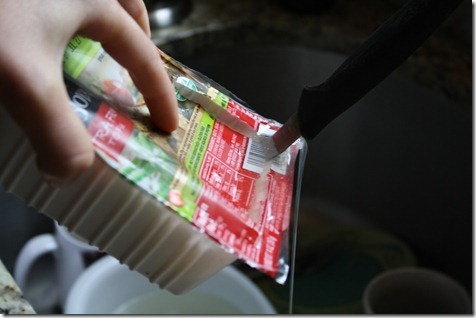 Slice the tofu in 1/2 to 1/4 inch thick slices.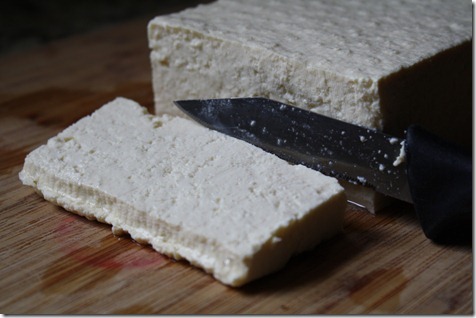 Lay out on a greased glass casserole dish.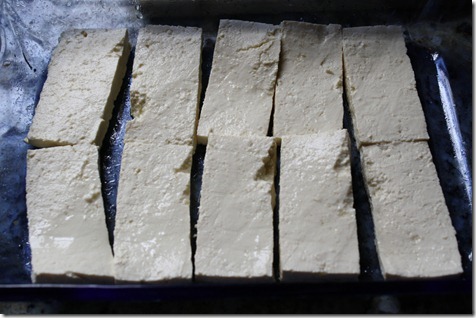 After preheating the oven to 400 degrees, bake for 35 minutes (or until it gets crispy).
Serve and enjoy.   Easy, huh?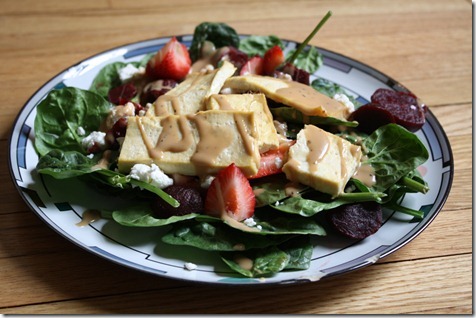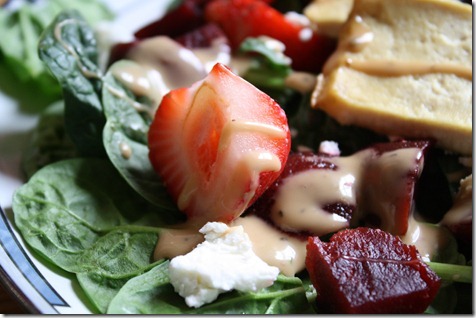 With a spinach salad – goat cheese, beets, strawberries, and creamy balsamic. Yum.
Hey – the Husband's news spot is online!  He's Kristien Boyle from the Holistic Wellness Center and come on about halfway through.  Is he more soft-spoken than you expected?
Oh, and I just want to say that I really enjoyed reading the variety of comments on The Power of the Media Debate.  In my opinion, the most important thing is that we, as consumers, continue to discuss the impact of the media.  This forces companies to behave more responsibly and also helps other people feel not-so-alone if they are struggling.  I think it's so great that we can all come together and share different opinions and learn from each other (I'm not just saying it, I really mean that!).  Thanks again for being so smart and awesome!