Name:  Jess (from Physikerin Knits)
Location:  New Jersey
Age: 26
Race:  NYC Half Marathon
Personal Tidbit: She's a cake-baking physicist with a great affection for coffee.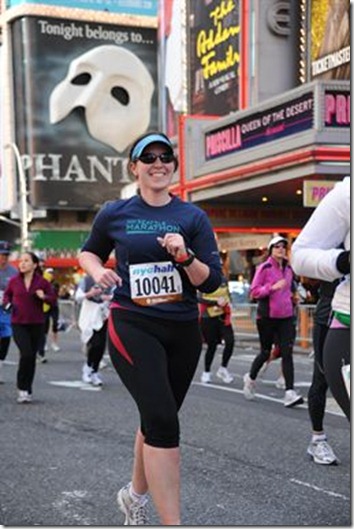 In Her Own Words:
The NYC Half Marathon was an awesome race! My goal was to start conservatively, speed up outside of the park, and run around a 10:30 pace. Mission: ACCOMPLISHED! Out of four half marathons, it was my second-best! 
The morning of the race, my friend, Audrey, and I headed to the race's start at 95th and Central Park's East Drive. The moon was full and bright, hanging low over the buildings across the pond. After dropping off her sweats at the baggage drop and standing in the porta-potty line for ten minutes, we split up. She got to start way up in the 4th corral; I was back in the 10th. There were 14 or 15 total! 
I froze. It was about 35 degrees. I did meet a friend from Daily Mile for the first time in person! We exchanged bib numbers online, but were shocked that we actually found each other in the corral. His planned time was faster than mine, though, so we separated as soon as we started. 
Finally, at 7:30am, we were off! I had heard the hills in Central Park were hard, but seriously, after the Seattle Marathon, those were not bad. The eight miles through the park were short and gradual enough that we had plenty of downhill to recover.
My slowest miles were the two including Times Square–I guess I was too enamored by the sights. 😉 This is apparently the only annual event which completely closes Times Square, besides New Year's Eve. The crowds were great too! They had "Broadway stars" leading a sing-along (complete with lyrics on a screen behind them). 
Around mile 10.5, I started to get a bit mentally unsettled, but calmed down by reminding myself that we had less than a 5k left. I can focus for that long. The last three miles were speedy! The Hudson and even Jersey City were pretty in the sunshine. DJs pumped music every half a mile or so, and the sidewalks were filled with supportive cheering squads. I liked the "800m to go!", "400m to go!", and "200m to go!" signs. My last 200m dash was super strong! I finished with an official time of 2:17:51! 
I received my shiny medal, space blanket, and recovery food bag.  Audrey was waiting for me by the baggage claim. She PR-ed with a 1:36:42! That qualifies her for the NYC Marathon (outright–no entering the lottery). You know, to go with her Boston Marathon, for which she qualified last year and is running next month. She's my hero. :) 
Overall? It's an awesome, well-supported and organized course! If you can get in (via the lottery), RUN THIS RACE!
Have you run the NYC Half Marathon?  OR Are you on Daily Mile?
More Race Recaps!