Final verdict: I love the Speedo Flite goggles.  They are inexpensive, fog-resistant, and moderately comfy.   They leave wicked goggle marks, but mine are probably just too tight.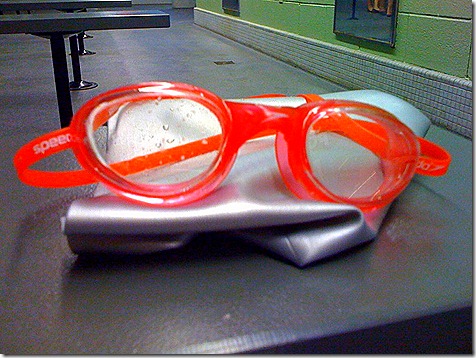 My goal for today's swim was to bust out 750 meters (the distance I'll swim during my June triathlon) without pausing to rest on the wall.  It was hard, but I powered through for 19 minutes with no wall breaks – although I did float on my back twice.  I'm cool with floating because I can do that during the triathlon.  I let out a little WHOOP when I finished 750 meters and then went on to do a total of 1,000 before calling it quits.
I love how swimming makes me feel.  I'm not sure if I can describe this accurately, but I always feel wiped out after a hard run – sweaty, shaking, and exhausted (but happy).  But after a hard swim, I feel loose, cool, and energized.  It's a nice feeling!  I still miss running through.
Today will be a two-a-day of sort as I'm going to try running with the girls at Girls on the Run.  Hopefully, there will be zero knee pain!
Post-swim lunch: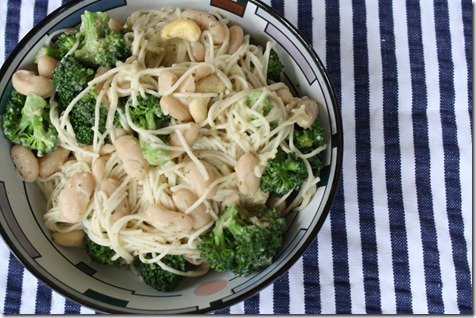 Have you not subbed out cream sauce with hummus yet?  You really must! 
In the pasta bowl:
Soba noodles
White kidney beans <—new favorite
Steamed broccoli
Cashews
1/4 cup or so of white bean basil hummus
Lots of salt and peppa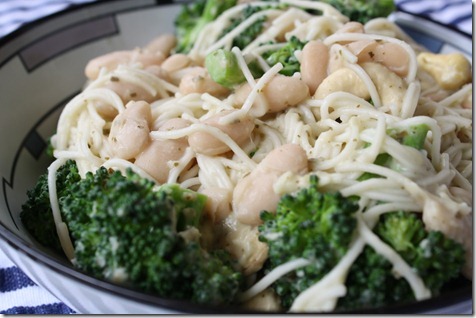 And… we're off!