Name: Amanda
Location: Austin, TX
Age: 24
Race: New Balance Girls On the Run 5K
Personal Tidbit: She is a professional Dating Coach who teaches men and women how to find the person of their dreams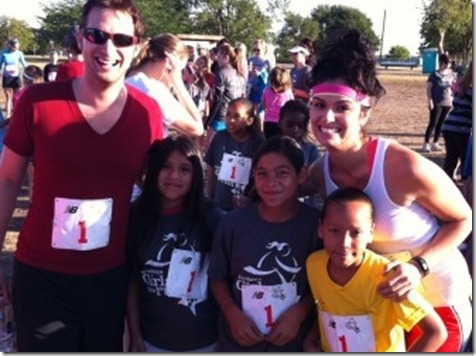 In Her Own Words:
I recently ran the Girls On the Run 5K in Austin.  My husband and I had signed up to be Running Buddies for three 8 – 10 year old girls – Alexis, Leticia and Sharon. These girls were SO excited and SO eager to start the race.  They told us all about their practices and how they run 4 times a week.  They were making me nervous because I wasn't sure if I would be able to keep up with them.  
As soon as the whistle blew, these girls just full-on sprinted, as fast as they absolutely could!  But as you can guess, they lost steam really quickly and about 2 minutes in they took their first walking break to catch their breath and relax.  Halfway through, we took a few walking breaks and talked a lot.  My husband and I asked them silly questions, like what their favorite music is (pop), who their favorite singer is (Selena Gomez), if the Jonas Brothers are still cool (not as much, but still a little bit) and what their favorite subject in school is (math).  The goal was to get their minds off running and make it as fun as we could!
At the end of the 5K, parents, friends and coordinators had all lined up along the side to cheer on the girls and encourage them for the final stretch.  As soon as we crossed that finish line they were given their pretty pink medals, bottles of water and Powerade.  They were all hot, sweaty and full of pride.
We wrapped up the morning with a few group pictures, high-fives to the girls, cheering on the other runners who were still coming in, and chanting, "Girls On the Run is SO MUCH FUN!" This run was a great introduction to the racing world.  It was actually the best way to break into racing because the pressure wasn't on me anymore… the focus was on the girls, getting them to complete the race, hit their goals, and have fun while doing it!
More Race Recaps!