The Husband and I are SLAMMED at work today, but we made time for lunch.  We really wanted to try a new pizza place called The Italian Pie.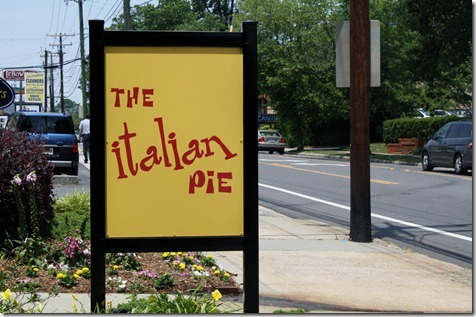 We're still burnt out on pizza from our vacation, so I was pleased to see the Italian Pie had other good vegetarian options. 
I started off with a side salad: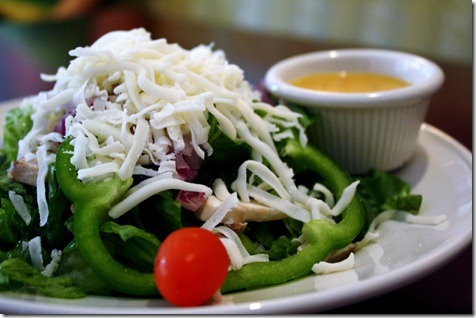 And absolutely INHALED this amazing Spinach and Artichoke wrap, which was hot pressed like a panini.  It was so much better than I even hoped for!  Yum.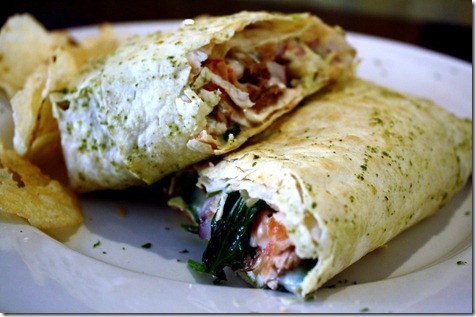 Something to Talk About:  Tips and Customer Service
I was reading Dear Abby this morning (my fav!), and she had published several letters from readers who were upset that an earlier writer had boasted he never tips maids at hotels.  Maids, today's writers argued, work extremely hard for little pay and almost no thanks.  It's our job as travelers to tip them.
The discussion on Dear Abby reminded me of an amazing book I read in college:  Nickel and Dimed: On (Not) Getting By In America.  The author gives up all her possessions and takes on a a series of minimum-wage jobs (including  being a maid) to see what it's really like to work for $6.50 or so.  Basically, the book discounts the theory that poor people "just need to work harder" to be successful… the trouble is really our system.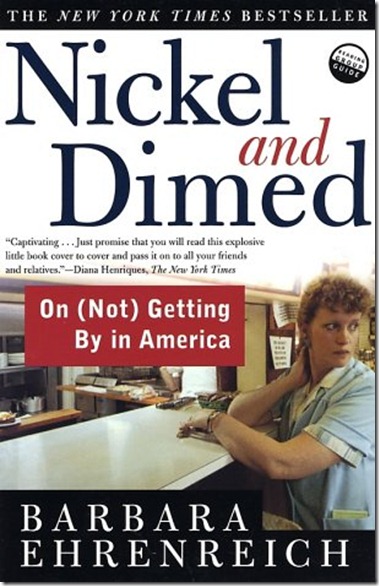 Nickel and Dimed is very interesting, and I highly suggest you check it out if you like creative non-fiction/books about social issues. 
Anyway, Nickel and Dimed is the reason why I always leave tips for maids.  In fact, the book (plus my own experiences in the service industry) made me a big tipper, period.  Especially once I graduated from college and began to earn a decent living, I realized that an extra buck or two didn't make a difference to my bank account but really helped people who work primarily for tips, especially because a lot of people skimp on tips.
(Side note: I seriously think it should be a requirement that everyone work as a waitress or bartender at least once in their life… Kind of like how some countries require citizens to serve in the military.)
When I tended bar in college, I made pretty good money in tips, but the tips barely made up for the epic abuse I received from patrons.  In the spirit of appreciating waitresses, maids, and bartenders, I thought I'd share a funny (funny in hindsight) story about my own bartending experiences: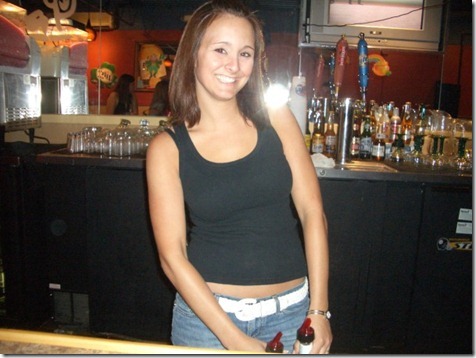 I worked at a really small bar; it was so small that I was very often the only employee at the bar (kind of scary at night).  This meant I had to be the bouncer, bartender, busboy, and babysitter to all the drunks.  One night, we had a karaoke contest and a group of girls came in.  I think they were celebrating a birthday.  Anyway, one girl was already so wasted that I refused to serve her.  She became so belligerent that she actually made herself throw up ON TOP of the bar, right in front of me.  While I was cleaning it up, two of her friends climbed on the bar and starting to dance 'sexily' (I use that term loosely; drunk girls on top of bars are generally NOT as sexy as they think).  One of the girls became angry at her friend for some reason and ended up PUNCHING her in the face!  It started a massive brawl that all the men in the bar egged on.  I ran around the bar to try to separate them, and one of the girls ended up punching ME in the face, too!  I promptly called 911 and got them thrown out.  But it ended up working out in my favor… all the remaining patrons felt so bad for me that I got tons of awesome tips that night.   And I quit a month later. 
The end!
Do you have any horror stories from being in the service industry?  Share and vent, please!