Today, I counted how many steps I have to walk to go from the front of the clinic to inside my favorite Charlotte restaurant:  96 steps.  Yes, just 96 steps.  And I wonder why I always succumb to takeout when I'm stuck in the office.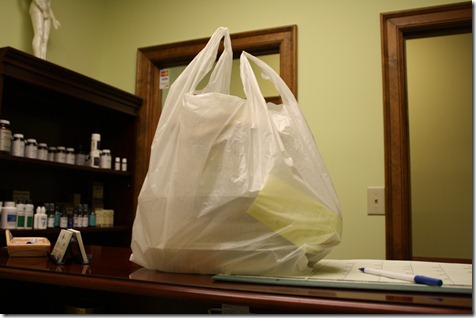 Same old, same old.  Black bean burger on a whole wheat bun.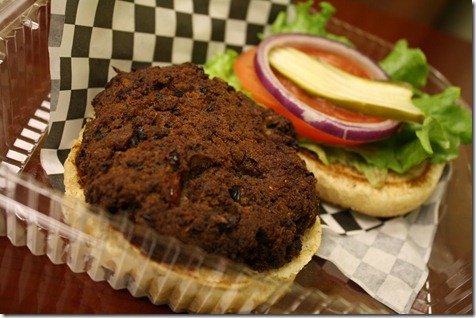 And a Napa cabbage salad with nuts, feta, carrots, onions, corn, and other goodies.  With balsamic on the top.
Help This Healthy Teen Out
So, just two days ago, I wrapped up the initial draft of the healthy eating chapter of the second Operation Beautiful book (with the help of a RD).  One of the call-outs is about how to get your family on board with a healthy diet, which I think is a problem a lot of kids face.  Ironically, yesterday I received this e-mail from a reader named Christie, a teenager interested in becoming a vegetarian.
Christie wrote:
"I have a dilemma on my hands and am wondering if you can help me out. I'm 17 and still live at home with my parents. For the past year or so, I've become increasingly interested in transitioning to a full vegetarian diet. My problem is that I have a very unsupportive family. My family is very "meat and potatoes" to the point where it's rare to even see a vegetable at dinner.
I have been eating very nutritious vegetarian breakfasts and lunches for about 6 months now (as I don't eat them with my family), yet dinner always consists of meat.  Every time I bring the topic up (which I always try to do at low-stress times), my parents shut me down with huge guilt trips.
They claim that I'm adding unnecessary stress and "just one more thing they have to worry about." If I say that I have no problem cooking my own beans/tofu/other sources of protein, they claim that doing so would just make them feel guilty for not being supportive. I've offered to cook dinner using these vegetarian sources of protein for my whole family to try, but they scoff at the thought of eating tofu or other "hippie" foods (as they like to call them).
I know how bitter I sound, but I am at a loss of what to do next. I've read countless books and blogs on vegetarian nutrition. This is not something I'm taking lightly or a fad I want to try, but a serious diet change for the long haul. I've done my research and I know the commitment this takes. I don't know a single person who is a vegetarian therefore I have no one I can look to for advice, which is why I'm coming to Healthy Tipping Point. 
I'm staying at home for university next year, so this isn't something I can wait out until September. Do you have any thoughts on what I can do next? My parents refuse to educate themselves on this subject, no matter what movies/books/blog suggestions I offer. Although they have no problem with the diet itself, they think it's such a huge social issue that they guilt me into eating meat."
Here's my advice to Christie, but I'm interested in hearing your thoughts, too:
You don't need your parents' approval on your dietary choices, and they don't need your approval on theirs.  The bottom line is that you can't force your parents to cook for you, and now you're at the age that you can cook for yourself (Yay!).  Guilt trips can be hard but don't let it phase you.  You aren't kicking a puppy!  Recognize that a lot of this guilt may be about you growing up or cutting ties – not about what you eat.  When in doubt, smile and change the subject.
Stop offering to cook your own vegetarian protein sources and just do it.  You can precook a block of tofu (try my favorite Perfect Baked Tofu recipe) and stretch it out over three dinners.  Or you could crack open a can of beans and eat some on the side. 
Similarly, stop offering to cook dinner for the entire family and just do it.  Come home from school and whip up an omnivore-friendly casserole, like the Santa Fe Casserole. 
You might want to offer to cook dinner two nights a week (say, Mondays and Wednesday).  Promise no tofu will be involved and cook a vegetarian dish you know will like.  Other examples of omnivore-friendly dishes:  homemade pizza or meat-free lasagna or ziti.
If you don't mind preparing meat for them, consider making meals that your family can 'build' themselves, like veggie or meat fajitas or burritos.
If you can't count on your parents to provide healthy sides, bring your own side dishes to the table.  Roast a ton of vegetables (broccoli, parsnips, Brussel sprouts, potatoes) and spread it out over several dinners. 
If you make "hippie" food 🙂 or veggies for dinner, make it in large batches and place it on a serving dish in the middle of the table, even if you strongly suspect no one else will eat it.  This will help you blur the line between "your" food and "their" food. 
One other issue you might have to deal with is groceries.  If your parents aren't willing to pay for certain foods, you might have to pay for it yourself or do a separate shopping trip. 
People are really sensitive about food choices.  Your parents might feel attacked about eating meat or not enough vegetables ("Who does she think she is to tell us how to eat?!").  I would stop trying to educate them about why you're becoming a vegetarian – maybe you can revisit that topic down the road, but right now it's driving a wedge between you and your parents.  I tend not to talk about the reasons that I'm a vegetarian unless someone specifically asks me.
Check out these other related posts, too:
Were you a teen who tried to make healthier choices at the family dinner table?  Do you have any advice for her?  What are some omnivore-friendly vegetarian dishes she could whip up?  Feel free to link to recipes in the comment section!