All dressed up and no where to go!  🙁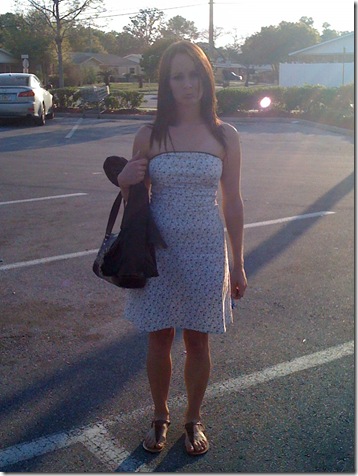 I had glorious plans to meet with Katy for a beer tasting event after work, but I got into my car and my window was STUCK in the down position!  Uh oh!  I rushed to the mechanic and tried to get it fixed ASAP, but I ended up wasting way too much time and had to cancel on Katy. 
Blurry Husband to the rescue!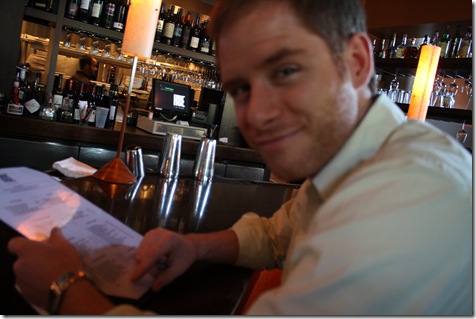 Hus picked me up and took me to Hue, one of my favorite downtown Orlando restaurants.  They are located on a busy corner and have perfect outside dining.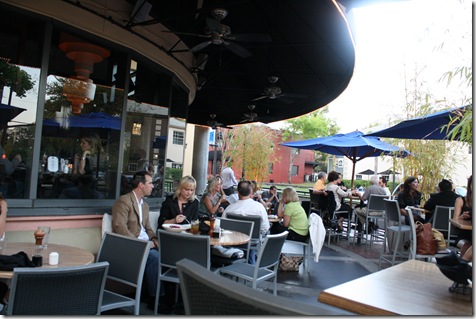 Beer, please!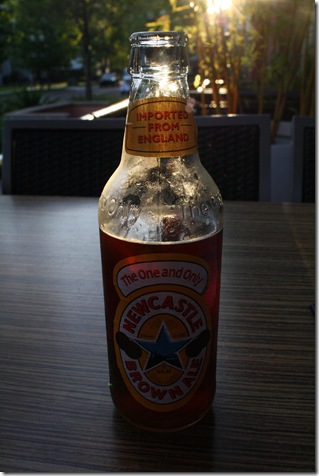 The Husband had wine, which came in this lovely glass (fun fact:  did you know that most restaurant wine glasses have symbols or phrases on them at a certain point in the glass so waiters know how much to pour?).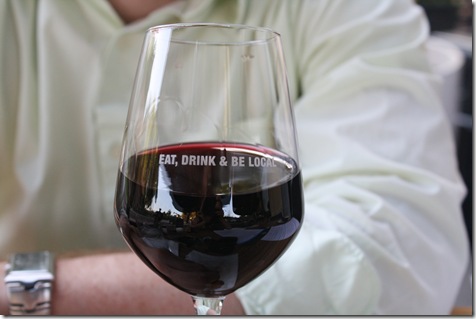 We started off with a great bread basket.  I had one roll.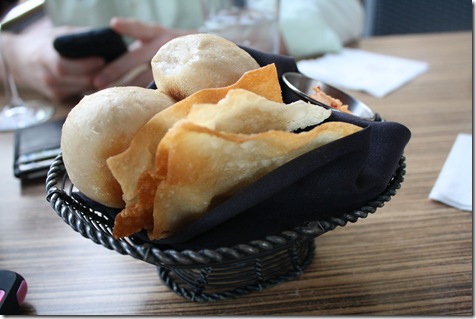 Hue changes their menu on a daily basis, and every other time we've been, they've offered at least one vegetarian AND one vegan meal.  I was pretty surprised to see that there wasn't a single veggie meal on the menu tonight.
Here's how to order (healthy) vegetarian at a restaurant:
Always be nice to your waiter, but be EXTRA nice if you're asking them to beg the chef for a special order.  The Hus and I both worked in the food service industry before, and you should ALWAYS be nice to your server and tip a minimum of 15%, unless they did something so horrible you need to complain to the manager.  We normally tip 20% or more.  Waiters work really hard for their money!
If there's no veggie options on the menu, check out the sides and try to create a fun meal.  Don't just look in the 'sides' section, but look at the entrees, too.  You might be able to combine a risotto, casserole, or other carb with two delicious veggie sides.
Alternatively, tell the waiter you're a vegetarian or vegan (or just want a veggie meal!) and ask what the chef can do.  Specify you want something other than pasta, or you'll probably just get a load of creamy fettuccini and limp veggies.
Make suggestions:  Ask if they can create a mushroom sandwich or a grilled veggie wrap.
The Hus and I suggested mushroom sandwiches and asked for veggie sides.  It was glorious!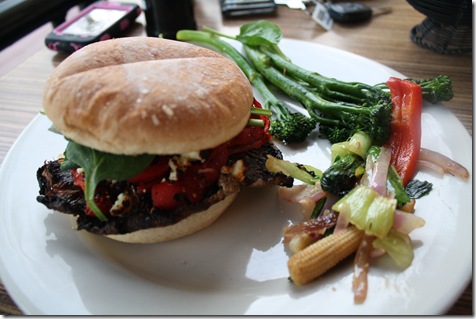 The mushroom sammie came with cheese and roasted red peppers.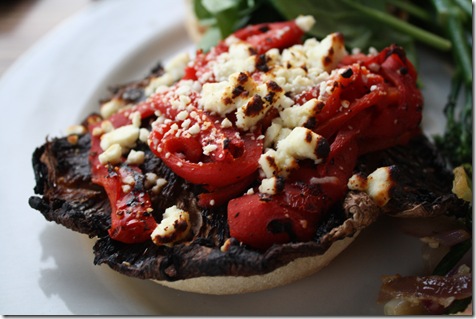 Plus, broccolini and other fun steamed veg!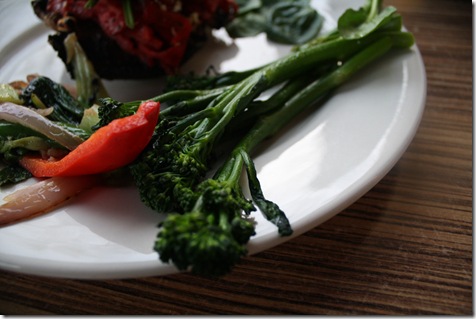 The Husband "talked" me into this tower of pecan pie with vanilla ice cream and steamed apples.  It wasn't very hard to talk me into it!  He got his own dessert, too.  So I managed to eat almost the entire plate.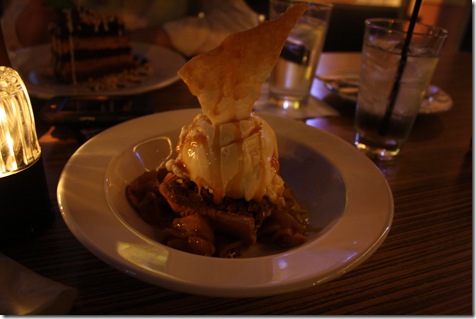 Oof.  It was a wonderful dinner, but I am so FULL.  And sleepy from beer and dessert…  Time to go to bed!
What kind of special requests do you make at restaurants?
Edited to add:  Totally forgot to blog my afternoon snacks.  For accountability's sake, I had 1/2 a melon and a handful of crackers.