Well, I definitely do not deserve a gold star for my sleeping habits last night.  I tossed and turned all night long and now I feel like a walking zombie.  My blood sugar is all over the place and my eyes are puffy and swollen.  
Coffee to the rescue!  Oh, and a stabilizing breakfast.  Have you ever noticed how much better you feel after eating healthy food for breakfast?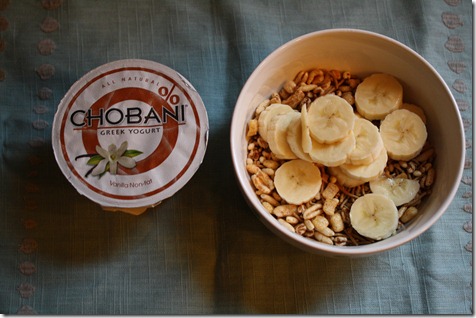 Something simple and fast:  a banana + Trader Joe's Organic Morning Lite Cereal and vanilla Greek yogurt.
I have to take off my writing hat and put on my secretary administrative assistant hat for the day.  We have a ton of patients at the clinic.  See ya from there!  I have a good post waiting to go up at lunch time.  🙂