Catching up on the weekend?
Good morning!  It's cold out there, so let's start off with a sunny flower picture from the summer.  Ahhh.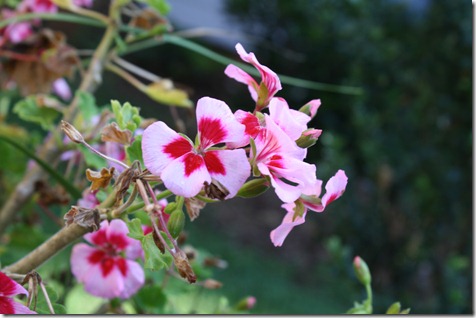 Last night, I found the owner of the stray doggie.  He was very grateful to have 10 year-old Fred back.  The Hus and I talked some more about getting another dog and decided to shelve the idea for now.  Our third dog discussion might have seemed spontaneous on the blog, but it's really an idea we've been tossing around for about a year.  We're going to wait a little longer, I think.
Breakfast:
In the mix:
1/4 cup cooked wheatberries
1/3 cup oats
1/2 cup almond milk
1/2 cup water
1 banana
Cinnamon
Topping:  coconut
When making oatmeal with cooked wheatberries, just prepare as normal!  I like to make a stash of wheatberries and keep them in the fridge for moments like this.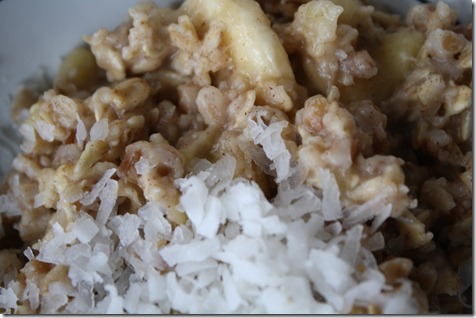 Speaking of grains…
I'd like to share three great grains (I use that term loosely as quinoa isn't technically a grain) that I've been loving lately.  Because everyone gets tired of brown rice, right?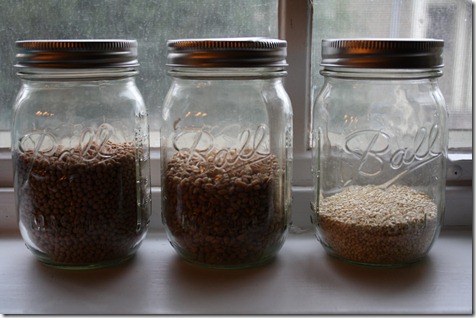 From left to right:  quinoa, Israeli cous cous (AKA Ptitim), and wheatberries.

Quinoa (Recipes: Strawberry Fields Breakfast Quinoa; Pumpkin Spice Quinoa):  Quinoa is easily found in most grocery stores near the rice.  It's a small, circular 'grain' (actually a seed) from a plant.  Quinoa is "highly appreciated for its nutritional value, as its protein content is very high (12%–18%). Unlike wheat or rice (which are low in lysine), and like oats, quinoa contains a balanced set of essential amino acids for humans, making it an unusually complete protein source among plant foods.  It is a good source of dietary fiber and phosphorus and is high in magnesium and iron. Quinoa is gluten-free and considered easy to digest."  (Source)  You can toast raw quinoa (see Pumpkin Spice Quinoa recipe) or boil it; boiling only takes 5 minutes.
Israeli Cous Cous (Recipe:  Toasted Ptitim):  Israeli cous cous is actually a wheat-based pasta formed into little balls.  You can find it near the rice or in the bulk bin aisle of most 'healthy' grocery store chains.  Like quinoa, I've toasted it but after boiling.  It can also be chilled and mixed with olives, herbs, veggies, and olive oil for a yummy side dish.
Wheatberries:  I'm just getting into wheatberries.  "'Wheatberry' refers to the entire wheat kernel (except for the hull), comprising the bran, germ, and endosperm. Wheatberries have a tan to reddish brown color and are available as either a hard or soft processed grain. They are often added to salads or baked into bread to add a crunchy texture; as a whole grain, they also provide nutritional benefits since they are an excellent source of dietary fiber." (Source)  You can only usually find wheatberries in stores like Whole Foods or online. They are really great chilled, too!
What's your favorite unusual grain and how do you love to prepare it?