Ptitim, or Israeli couscous, is a large wheat couscous-like product similar to the Italian orzo.  Imagine regular couscous on steroids!  This breakfast is fresh, summery, and light but filling.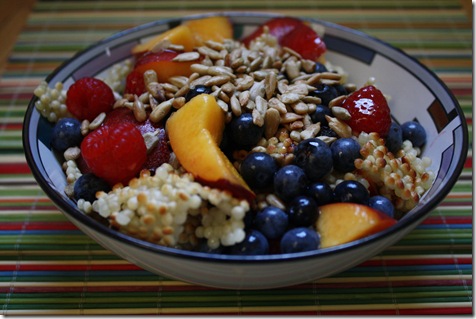 Ingredients (for one serving):
1/2 cup Ptitim, raw
1/2 cup water
1/2 tablespoon maple syrup
Drizzle honey
Fruits:  nectarine, blueberries, raspberries
Sunflower seeds for topping
Directions:
In a small saucepan, combine ptitim and water and cook on high until all the water is dissolved.
Remove from heat and mix in maple syrup.
On greased cookie sheet, spread out the ptitim and broil on high for 4 minutes, or until it starts to brown.  Remove from heat and let cool for a few minutes.
Wash and slice fruit.
Combine cooled ptitim, fruit, sunflower seeds and a drizzle of honey,
Enjoy!