Morning!  The sun is shining, the birds are chirping, the neighborhood cats are torturing James…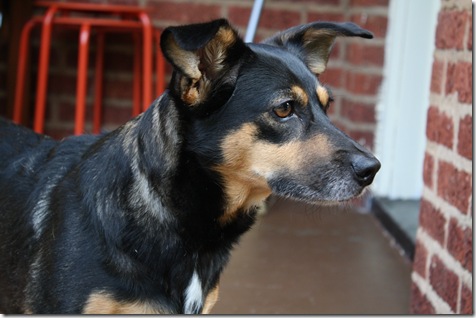 It's going to be a good Monday.  Repeat it and you might start to believe it.  🙂
Had breakfast on the porch, and it was glorious.
Standard fare:  banana, 1/4 cup raw oatmeal, blueberries, chia seeds, and honey Greek yogurt.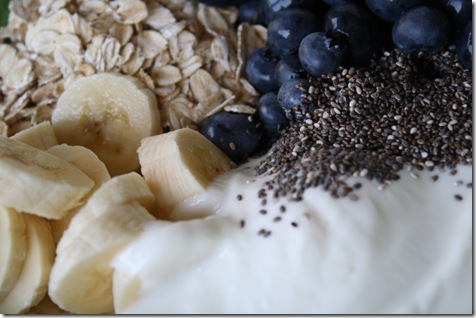 Nothing hits the spot on a hot morning like a cold breakfast.
And now… a guest post from DadHTP about cycling.  If you're new to the blog, you might not know that my Dad was a very serious cyclist for many years, riding 400+ mile races and other crazy stuff (details here).   We've done two Metric Centuries/100K rides together (race recaps here and here), as well as a 100 mile event (race recap).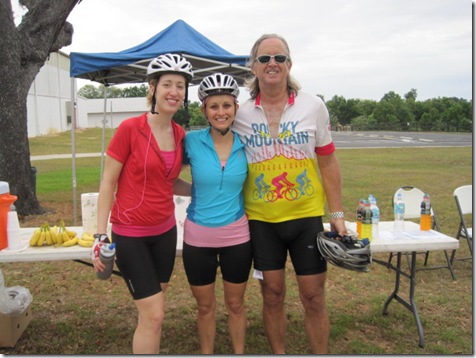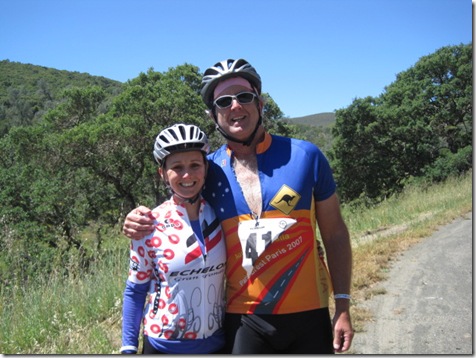 DadHTP wanted to talk about how to get faster on your bike.  Here's his speedwork advice:
Let's get it out of the way. Except for seeing improvement, which takes ten to twenty days for most of us, speedwork sucks. Badly. When Caitlin, Jenna and I did the Napa Century, we were slow – which didn't bother me, because I was out of shape and would have finished by myself otherwise. Caitlin didn't understand why  – it's the difference between endurance and power. All three of us had endurance, but not enough power – it was a tough course for a club ride, and hills take power.  
Speed (or interval) training is not for everyone. If you want to lower your times, or change from fit to really fit, this is the way. As far as I know, there is no huge health benefit, but there is an increased risk of injury. For most of us, this is just about taking a hobby very seriously.  🙂
Caitlin's only been doing speedwork sporadically for a few weeks running, and her times are dropping. This will transfer to cycling, and even swimming. The more oxygen your body transports to your muscles the more strength you can have. The specific muscles for each sport need to be strengthened, but that process is amazingly fast. 
The specifics? First, establish a strong, solid base of exercise. If you've never exercised, a year of moderate, gradually increasing amount and intensity would help tremendously. If you have never had a regular exercise program, get a physical first. This is hard stuff. 
The basic drill is to warm up for 30 or 45 minutes, and then make a minute long sprint at 80-90% effort, then go back to your warm up pace. Now do it again. And again. Ten times. Then go back to your warm up pace until your breathing has recovered. Guess what? Do the series again. Not a mass of jelly yet? One more time. Now exercise at a cool down pace  for thirty minutes.
If you're ready for four, either you're not sprinting hard enough, or I want your autograph before you turn pro – no Ebay, I promise. 
Seriously, this is hard. if you don't get through the second set, let alone the third, stick with it, you will. And if you do endurance (your regular workouts) three days a week, and one of these, you will get faster quicker. Gradually, you'll get through the second and third sets. And depending on how nuts you REALLY are, start the cycle again. Send me your autograph and picture. 
Google your sport of choice, whether it's swimming, biking, or running, and "interval" or "speedwork" for more information – listen to your body, watch for injuries, and have fun. 
Have you used speedwork training to get faster at your sport?  What has been your experiences with speedwork?  Did it pay off during a race?
Wanna read other cycling-related posts?