T-minus 5 days until moving day.
It's like a Ghost Town up in here.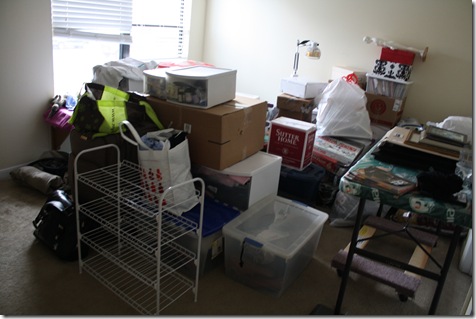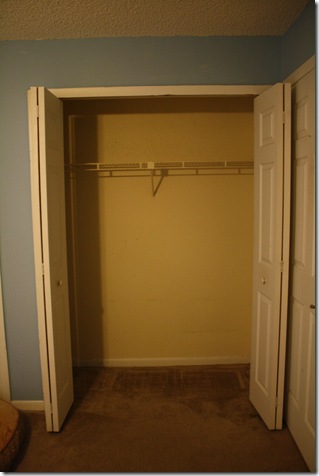 Packing requires fuel.  In the form of a sample of Tostitos dip strips (which are essentially long strips of chips for maximum dippage in the dip) and salsa.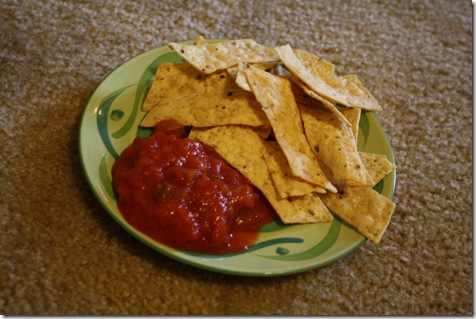 Three cheers for chips and salsa! My favorite salty snack.  And hey – salsa is a vegetable.  I ended up having 2x what's shown. 
Dinner was more freezer mish-mash (eat it, don't move it!).  I had a Dr. P California burger mashed up steamed corn, peas, and greens. All on a bed of brown rice … PLUS – Gorgonzola cheese!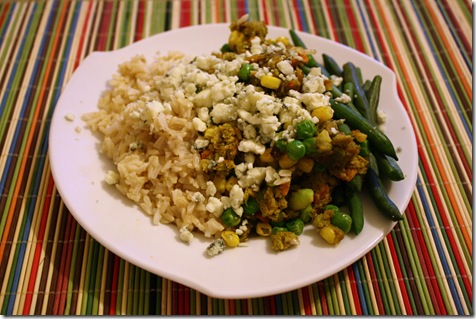 This was a REALLY great dinner, but I think the cheese is what "made" it.  I tried the Husband's (he topped with hot sauce) and it just wasn't the same…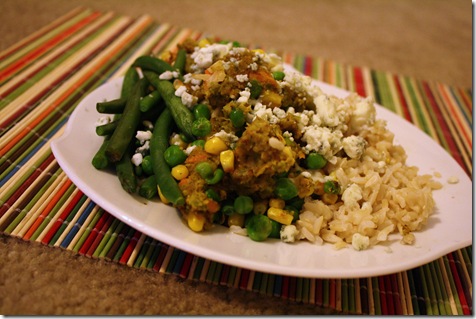 Perfect meal after a long day of packing!
Oh, everyone commented that James was such a good dog when I photographed my breakfast this morning.  Maggie is good at that, too!  They know not to approach my food unless I say so…  I do give them treats off my plate (like veggies) all the time.  This is probably the only thing my pups are universally good about.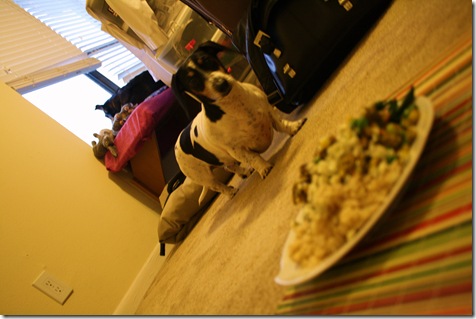 Everyone Starts Somewhere (Corny But True)
In light of my slightly crazy plan to run a sub-23:00, I thought I'd do a post on starting to run.  Everyone starts somewhere! 
I started running when right out of college.  My best friend Lauren basically told me to get my bootay in gear or drop the self-sabotaging attitude. 
The first I ran, I was terrible!  I went with Lauren and could barely go 1/4 a mile without stopping to gasp for breath.  I think I turned around and went home to rest!  I sometimes did cardio at the gym, but never straight-up RAN outdoors.  But I was determined to do it (especially when I started to think about doing a 10K…) and I trained my way to a 5K (I did a Couch to 5K-like program) and then I did a 10K plan in 10 weeks or so.  I used the walk-run method to slowly gain mileage.  That's why I like walking so much!
I did my first 10K in a hilly area of Pittsburgh – it was even snowing the day of the race!  I did it all by myself, ran it in 1:01, got in my car, drove to the Husband's work (a fish restaurant), and had a feast.  :)  It was a lot of fun, and I was HOOKED.
In conclusion… if you want to learn how to run, you can!  A 5K or 10K is a completely achievable goal for most people, as long as you're dedicated to the training.  And it is a LOT of fun to do an event – trust me.  🙂
Do you consider yourself a "runner?"   I did during that first 1/4 mile! LOL