Afternoon!  :)  My day has been filled with work, errands, and moving activities.
If you're moving and want cheap boxes – hit up the liquor store!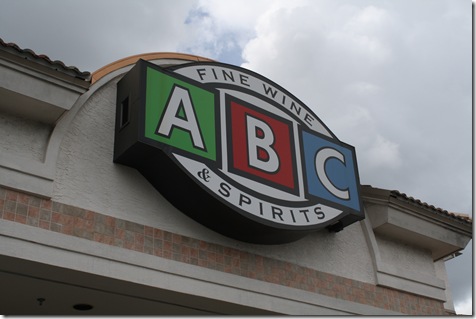 We're trying to spend as little as possible during the move.  In fact, I'm anticipating that we'll only be spending $150 $20 (just sold our bed frame and patio set!) because we're selling off all of our furniture and renting a trailer, not a truck.  And I haven't bought a single box to date – I've been to the liquor store three times, though!
Want some other money-saving tips for moving?  I actually just wrote a freelance article on the subject – check it out!  🙂
Lunch was eaten en route to the Honda dealership (my airbags are under recall… not cool).  I had a Naturally Nutty Cherry Cinnamon Peanut Butter sammie with 1/2 a banana: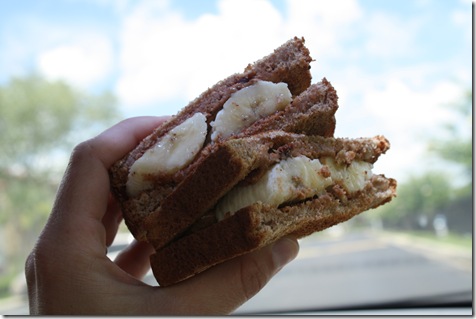 And when we got back, I made a Green Monster.  I swear the GMs are the only thing getting me through the craziness.  I can always rely on GMs for a dose or two of vegetables and fruit!
1 cup rice milk
1/2 a banana
2 cups raw spinach
15 frozen cherries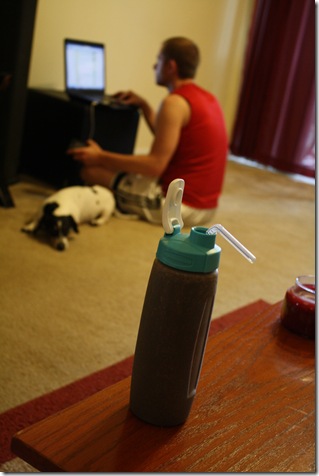 Alright… time for what you've been waiting for!
Speedy 5K/No More Trouble Zones Challenge Training Plan
Although my life is really hectic right now, I've missed having direction with my workouts.  I've done 27 races and am accustomed to always training for something!  I really miss the motivation an impending race gives me.
Since I don't have a lot of time, I can't train for any long-distance events.  But that's alright with me because you all helped me identify a new goal that is challenging, but more manageable time-wise.  Not going to lie, though – reaching a sub-23:00 5K is going to KICK MY BOOTAY. 
My 5K record is 23:42, which I achieved in December 2008 (AKA – a long time ago).  I don't know WHAT happened to me the day of that race, but I actually WON the entire female division (it was a small race, only about 80 people).  It was the fastest I had ever ran 3.1 miles.  I hate to downplay my own success 🙂 but the course was flat and fast.
Can I shave 43 seconds off my personal record?  We'll see!
My training plan (which you can view HERE and on the left side of the blog under "training plan") incorporates:
One "speedwork day" that includes sprints of 400 meters (0.25 mile) or 800 meters (0.5 miles) over the course of 2.0 to 4.0 miles.  I'm aiming to run the sprints at a pace of 7:45 to 8:00 miles.
One "long run day" that varies from 5.0 to 7.5 miles.
One "recovery run day" of 3.0 slow and easy miles.
One "tempo run day" when I plan to do 5.0 miles with the 3.0 middle miles at a 8:45 pace.
The other three days will be "active rest" or total rest, depending on my mood and schedule.  Active rest includes walking, yoga, or a slow bike ride.
Some weeks are really busy with personal activities so I'm actually running on a rest day or resting on a run day.  :)  Gotta be flexible!
Additionally, I'll be squeezing in 2 to 3 days of the No More Trouble Zones DVD by Jillian Michaels.  It's a great strength training DVD!  Since this DVD is very, very hard for me, I might only do half (20 minutes) on some days.  The DVD is not my priority so I'm just going to try to squeeze it in when I can… no pressure.
My training plan (which, I'll admit right now is going to be VERY hard for me) incorporates not one… not two… but THREE AWESOME races!  The first race is a 5K on August 7.  It will be my first Charlotte race and my goal will be to get a sub-25:00.  I figure this will give me a heads up onto whether I'm close to achieving my sub-23:00 goal.  The second race will be a "for fun" 10K Trail Race on August 22.   I love trail races!  This will help keep me accountable for longer distances.
And last, but not least, will be the BIG race!  The 23:00-goal 5k is on September 4.  The coolest thing about this race?  I can WALK to the start from my new apartment!
Can I shave 7 minutes off my current 5K time in 11 weeks?  Um… I'm not entirely sure, but I sure as hell am going to try!  🙂
Race on!