Last night, I tweaked the leftover Kashi Pilaf so I could use it in a sweet breakfast this morning.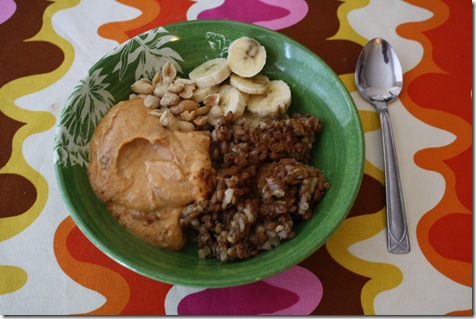 Over very low heat, I combined a serving of cooked Kashi Pilaf, 1 tablespoon flax, 2 tablespoons maple syrup, and a bunch of cinnamon.
After 10 minutes, I removed from heat and let chill in the fridge overnight.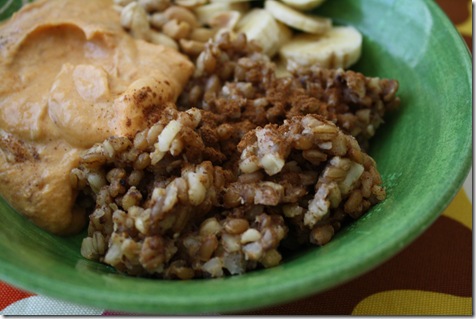 This morning, I combined the following: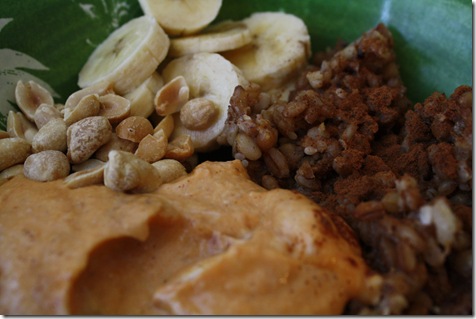 It was definitely different, but I really liked it!
The Injury-ette
On Saturday's 15.4 mile trail race (recap), I rolled my ankle around Mile 4.
All I could think was, "Ah, crap. I have to run 11 more miles on this ankle!"
To make matters worse, it is the same ankle that I injured in the final mile of the Disney Marathon (recap).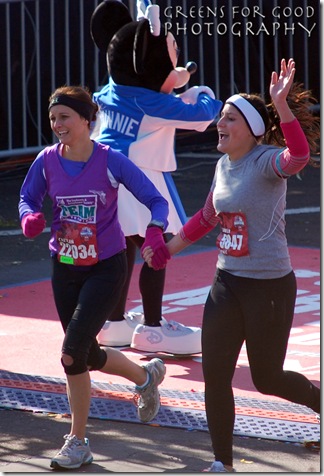 Obviously, when I rolled my ankle, it's not like I severely sprained something because I could run mostly pain-free for 11 more miles.  However, it was sore during the race and continued to feel off when I walked around later that night.  It's not an injury, it's just a little injury-ette.  😉
My injury-ette doesn't interfere with my ability to bike or walk the dogs, but I haven't run on it since Saturday and I'm a little concerned about this Saturday's race.  I'm scheduled to do the IronGirl 15K in Clearwater, and honestly, I'm not sure whether pounding the pavement for 9.3 miles in the BEST idea.  At the same time, my ankle feels 95% better… So I'm wavering on what to do.
My injury philosophy has always been "don't do anything that makes it hurt."  But I'm not "hurting" and want to race if possible.  So, here's my plan for Saturday.
PLAN A:  Wake up on Saturday and feel awesome.  Run 15K.
PLAN B:  Wake up on Saturday and feel unsure, but pretty good.  Drop out of 15K and run the 5K race instead.
PLAN C:  Wake up on Saturday with ankle pain.  Drop out of race entirely, drive down with the other bloggers who are doing it, and serve as their official race photographer.
Either way, I'll have fun!  It helps me to have a a plan and know it's going to be great either way.
Have you ever had to drop out of a race or dropped down to a reduced distance due to an injury or an injury-ette?  How did you reconcile it in your head to be OK with the decision? I know a lot of people struggle with injuries, and hearing your stories will help them!