After 21 weeks of training and more than 505 miles logged, I completed my first marathon and my 20th race!  I'm still in disbelief that Lauren and I did it – running 26.2 miles was so, so much harder than I thought it would be!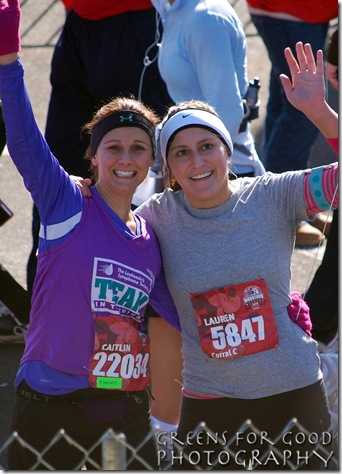 I believe the Disney Marathon was an excellent first race for a newbie like me to run.  The course was fast, the spectators were amazing, the water stops were fueled, and Mickey and Minnie cheered us on!  But our families were the BEST!  We saw them four times, and each time it was so exciting and gave us a much-needed BOOST!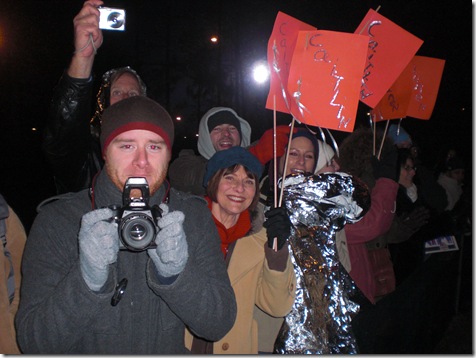 But, let's not sugarcoat it.  Running a marathon is HARD.  Really, really hard.  I never 'hit the wall,' but Mile 20 – Mile 26.2 was excruciating.  The weather played a major factor in my pain.  It was a frigid 19 degrees when we started, and my muscles never relaxed.  I can usually run 17 miles without the slightest pain, but I was hurting almost immediately because of the cold.  If it had be 50 degrees or so, the entire race would've been more pleasant and less painful.
You know what?  The fact that it was challenging almost made the race SO much better.  :)  I feel so accomplished.   
Our race morning started ridiculously early. Our hotel alarm clock was blaring at 2:40 AM!  Lauren and I stretched, watched the morning news, and ate breakfast.  I had a PB and banana sandwich.  (I also ate a Clif bar right before the start.)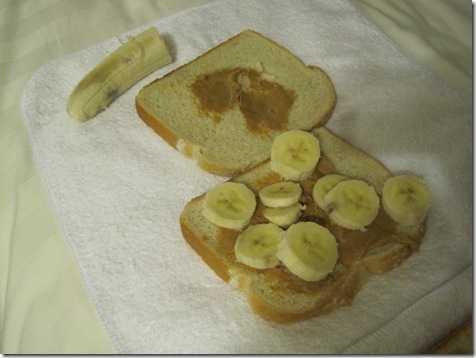 A very pivotal part of my outfit was a heavy winter parka and sweatpants, which I got from Goodwill.  Disney e-mailed us to say they would donate any dropped clothing, so I felt OK about shedding layers on the street.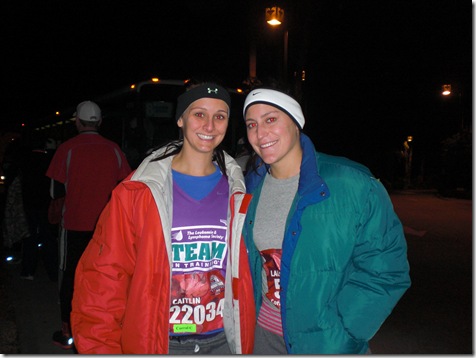 The heavy coat was SO necessary.  We stood around in the cold for about two hours before the start – Disney bused us in and then we needed to wait around a little bit.  I was chilled to the bone by the time the fireworks went off at the start – and then I knew it was going to be a hard run!
Lauren and I had a plan to stick together NO MATTER WHAT.  I think knowing that I had Lauren, and that Lauren had me, was so relieving.  We were very intimidated by the thought of doing our first marathon!  Plus, I loved having someone to talk to and laugh with.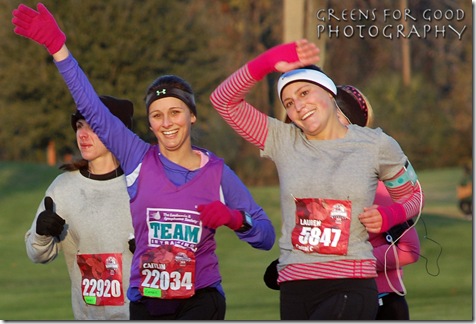 The marathon course went all through Walt Disney World.  We went through four parks, including Epcot twice.
We began in Epcot and ran past all the different "countries."
Then we looped around on Disney back roads.
We entered the Magic Kingdom, ran down Main Street, through Tomorrowland, and through Cinderella's Castle.
More back roads.
We entered Animal Kingdom, which we smelled before we entered!
More back roads…. so many back roads!
Then, we entered Hollywood Studios.  I don't even remember this park!  It was a blur.
A short stretch of back roads.
Back through Epcot.
'
Out of all the parks, my favorite was Magic Kingdom!
The best part of Magic Kingdom was the Castle.  It was so magical, and Lauren and I practically skipped through it!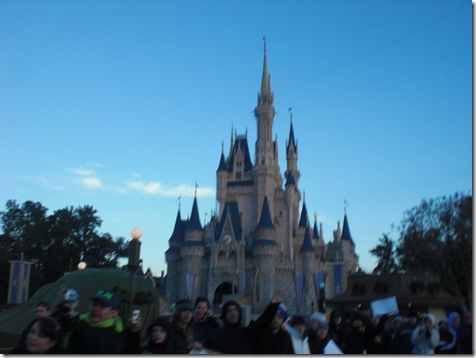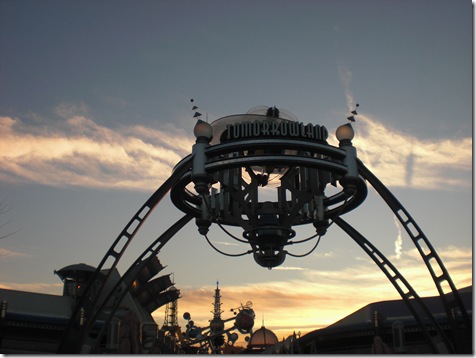 Lauren and I paced really well up through Animal Kingdom.  Our goal was the pace 10:30 or so.  Because Lauren is a 'zen' runner who doesn't run with a watch, I would just say "slow down!" or "speed up!"  Although it was cold, we were having fun and making excellent time.
Mile 1: 10:22
Mile 2: 10:19
Mile 3: 10:28
Mile 4: 10:29
Mile 5: 10:44
Mile 6: 10:37
Mile 7: 10:25
Mile 8: 10:44
Mile 9: 10:24
Mile 10: 10:12
Mile 11: 10:20
Mile 12: 10:35
Mile 13: 10:26
Mile 14: 10:28
Mile 15: 10:23
Mile 16: 10:39
Mile 17: 10:46
Mile 18: 10:45
Mile 18 is when we both started to have problems!  Lauren was chafing, in pain, and running through a bad stitch, and my thighs and butt were killing me.  I asked Lauren to motivate me, and she gave me an excellent pep talk.  I really needed that!  When I felt better, I tried to talk Lauren up, too.
Lauren pulled to the side of the road to pee.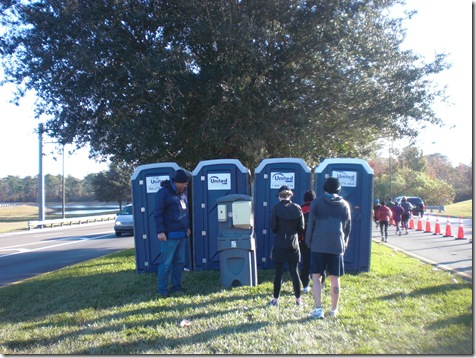 I didn't need to use the bathroom, so I took the opportunity to stretch of my sore, sore legs.  I did downward dog in the grass, and it completely released my hips.  I felt much better for at least 2.0 more miles!  🙂
At that point, we decided to start doing the walk/run method.  Lauren had actually never run over 16.0 miles before, and I was getting nervous because my knees and hips kept locking up.   The walk and run totally saved us!  Our pace dropped, but it helped keep our spirits up.
I took in the most calories during this stretch of road.  All in all, I had four packs of Goo, 1/2 a banana, and a ton of Powerade through the race.
Mile 19: 13:55
Mile 20: 13:21
Mile 21: 12:03
Mile 22: 11:52
Mile 23: 12:39
Mile 24 is when the MENTAL BATTLE started for me.  Every single step was sending shooting pains up my legs.  I saw a sign that said, 'Pain is temporary, quitting is forever' (my mantra!) and it helped motivate me.  I just kept reminding myself that my time didn't matter, and I should relish every moment of my first marathon – no matter how hard it was!
I also saw an Operation Beautiful poster at some point on the course! I dashed back and told the girl who I was.  Yay for Operation Beautiful!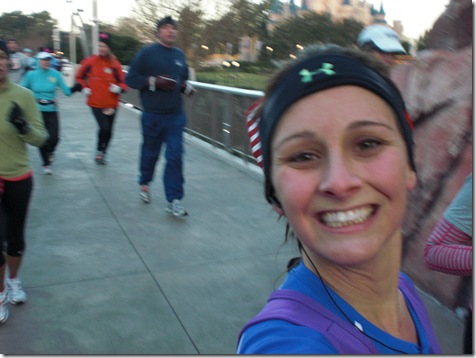 The other awesome part of the marathon were the spectators!  Even though it was so, so bitter cold outside, there were thousands of people on the side of the road, cheering for the runners.  Also, all the Team in Training runners and coaches motivated each other by yelling out, "GO TEAM!" when they saw each other. 
I started to cry around Mile 24.  I ran past a bunch of posters about survivors of cancer, and it totally tore me up.  I am so glad I decided to do Team in Training in honor of my friend Megan (who has leukemia right now).  It made the experience so much more fulfilling for me personally.  THANK YOU FOR EVERYONE FOR DONATED!   Together, we raised $3,050! 
Towards the end, I just buckled down and focused on putting one leg in front the next.  I thought, 'Right, left, right, left.'  Lauren got her second wind and helped me cross the finish line feeling happy and proud!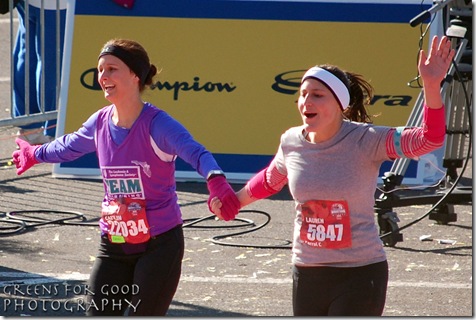 We even managed to sprint a little at the very end!
Mile 24: 10:43
Mile 25: 11:43
Mile 26: 11:52
Mile 26 – Mile 26.57 (course was long): 5:59 (average 10:33/best 8:35)
Our final statistics:
Distance: 26.57 miles (long course!)
Duration (Garmin): 4:53:22
Duration (Official Chip): 4:53:18
We immediately got our medals!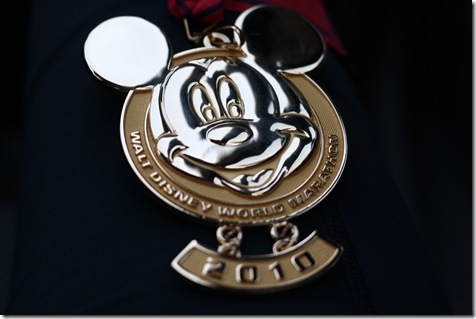 And I grabbed a bagel and a Powerade.  Don't I look cheerful?  🙂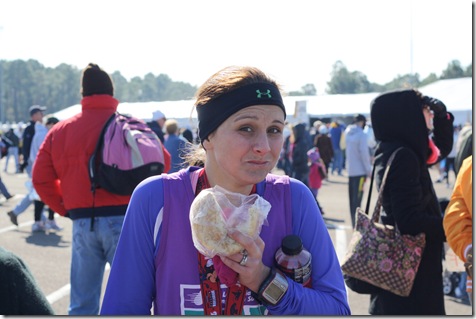 Then, we found our families, and the Husband was lovely enough to give me his jacket.  Thank you, lovely Husband!
We came home, and I iced down my knees and inhaled Pumpkin Yogurt with granola.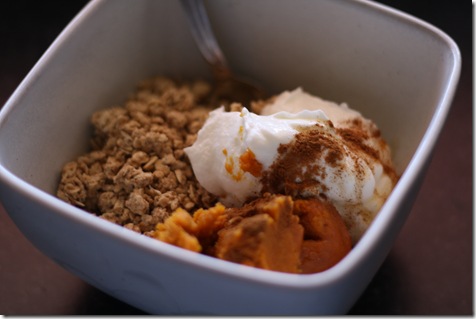 Then, I slept like a log for about three hours.  I woke up ravenous.  Lauren and I decided the best way to refuel was to get a HUGE burrito and HUGE ice cream.  :)  I had a veggie burrito from Chipotle and a medium coffee and Resee's ice cream from Coldstone.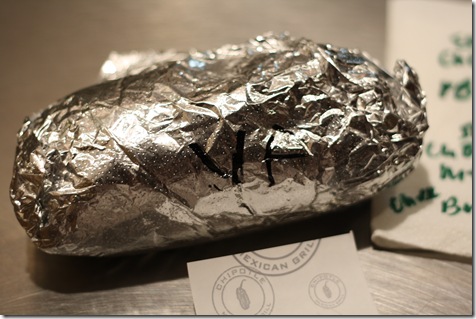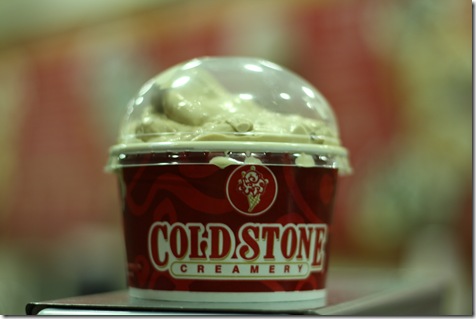 I am currently basking in my post-marathon glory and massaging my sore muscles.  I actually feel GREAT now that I've settled down and relaxed.  I hope to do another marathon in the future – it was SO much fun.  🙂
More thoughts on the marathon are forthcoming!  It was such an emotional and physical experience that I have a lot to digest and think about.   Thank you again for supporting Team in Training!  Thank you RYAN for such wonderful photographs!