BOY – A year makes a big different!  Last year, I completed Crooms 15.4 mile trail run feeling utterly exhausted and spent.  The race was the longest I had ever run, and it took every ounce of my willpower to run (not stumble) across the finish line. 
In fact, Crooms 2009 was so rough on my body that it resulted in a 2.5-month running hiatus!
This year, I finished strong, happy, and ready for more!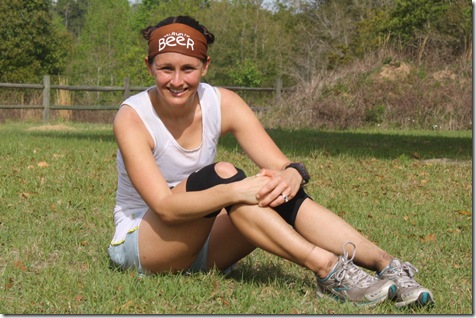 Oh, and ready for a beer.  :)  (MY Bondi Band says "Will Run for Beer.")
Feeling stronger and more confident at Crooms was so nice.  It's amazing what another year of dedicated running will do to a girl.  Again – this is my favorite part of being fit and active.  You do see a REAL improvement over time. 
Since Crooms is so far away, Kelly, Ashley, Meghann, and I shared a hotel room.  Our morning started bright and early at 5 AM.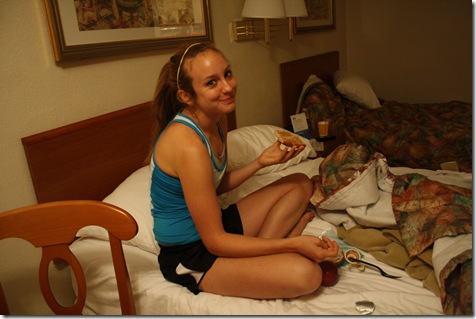 I had my usual pre-race breakfast:  a bagel, peanut butter, and a banana.  It's hard to eat such a filling breakfast so early in the morning, but it's absolutely necessary before a race! I ate 2/3: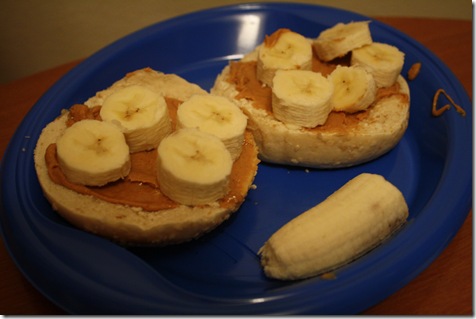 And then we packed up our cars and drove to the forest.  We took three cars because Ashley and Meghann were running the ULTRA marathon (31 miles).  Kelly and I were running the 15.4 mile loop and drove together.
Daybreak: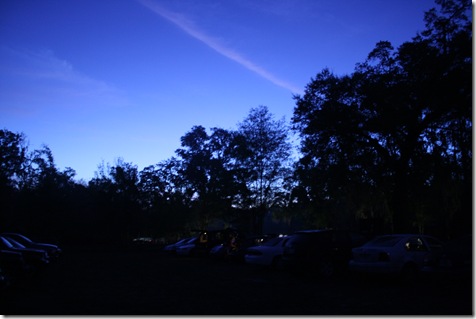 I think the ultra marathoners were starting to get a little nervous!  Kelly and I were just excited!
The event is limited to 250 people each year, so it's a fun, friendly event.  The gun for the 15 mile and 50K (31 miles or so) groups went off at 7 AM.  The 50 MILER group started an hour earlier.  Can you believe people can run for 50 miles?!  Really, I cannot even fathom that.   If you can do that, you are AWESOME.
The race starts along a packed dirt road.  It's very pleasant and easy to run on. 
Last year, I had absolutely no idea what the course would be like, and Mile 2 – 4 was a RUDE awakening.   Luckily, I was prepared this year for SAND.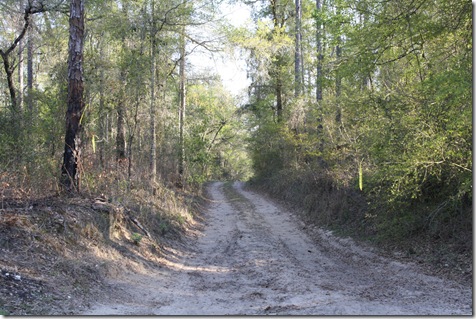 Loose, deep sand!  It is SO hard to run this portion of the course! 
Thankfully, the sand portion passed quickly, and then the course transitioned to packed leaves.  Crooms is VERY hilly and the majority of the race is on a slight incline.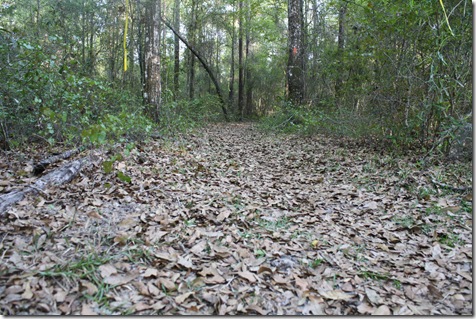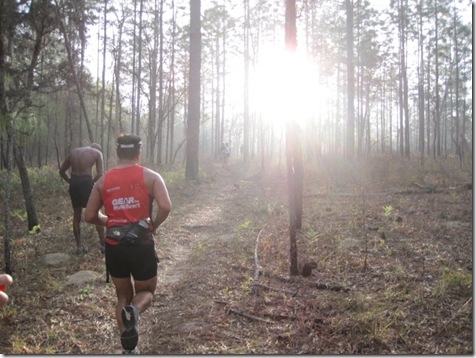 Around Mile 4, I rolled my right ankle.  I wasn't watching the ground and my foot got stuck in a small hole.  It REALLY hurt when it happened and all I could think was "Omigod I have to run on this ankle for 11 more miles!"  It throbbed and throbbed for a long time.
Kelly led for the first few miles of the race, and then we came up on the first rest stop.  Because it's a race in the middle of the forest, there are only 3 stops along the 15.4 mile loop, and runners are expected to carry their own water to supplement whatever they get at the aid stations.  We all wore CamelBaks, which are great.
Station 1: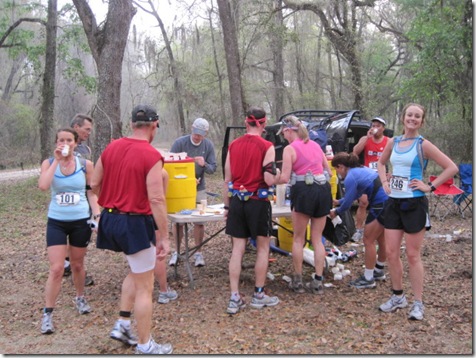 I slammed some water and skipped the food in favor of my own Sport Beans (I had about 150 calories worth).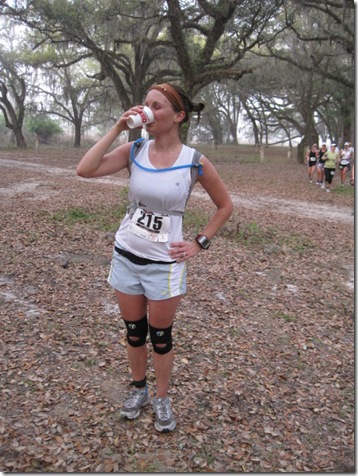 I took the turn leading the group, and the pack started to thin out at this point.  The trail was pretty worn and obvious, but I also had these markers to help direct me along: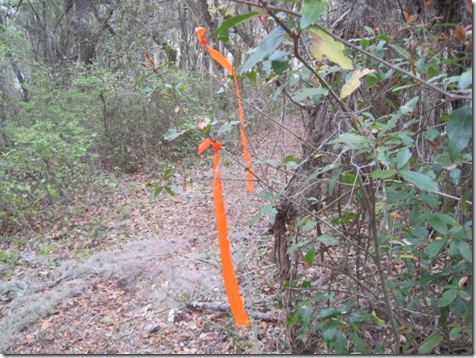 The terrain and scenery changed again – this time to controlled burns.  The forest wasn't like this last year.  It looked a little creepy, but it smelled really, really good.  I even saw a few smoldering logs!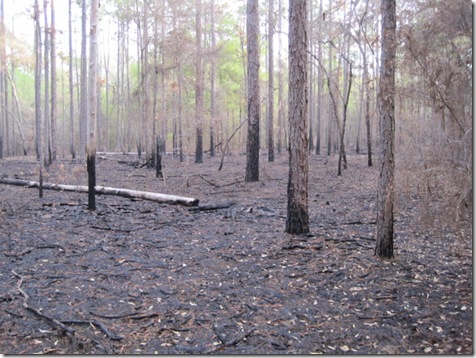 Station 2 was around Mile 9.  There was lots of CANDY, peanut butter sandwiches (more for the ultra marathoners), salt tablets, and aspirin.  THANK GOODNESS for the aspirin!  My ankle was still hurting, but I took one pill and the pain went away in a few more miles.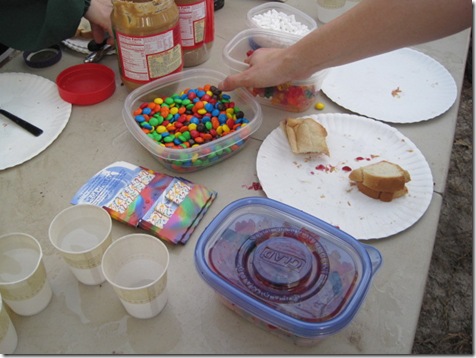 I had some gummi bears as well.
And then we were OFF again!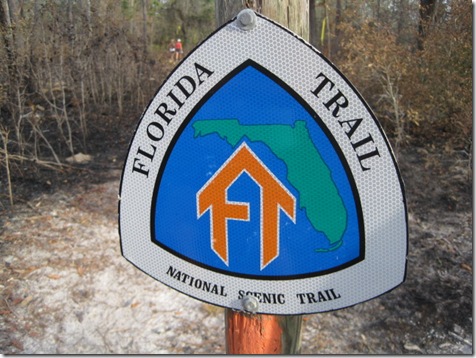 After Mile 10, we started to do a lot of walking/running intervals.  Ashley and Meghann were concerned about burning out (they still had another 20 miles to go!), and the hills were getting steeper and more frequent.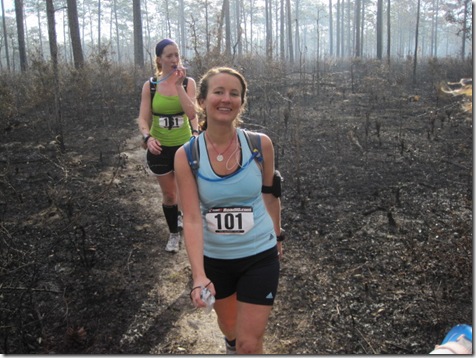 Station 3 came a few miles later, and I grabbed a handful of M&Ms, which did NOT sit well in my stomach (note to self:  do not eat chocolate while running).  I also smeared Vaseline all over my shoulders, which saved me from epic chafing from my CamelBak – everything makes me chafe!
At Mile 13, my legs were REALLY starting to hurt from stopping, walking, and restarting.  Sometimes it's best to just power through!  I asked Meghann and Ashley if they minded if Kelly and I raced-raced the last 2.4 miles.  The girls urged us forward, and Kelly and I took off like SPEED DEMONS.
We ran Mile 15 at a 9:23 pace!  Kelly and I positively BOOKED it up a few hills.  Kelly was super motivational, telling me things like, "You can do anything for one mile!  You've got this!  Lay the hammer down."  We ended up passing 10 or so people in the last mile, and tore across the finish line.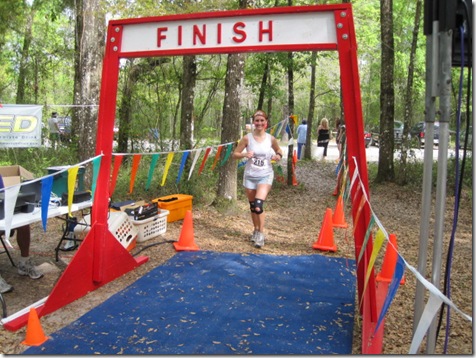 Our final statistics:
Distance: 15.4 miles
Duration: 3:00:19
Mile 1: 9:55
Mile 2: 11:40
Mile 3: 10:32
Mile 4: 11:14
Mile 5: 12:27 (Station 1)
Mile 6: 11:12
Mile 7: 11:14
Mile 8: 12:36
Mile 9: 15:02 (Station 2)
Mile 10: 11:23
Mile 11: 13:51 (major hills)
Mile 12: 12:12
Mile 13: 13:11 (Station 3)
Mile 14: 10:25 (When Kelly and I began to book it)
Mile 15: 9:23 (Hangin' tough!)
Mile 15 – 15.4: 4:02
I finished:
in the Top 25 Females for the 15.4 Mile Division
65th out of 115 finishers in the 15.4 Mile division
5th out of 10 in the Female 20 to 29 age group
Because we were the 24th and 25th women across the finish line in the 15.4 mile group, we qualified for a PRIZE!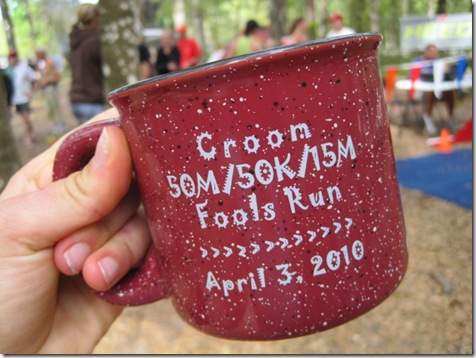 Check out our DIRTY legs (and our timing chip marks!):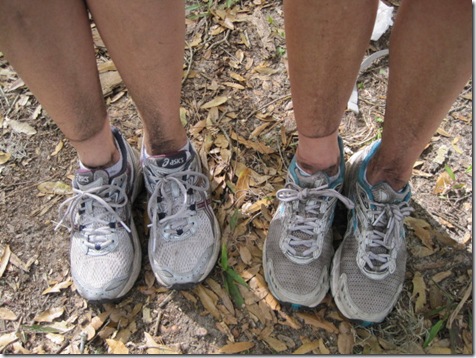 I grabbed an orange slice: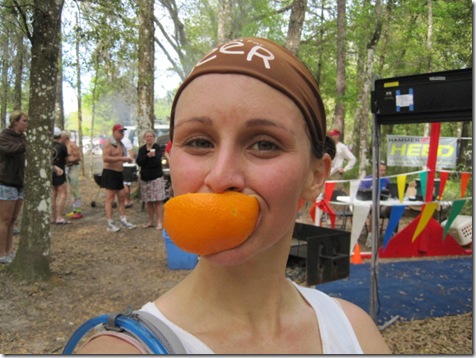 And then Kelly and I cheered on Ashley and Meghann as they passed through to go on to the second loop.  They are animals!  I could NOT imagine doing that loop TWICE!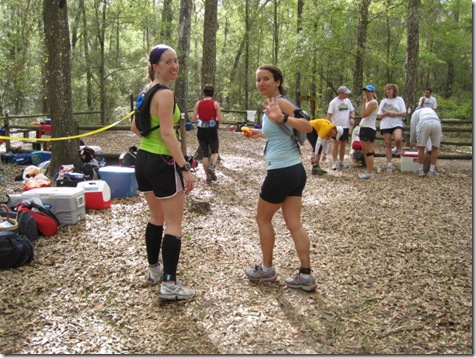 Kelly and I walked back to my car, stretched out in the grass, and then we drove back to the hotel.  I showered, which made me feel like a new woman.  The water in the bottom of the tub was literally black from dirt – I had dust in my ears!  Isn't a shower after a long run the BEST feeling? 
We went to Cracker Barrel for brunch: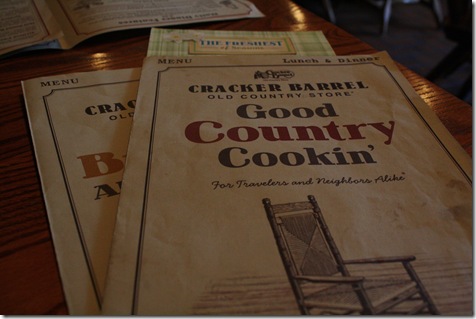 I ate two Biscuits: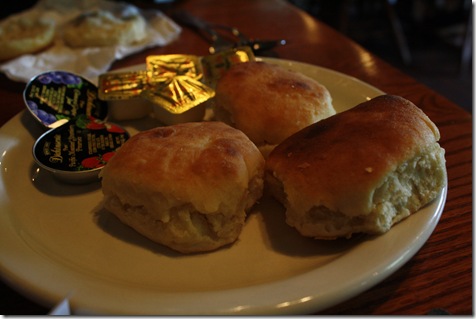 As well as two pecan pancakes with some maple syrup (I didn't eat that giant slab of buttah!):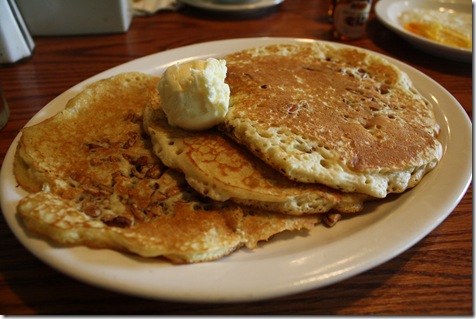 And 1 over-easy egg for a little bit of recovery protein: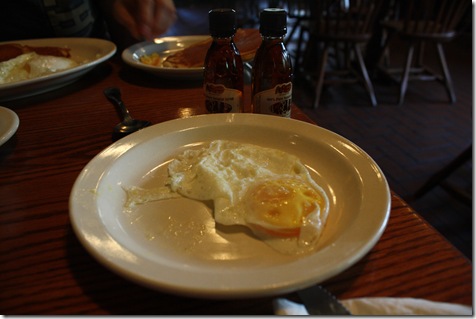 Kelly and I basked in the glory of our trail run – she felt the same way I did, that the race was so much easier this year and so much more FUN!  As I said earlier, it's amazing what a year of training does to the body. If you're struggling with running or whatever your fitness hobby is – trust me, it will get easier.  Stick to it!
Then, we drove home, and Kelly and I said our goodbyes.    When I opened my front door, I discovered an AMAZING surprise!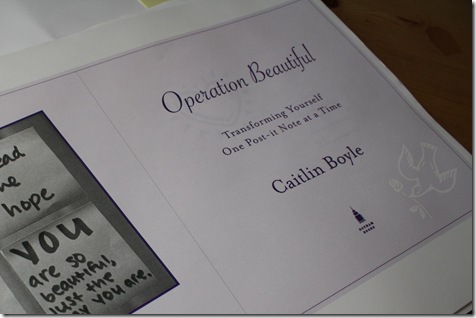 The "first pass" of my book!  I was SO excited to see it and hold it.  Combined with the fact that pre-order is up on Amazon, Barnes and Noble and Border, I'm starting to finally realize, "YES!  THIS IS REALLY HAPPENING!"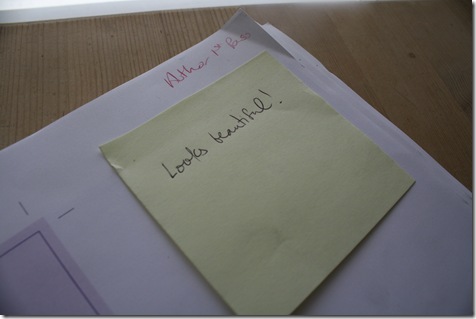 What a wonderful day!  :)  Thank you for all the e-support through the blog and Twitter.  I really appreciate it and it powered me up those tough hills!
Time to eat more and nap!