Please enter the MBT "anti-shoe" raffle and join the fight against cancer!
Confession: I know I have been slacking on my dinners lately (as in, not creating delicious, fun, healthy recipes that you might actually want to create, too!).  This is going to change… starting tonight!  🙂
Vegan Shepherd's Pie
The secret to this lovely shepherd's pie is the pancake-mix filling and the sweet potato topping.  The filling is so creamy, and the sweet potato adds a little twist to the traditional shepherd's pie recipe!  Did I mention it's vegan?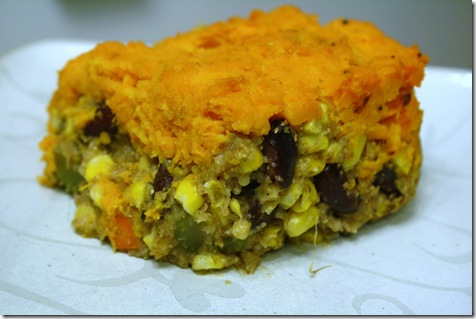 Ingredients (for three large servings):
3 small sweet potatoes
1/4 cup rice milk
2 ears worth of corn
4 stalks of celery, chopped
4 carrots, peeled and chopped
1 cup whole wheat pancake mix
1.5 cup water, divided into .5 cup and 1 cup
1/2 can of kidney beans, drained
Salt
Pepper
Chili Powder
Directions:
Wash sweet potatoes and stab with forks.  Wrap in paper towels and microwave for 8 minutes or until soft.
Peel sweet potatoes and place in small bowl.  Add rice milk and mash.  Set aside.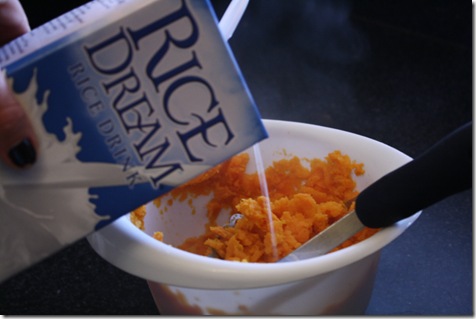 Meanwhile, place carrots, corn, and celery with .5 cup water, salt, pepper, and chili powder (just dashes of everything) in pan and cook on medium-low for approximately 20 minutes or until celery begins to soften.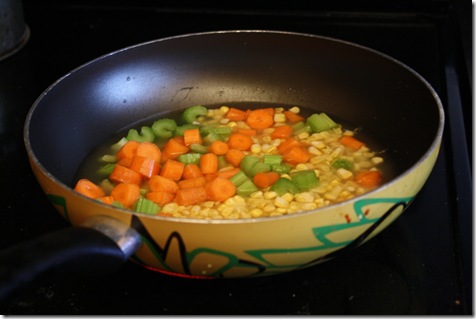 Add pancake mix and 1 cup water to cooked vegetables.  Add more water if it's too dry – you want it to be a thick paste.
Mix in kidney beans.
Pour pancake and veggie mix into a casserole dish (a loaf pan is the perfect size).  Spread out evenly.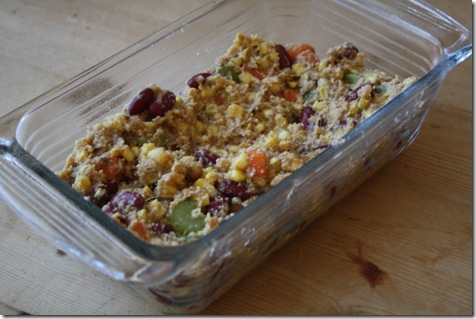 Top with sweet potato mix.
Bake at 400 degrees for 30 minutes.
Cut and serve.  Enjoy!
I had my with a slice of dry toast.  I love dry toast.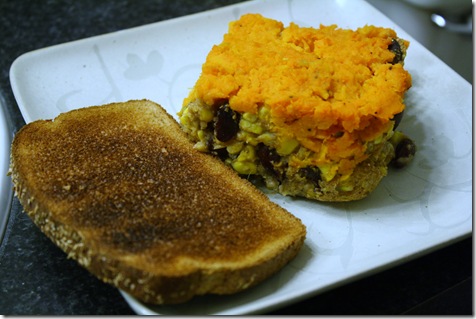 It was VERY good.  Super filling and definitely something you could serve to someone "afraid" of vegan dishes.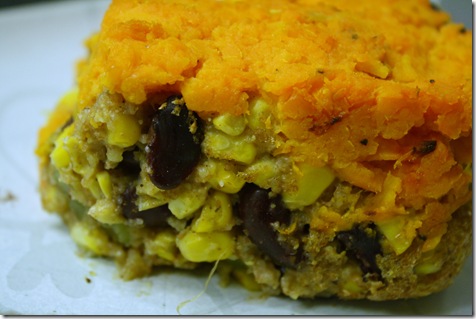 Earlier today, I had a serving of Pumpkin Yogurt.  'Twas as delicious as always.
In Other News…
Guess what?  I finally registered for Croom Fools Run!  The race is on April 3.  So soon!
Croom is a 15.0-mile trail race that takes place in the Withlacoochee State Forest in Central Florida.  The forest was named one of the "10 Coolest Places in North America" by the World Wildlife Fund.
Last year's race was a BLAST, but it was very, very physically grueling.   Here's the race recap.  And a fun 7-second YouTube video:
I'm looking forward to being better trained for the race this year.  🙂
And… I'm off!  Have a great night.