How's your day going?  I'm being a busy bee, trying to get a few articles done and wrapping up some loose ends on projects. 
My training plan called for a swim today, but I'm going to modify my plans and go for a long run instead.  My right tricep is really sore, and I know enough about injuries to realize that pushing myself two weeks before a race is a bad idea.  I'd like to go on a bike ride, but the forecast is calling for rain and wind, neither of which are conducive to a ride. Oh well!
I'll be back later with a workout + eats recap, but until then…
Currently, I am training for the Echelon Gran Fondo Century bike race(that's 100 long, long miles).  The Echelon Gran Fondo Century raises money for the Livestrong Lance Armstrong Foundation, as well as local cancer research programs and hospitals.  I have once again pledged to raise $3,000.  Cancer is a very serious issue, and money for research is so important.   Last week's raffle for a Garmin 305 raised more than $1,000 in just ONE DAY!   I hope we can pull together for similar results today…
Introducing… The MBT "Anti-Shoe" Raffle for the Livestrong Foundation!
The MBT "anti-shoes" are the coolest thing I've heard about in a long time!  Wearing MBTs provides many pro-body benefits: they help solve knee and back problems, relieve tension in the neck, and ease joint pains – which more or less tones and shapes buttocks and thighs.  Nice!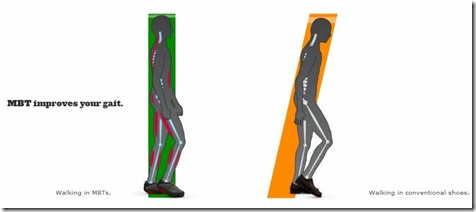 These facts are the result of an increasing number of international studies supporting the numerous health benefits of the "anti-shoe."  You can read more about the health benefits of MBTs here and here.
According to MBT,  "We named our footwear MBT, and refused to call it a shoe. Because MBT is totally different:
Its sole is curved, not flat.
It is unstable, not stable.
It activates your muscles instead of undermining them.
It has a positive effect on the entire body, not just the feet."
MBT "anti-shoes" come in a wide variety of styles, including sandals, sneakers, professional-style shoes, and boots.  Although I haven't tried them personally, I browsed some blog reviews and they got rave review for comfort!
Most MBT "anti-shoes" retail for $200 + but you can enter for a chance to win TWO pairs (men or women's and in whatever style you want!) for just $5.
Here's how the raffle works:
$5 gets you ONE raffle ticket.
$10 gets you TWO raffle tickets.
$15 gets you FOUR raffle tickets!!!  What a deal!
The minimum donation has been lowered from $25 to $5, which is why I'm not running this contest through PayPal, just an FYI.
The contest will run until Thursday, March 4 and I'll contact the winner at lunchtime.
I will list everyone's name on an Excel spreadsheet (one entry per $5, two entries per $10, and FOUR entries per $15), and the Husband will draw a winner using the Random Number Generator.
The winners will then select their shoes and MBT will ship them out!
Thank you in advance for your support!  Remember, enter HERE for the MBT raffle.  Happy raffling! 🙂