Please enter the MBT "anti-shoe" raffle and join the fight against cancer!
After applying twice, I finally got accepted into the Brooks ID Program.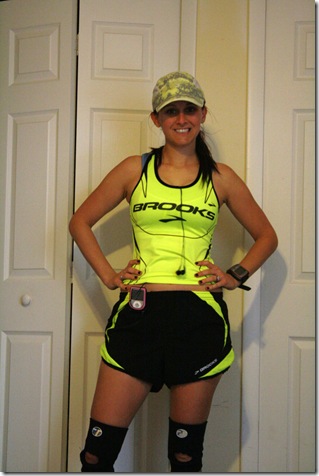 From the website:  Brooks I.D. stands for Inspire Daily. These two simple words guide the principles of the program. Brooks I.D. is made up of over 800 members who are active in their running communities and share a passion for the Brooks brand. They are runners who are winners in their own right: Winning their age divisions, accomplishing their personal goals, pushing their own limits, and, by extension, encouraging others to do the same. They are coaches, mentors, and leaders.
You don't need to be a blogger (me) or a super fast runner (not me) to apply, you just have to LOVE Brooks products.  I love Brooks Summons – the shoes on my blog banner.  If you're chosen to be a Brooks ID member, you get 40% off products – wahoo!  You can apply here.
I was pretty pumped to be accepted into the program, but I was a little disappointed when I received my official gear.  The shorts are too big, and the shirt is too small.  I find tight running shirts that show my stomach to be very uncomfortable – I'm always fidgeting with it and pulling it down.  Short shirts make me feel very self conscious.  Still, I'll wear my shirt with pride (plus, the bright yellow makes me easier to spot at races!). 
I wore my gear on a 5.5 mile run.  My legs were kind of sore, and it was super windy out, so I took decided to walk/run.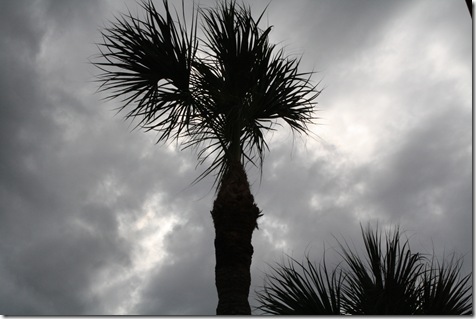 I "learned" to walk using the walk/run (aka Galloway) method, and I also used it to run a sub-2 hour Half Marathon this past December.  I'm not a runner who looks down on walking… I definitely think it has it's place!  Of course, there's a point where you can't get much faster without cutting down on walking.
Distance: 5.5 miles
Duration: 56:08
Mile 1: 10:11
Mile 2: 10:15
Mile 3: 10:38
Mile 4: 10:28
Mile 5: 10:02
Mile 5.5: 4:34 (a 9:11 pace)
I didn't use any set walk/run intervals; I just walked whenever I felt like it. 
Pre-run lunch was 2 cups of Wolfgang Puck Corn Chowder.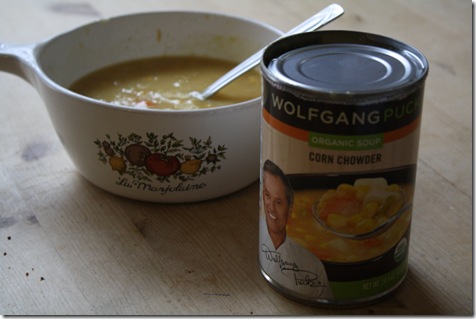 And a Cherry Chocolate Bomb Green Monster, which contained 1 cup rice milk, 1/2 a banana, 2 cups spinach, 1 tablespoon cocoa powder, 15 frozen cherries, and a squirt of agave.  Yes, it looks disgusting, but it tasted GREAT.  I swear.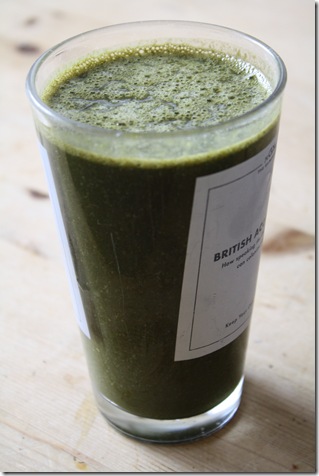 And before my run, I had some sports beans.  I knew I needed some calories before my workout but didn't want to eat anything that might upset my stomach.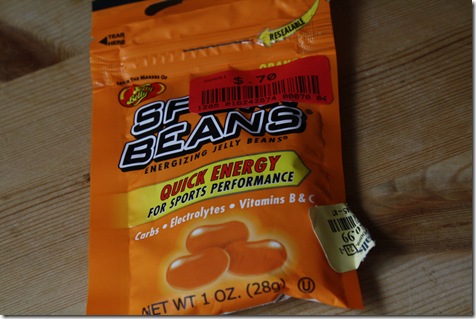 Back to writing I go!  And I need another snack now.
Come back for dinner… I have an awesome recipe planned!
What are your thoughts on walking?  Do you use the Galloway Method? Do you walk/run in set intervals or just whenever you feel like it?