Good morning!  It's a beautiful, sunshine-y day outside.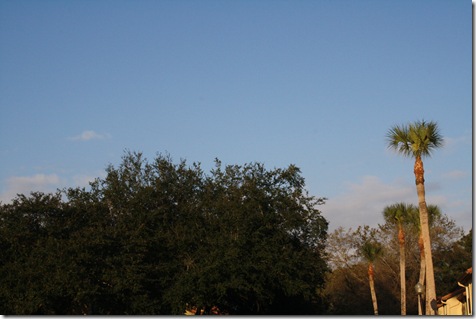 Ahhhh.  James is like an old man who wants to sit outside and feel the warm sun on his skin all day.  🙂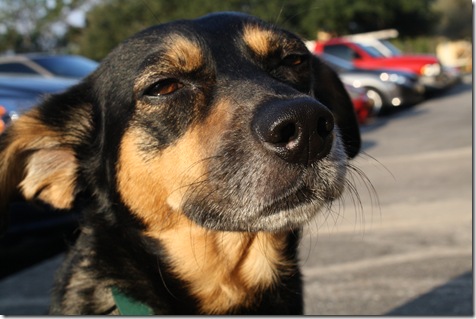 Last night, I made up some Pumpkin Yogurt and put it in the fridge to chill out.  I really wanted to try my hand at overnight oatmeal.
As you all know, I'm obsessed with granola and yogurt.  I know my granola of choice isn't that healthy, and I've kind of always avoided looking at the ingredient and nutritional information too closely because I don't want to be disappointed when I realize I'm basically eating a candy bar in granola form. 🙂
My favorite granola, Heartland Granola Cereal, has a short ingredient list, whole grains, 4 grams of fiber, and 6 grams of protein (yay!).  However, the ingredients are:  whole grain rolled oats, evaporated cane juice, expeller pressed canola oil, defatted wheat germ, oat flour, brown rice syrup, molasses, salt, natural flavor, and soy lecithin.  There's a whopping 13 grams of sugar in 1/2 cup!
I think overnight oatmeal might be there perfect way to fulfill my yogurt and granola craving without all the extra sugar!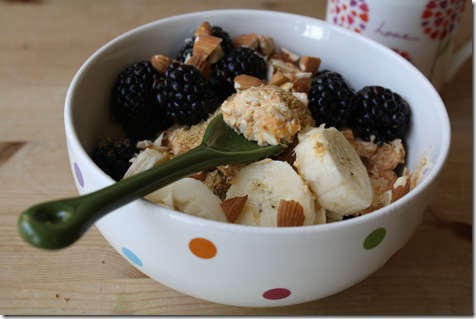 To make Overnight Pumpkin Yogurt Oatmeal, last night I combined the following ingredients in a bowl and put in the fridge:
1/2 cup plain Greek yogurt
1/4 cup canned pumpkin
1/2 cup oatmeal
Cinnamon
Squirt of agave nectar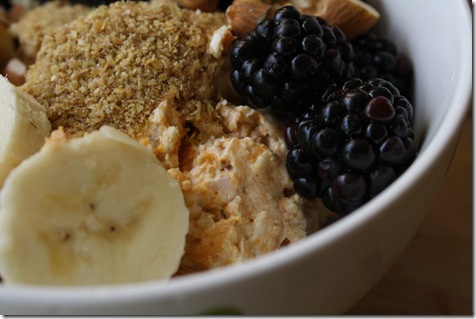 This morning, I added flax, almonds, 1/2 a banana, and blackberries to the mix.
I really enjoyed the mix!  It was very similar in taste to my regular Pumpkin Yogurt and granola, but it just tasted… better.  Healthier!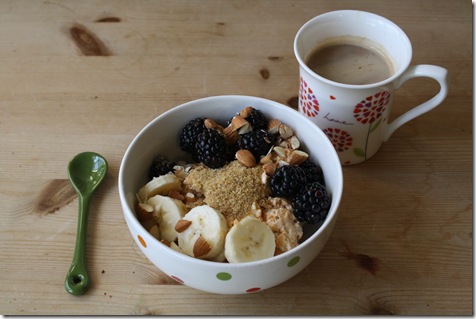 Con cafe: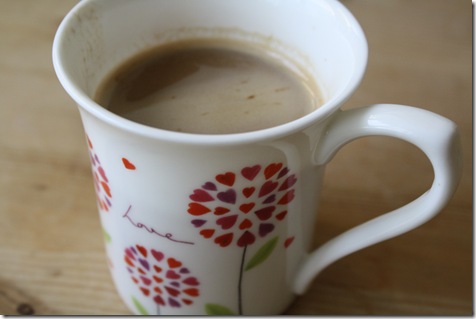 I'm off!  I am simultaneously preparing two freelance articles (AKA I'm swamped), and I'm meeting Ryan for a lovely lunch.  Then, it's time to hit the gym.  If my tricep feels fine and the weather holds, I'm going to swim and then bike, but if not, I'll just run again.
The triathlon is almost here! I dreamed about it last night! (It's on March 14.)
When buying food, what part of the nutritional facts and ingredient list do you look at?  I always read the ingredient list and check for trans fat and high fructose corn syrup. I also check for any meat ingredients in stuff like soup.  I don't typically care about added sugar, but maybe I should.