Don't forget that tomorrow AM is your last chance to win a copy of The Spark from the editors of SparkPeople.com.  Just tell me your #1 fitness tip on this post for a chance to win a copy of the book!
First things first, I updated the Puppy Page with a new picture! I've been slacking on cute puppy pictures.  :)  But Maggie and James are as cute as ever, I promise.  More to come!
Secondly, Pumpkin Yogurt, I love thee.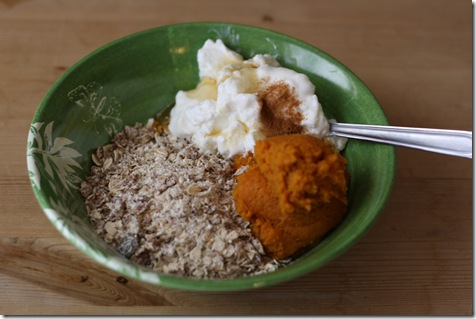 Let me count the ways…
1) You have protein… loads of protein!
2) You have fruit (pumpkin is technically a fruit!)
3) You have staying power (granola or cereal keeps me full for hours)
4) You taste amazing as a mid-afternoon snack.
Dinner: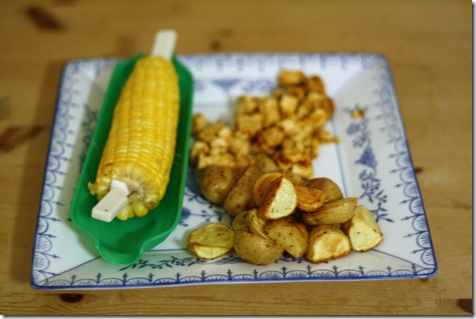 Corn on the cob, roasted small yellow potatoes (+ ketchup), and BBQ baked tofu.
Oh and a handful of dried blueberries for dessert.  🙂
If you hate making tofu because it's time consuming and messy to press it out, get the Nasoya pre-cubed extra firm kind.  I just peel back the foil on top, drain, pour BBQ in, mix up, let stand for a few minutes, and bake at 425 for 20 minutes.  So much easier and it doesn't mess up the entire kitchen!
Bum Foot Update
My foot still hurts. 🙁 If it still hurts like this in 2 more days, I'm going to call my trusted orthopedic doctor if my new insurance covers him.  I'm guessing its a stress fracture or tendonitis, and although there's not much they can do, I think I need some sort of sexy air boot.  Marathons are brutal!  Ah well, at least there is swimming.