Good morning!  :)  My house is almost cleared of visitors – only my sister-in-law is left – which makes me sad.  I loved having everyone here! 
A bowl of oatmeal cheered me up: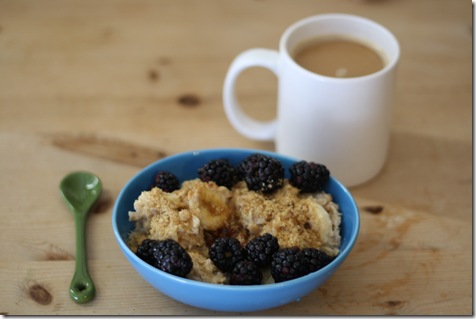 Eaten with a tiny spoon, of course! These $1 spoons are from Crate and Barrel!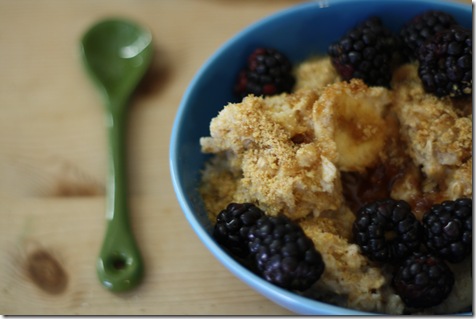 My oatmeal contained:
1/2 cup oatmeal
1/2 cup milk
1/2 cup water
1 sliced banana
Toppings: brown sugar, flax, and blackberries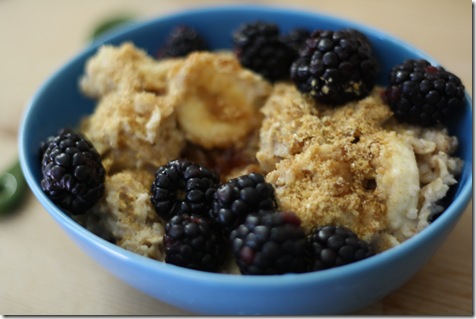 Post-Marathon Body
Stay tuned for my lunch post, where I'll be discussing how marathon training impacted my body, weight, and life in general.  I'll be including before-and-after pictures as well to see how running 26.2 changed my body (if at all!).  And I'll be discussing how my knees fared, as well as other injuries I may (or may not) have sustained.
The Spark Giveaway
Have you ever been to SparkPeople.com?  It's the largest online health community, and it offers tons of tips and tools for losing weight or getting into shape in a healthy, sustainable manner.  I especially love the Spark blog!  And now there's a SparkPeople.com BOOK!
From the experts who created SparkPeople.com comes The Spark, a ground-breaking book that focuses on what you can do, instead of what you can't do. The Spark is about transforming your life and your idea of what dieting means.  With dozens of photos—including before-and-after shots and easy-to-follow exercise images—this book distills the best of SparkPeople's medically accepted nutrition and fitness plan and infuses it with a program of personal empowerment. In this book, you'll discover:
Secrets of Success—the best habits of SparkPeople's most successful members
A 28-day program that brings together the most effective practices from SparkPeople into an innovative 4-stage plan, available only in this book
Dozens of success stories that show the power of this transformational program
Interested in winning a copy of The Spark?  Simply leave a comment below stating your #1 healthy living tip, and I'll pick a winner Thursday morning.
My #1 tip is to be your very best right now. Don't focus on how fit or dedicated you once were, but take into account things like your current lifestyle, work schedule, fitness level, and goals when deciding whether or not you are doing "your best."  Remembering your best is relative is uplifting and keeps you feeling motivated when you're swamped with work or suffering from an injury, for example.
What's your tip?