This is an exciting update for me to write – the last weekly update I wrote with Henry was my 39 week one (the due date is set at 40 weeks).  I went into labor with him at 39 weeks and 5 days and delivered the next day.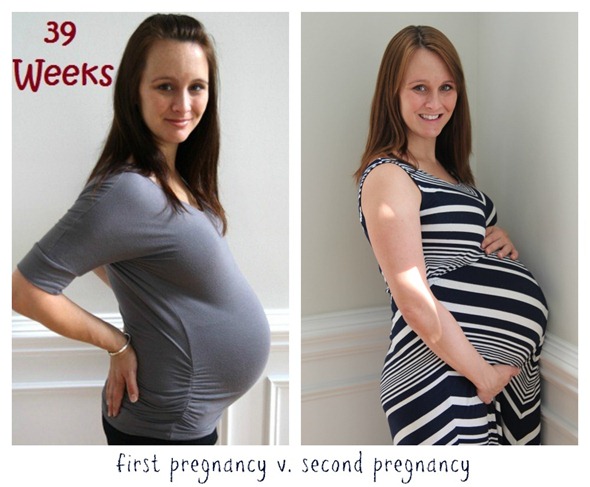 Last time around, my water broke about five hours after I got an acupuncture treatment.  If you're naturally close to labor, acupuncture can kick start things. But if you're not, it won't work. It's kind of like, "If the actors are in their places, this will raise the curtain and start the show." But if the audience isn't even in their seats, it's pointless.  I'll admit – I was very, very impressed at how effective acupuncture was for me. 
I'm not sure what we'll do this time.  We are both curious to see what happens if I don't try anything to get labor started.  I'm curious if my water will break or if I'll just start getting contractions.  I'm curious if labor will feel less painful if my water doesn't break first.  I'm curious if I'll go this week or next (or next-next week!) if I don't try acupuncture or lots of walking or having sex or eating pineapples or whatever else you can try at home.
Then again – it's easy to have patience at 39 weeks.  It's harder at 40 weeks and 6 days… Hah!  I bet I'd be singing a different tune if I got to that point.  But for now, I'm relatively comfortable, minus a few typical aches and pains, and wouldn't mind going a little while longer with the baby still inside.  After all – it's a pretty healthy and comfy spot for baby to be (and I can still sleep…).  Plus, I have a few things left that I'd like to do – like take Henry to his first real movie tomorrow!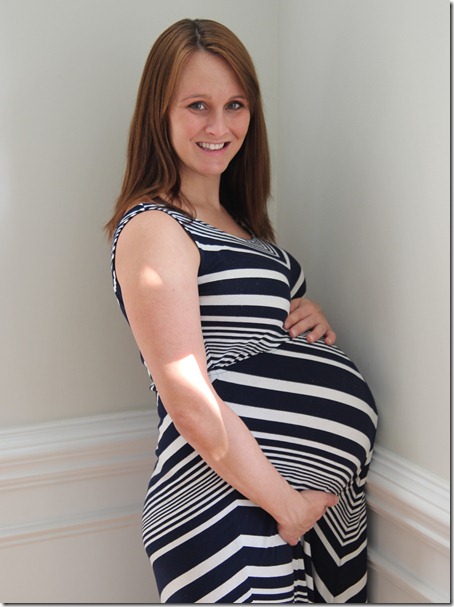 If you've tried to jumpstart labor, what techniques did you try? Did it actually work?
Just in case this actually is my last week with a baby inside me, I thought I'd make a list of some facts about this pregnancy:
Total Weight Gain: About 43 – 45 pounds.  About 10 pounds more than I gained with Henry.
Most Annoying Symptom: I still can't brush my trust or take pills without triggering a terrible gag reflex.
Food Cravings:  Anything warm and comforting.  French fries!  Chocolate!  I definitely could've eaten better this pregnancy, but ehhh – at least I took my prenatals religiously?
Exercise: Overall, I think I did a decent job at staying active.  I ran until the end of my second trimester.  I also did a variety of yoga, walking, and swimming.  But I really pulled back in the last month and haven't done much at all in the last week.
Emotional Health:  I did an awesome job of taking care of ME this time around.  I carved out time with friends, went on solo trip to the nail salon, laid on the couch without feeling guilty… I really tried to relax and chill out, especially towards the end of pregnancy, which was great.
Ultrasounds:  Just one.  I can't wait to see the baby in real life. I look at the ultrasound pic all the time and try to imagine a real kid. I hate going to weekly OBGYN appointments but at least I get to hear the heartbeat every time – that's fun!
Movement:  This baby is less active than Henry was and seems more relaxed.  Fingers are crossed for one crazy kid and one chill kid, NOT two crazy ones! Hah.
Not Looking Forward To: Newborn sleep. Being a Zombie Mom. Feeling like I got hit by an exhaustion truck.
Looking Forward To…: Getting rid of all my maternity clothes FOREVER. Meeting the baby, introducing Henry to the baby, and newborn snuggles. Introducing baby to my parents and in-laws.  Finding my rhythm as a mom of two.  Applying my knowledge as a second-time mom to the newborn experience and hopefully having less stress and anxiety over normal things.  Also – not having to awkwardly roll off the bed to get up in the morning. Fitting in normal clothes. Being able to exercise hard again and getting back into shape.  Drinking wine.  ALL THE WINE.
Things I've Added to My Hospital Bag:  Chocolate bars, a copy of my birth plan, and a bottle of celebratory wine.  Hah.
Excited That…:  We celebrated early Thanksgiving yesterday at my Dad's house – it was a load of fun.  And we got all our Christmas decorating and shopping done this past weekend!  My house is now ready for the holidays.  This is such a nice season to have a baby.  I pray every day that things go smoothly, and we have a peaceful holiday with our children in our home.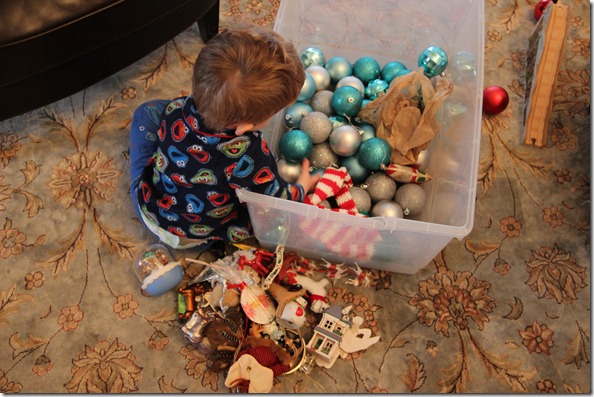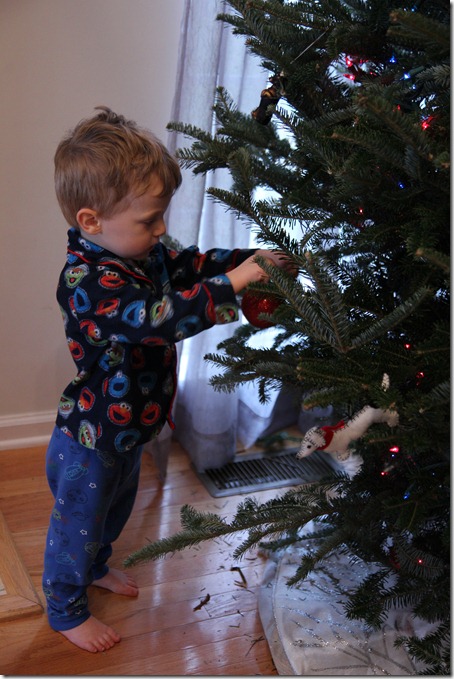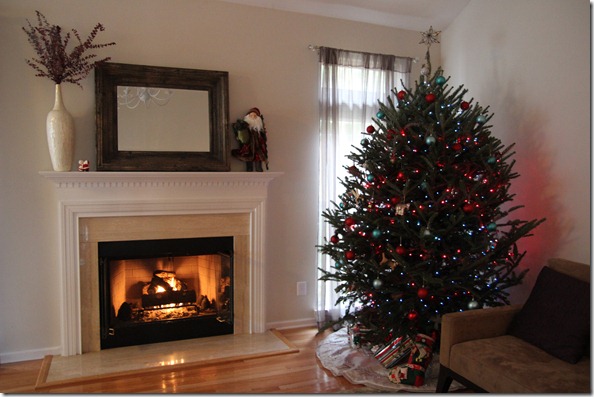 Can't wait to meet you, Little One!  Here are other Little One posts:
In the Oven {Again} (Announcement Post)
Things I Learned About Having a Newborn
Panic-Free Pregnancy: Round Two